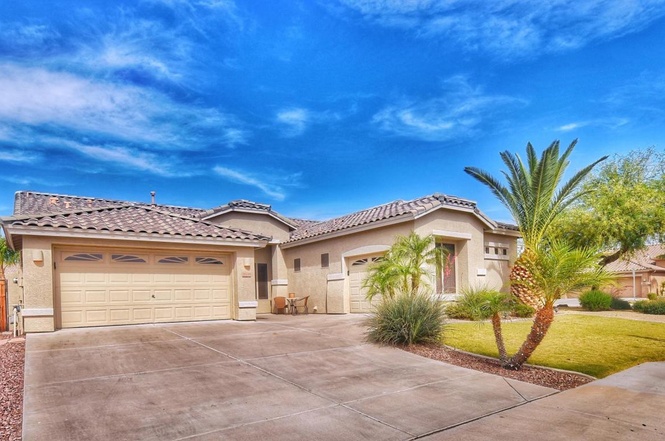 13 Reasons to Live in Phoenix
Note: originally posted on LendingHome.com and LendingHome is now Kiavi.

Phoenix is known as the Valley of the Sun—and who wouldn't want to settle down where it's truly always sunny? If the endless rays aren't reason enough to move to this Southwestern enclave, then perhaps the affordable housing, booming culinary scene and growing job opportunities will convince you that Phoenix is the place to be.
1. It's affordable, naturally:
Phoenix is one of the most affordable big cities in the United States. The cost of living is relatively low, and the most affordable homes range from $150,000 to $275,000—many of them new builds with modern interiors. A first-time homebuyer needs to earn just $46,000 per year to comfortably afford a median-priced Phoenix home according to research from hsh.com.
2. Sunshine, beautiful sunshine:
Yes, we've mentioned it before, but we just can't get over Phoenix's average of 330+ days of sunshine per year. While much of the country is shoveling snow, we spend our winters outdoors hiking, dining and sunbathing. Yes, the months of June through September (and even part of October) are hot, but we'd take the dry heat over a humid East Coast summer any day.
3. We have some serious amenities:
Phoenix and Scottsdale are among the most popular vacation destinations in the country (see aforementioned sunshine). We locals see major benefits from this: world-class spas, award-winning golf and some of the country's best and brightest events, including Cactus League Spring Training. We can go "on vacation" in our own backyards.
4. Inexpensive college tuition:
The average cost of tuition at Arizona State University is just $10,370 per year for an in-state student. At University of Arizona in Tucson, it's $12,817, and at Flagstaff's Northern Arizona University it will run you approximately $10,764.
5. Our active lifestyle:
Outdoor enthusiasts flock to Phoenix. There are endless opportunities for hiking, biking and rock-climbing within a short drive of most area neighborhoods. Plus, we've got a respectable collection of open-air spaces smack in the middle of our city, like the McDowell Sonoran Preserve, Usery Mountain Regional Park and South Mountain.
6. Arizona Is our playground:
Phoenix isn't the only great thing about living in our area. The Grand Canyon State is ripe for exploration. You can drive just two hours north and you'll be in the Red Rocks of Sedona. A bit further, and you'll hit Flagstaff's pines and powder-white snow. Down south, just little more than an hour's drive, you can check out the historic pueblos and hot dining scene of Tucson.
7. We are a foodie city:
Food & Wine, Travel + Leisure, Bon Appetit–these are just some of the major magazines that have boasted about Phoenix's dining scene in recent years. Phoenicians are fierce loyalists to anything local, so the area's best restaurants are chef-driven and source much of their goods from area farms.
8. Jobs, jobs, jobs:
Phoenix job growth is expected to hit double the national average in 2017 according to research from Marcus & Millichap. JP Morgan Chase, Intel, Orbital, PayPal and Amazon are all major employers. Top industries in Phoenix include aerospace and defense, technology and innovation, renewable energy, bioscience and healthcare.
9. Our arts and culture scene (yes, we have it):
Downtown Phoenix hosts one of the largest free monthly art events in the country, Scottsdale is known for its public art program and the creators of Bonnaroo recently announced a new music, arts and culture festival that's debuting in Phoenix in the fall of 2017. We may be a desert, but we're definitely not a cultural desert.
10. Road trips in every direction:
San Diego is just a 5-hour drive from Phoenix or a short 45-minute plane ride. Getting to Los Angeles takes little less than 6 hours by car, and you can be in Vegas for the weekend in just 5 hours if you drive. Looking for a warm beach escape? A road trip to Puerto Peñasco (aka Rocky Pointe) takes barely 4 hours.
11. A mash-up of people:
People move from the East Coast and Midwest to Phoenix for the ideal weather. They flock from California because they want cheaper homes and a more affordable cost of living. They move from all over the world for the job opportunities and laidback way of life. We are a melting pot of cultures.
12. Two words:
The Grid: You'll be hard-pressed to find a place that's easier to navigate. The majority of Phoenix's streets and freeways run on a grid system: East to west and north to south. The major exception is Grand Avenue in downtown, which is angled northwest at 45 degrees. Other than that, it's total smooth sailing. (Er, driving.)
13. The Sonoran Desert:
Saving the greatest for last! By far most locals will tell you that the best part about living in Phoenix is the Sonoran Desert. One of the most diverse ecosystems in the world, it's blooming with towering cacti, vibrant wildflowers and mountain ranges that turn a whimsical shade of purple at sunset.