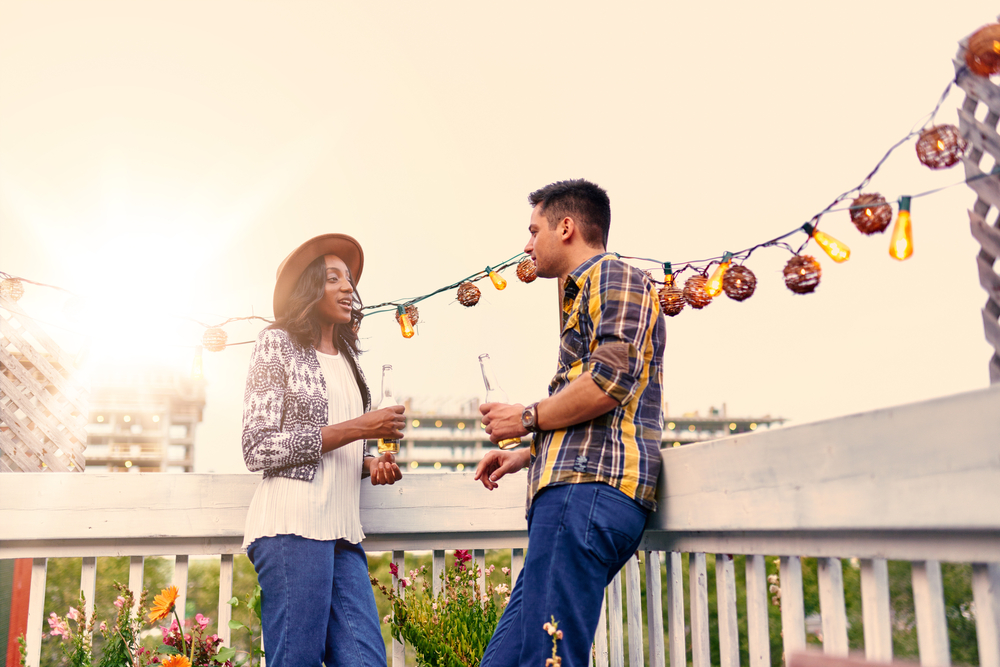 5 Things to Ask Your Partner Before Homebuying
Note: originally posted on LendingHome.com and LendingHome is now Kiavi.

There are so many benefits to buying a home with your partner. You'll have someone to hold you back from buying those outlandish formica tabletops, someone to share the financial burden of renovations, someone to pop champagne with as you cross the threshold of your new home for the first time.

But tension can often come along with making such a big life decision. A recent survey conducted by Kiavi showed that 25% of couples disagree frequently or more when buying a house. There's one way to combat these disagreements before they even begin: by knowing exactly what questions to ask before you put any money down.
Prepare to have an open conversation
The best way to prepare for these conversations? In the same survey conducted by Kiavi, it was found that openness was the key element to making these conversations as successful as possible. Being honest with your partner about your finances and what you want in a home is essential. The survey also found that couples who had been together longer were less likely to disagree. Those who had been in a partnership for 5+ years disagreed 14% of the time, compared to couples who had been together less than a year and disagreed 30% of the time.
Where do you stand financially?
While it may seem scary, it's important to share with your partner information about how much debt you are in, as well as things like your credit score. This will help you start to get a rough idea of whether buying is for you right now and how much house you can afford.
How much debt are you willing to take on?
The top disagreement between couples in Kiavi's research was the level of debt they were willing to take on. That's why conversations about each other's financial situations is so important. Knowing exactly where your partner stands will lead you to finding the home that's right for both of you. It can be helpful to ask how much your partner is comfortable spending on a home; building out a budget together can help alleviate some of the tension this question can bring about.
How will we pay for it?
If you and your partner aren't going to completely combine your finances, you'll need to discuss how exactly you plan to tackle the mortgage payments. Will you split them evenly, or break them up based on income? Will you pay out of a joint bank account? A great way to solve many of the issues that can arise as a consequence of these questions is establishing a sturdy financial plan that will help both of you move forward.
Where do you want to live?
Does your partner want to live in the suburbs while you've always been a city girl? Or does your husband picture you growing old in the countryside while you crave being near good restaurants and cute cafes?
By a margin of 25%, our survey found that women prefer established neighborhoods to the modern environment that men typically prefer. Many couples didn't disagree when it came to living within a good school district, but that's still an important discussion to have with your partner if you plan on having children.
When Susie attended open houses with her husband Tim, they found themselves prioritizing different things while shopping for houses. "He wanted a spot for 8 surfboards and as soon as we'd show up at an open house he'd map the driving distance to his favorite surf beach," says Susie. She, instead, was looking for a home with local restaurants and a farmers market within walking distance. Mapping out your neighborhood preferences early in your process will help you direct your search.
What type of home do you want?
Should it be sleek and modern, cozy and cute? Do you want something that's move-in ready or would you prefer to make some renovations to make it your own? Alexa and Eric also found themselves looking for different things in their search for the perfect home. While she wanted a home with a backyard for their dog, he pictured them living in a downtown condo with a doorman. Our survey found that these types of disagreements aren't unusual. Another top disagreement between couples? Renovations, which were an issue for 43% of couples who disagreed.
Browsing listings together online will often help you tease out these preferences and find your middle ground. If you're the fixer-upper type, make sure you mention this to your partner before you start looking for homes.
In the end, all's well that ends well
In Kiavi's survey, 60% of couples said that in the end, the disagreements they had didn't matter. So while being open and honest will help make the journey to your home a little bit easier and a little bit smoother, investing in each other and the home you have bought will be what matters.