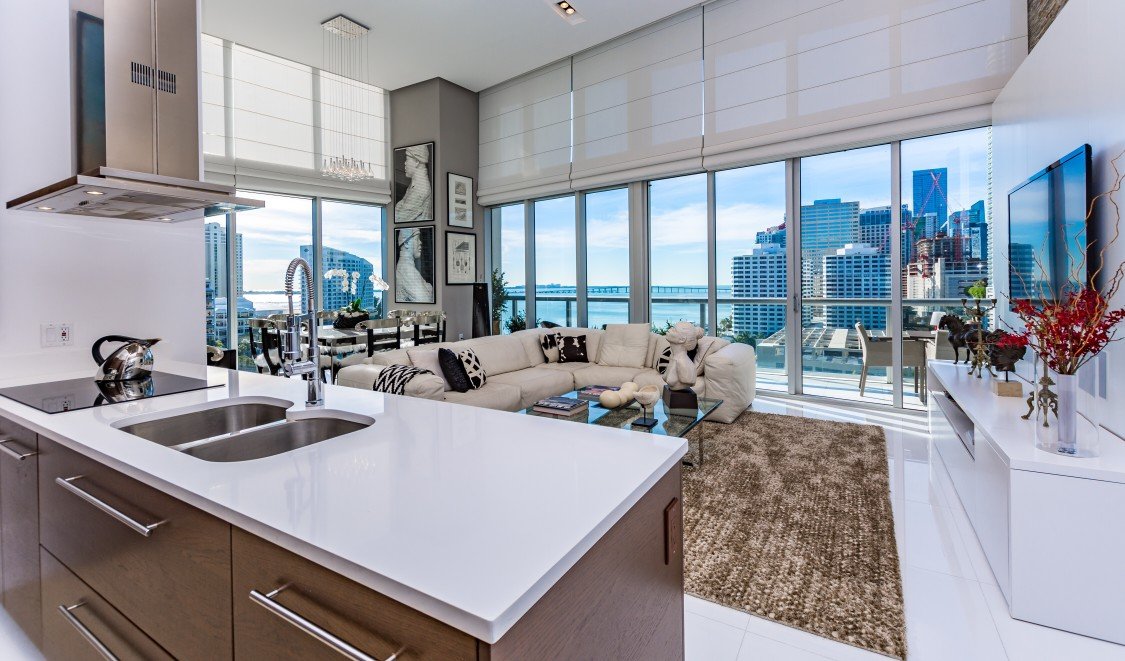 Condo vs. House: What Works Best for You?
Note: originally posted on LendingHome.com and LendingHome is now Kiavi.

You could buy a house in the suburbs with a garage, a backyard, and maybe even a white picket fence thrown in. Or you could go for a brand new condo with a sparkling kitchen, a shared rooftop deck, and a nice little balcony. When you're weighing up a condo vs. house, there are a few factors that can help you decide which makes more sense for you.
Let's start with the obvious…size and layout
Many houses are just plain bigger than condos. And even if they have the same square footage, houses can be spread out over multiple floors, with bedrooms separated from living space. Condos are more likely to be all on one floor–although of course you can find a few multi-level options. You'll also usually get more privacy from your neighbors in a house because they won't live quite so close.
Storage is another consideration. With a house, you'll likely have total control over your storage space and your garage. In a condo, you generally won't be able to store anything outdoors. Sometimes, you won't even be able to use your parking spot or balcony for storage due to building rules.
Where do you want to live?
Condos have seen an upsurge in recent years as homebuyers have begun to increasingly value urban living and being able to walk to shops and restaurants. In many cities and inner ring suburbs, land for development is limited, so condo buildings that house hundreds make more sense than single family homes. If you'd prefer to live a car-free life and value the buzz of the city, a condo could be a better fit. But if you'd prefer to have lots of friends and family members over for big backyard barbecues, you'll probably be happier in a house. All of the above should be taken into account when determining where to buy your next home.
Consider all of the costs of a condo vs. house
Condos can be less expensive per square foot to purchase than single family homes (double check that this is the case in your area by browsing through some listings!) Utility bills may also be lower because a condo is smaller and more insulated.
However, condos also come with fees called Homeowners Association (HOA) fees. These HOA fees cover some of the expenses that you might otherwise pay out of your own pocket if you owned a house, like trash removal or water. They can also cover amenities (a doorman, pool maintenance) or building repairs and upgrades. Make sure you check into the fees closely, and remember that they can increase over time. They are also not tax-deductible.
A great question to ask is how much money the homeowner's association has in its reserve fund. That fund can help pay for any emergency repairs that come up—if it's empty, condo owners in the building will be asked to dig deep to cover costs.
Weigh up shared amenities against shared regulations
Although you'll pay fees to live in a condo development, you'll also often benefit from access to shared amenities that you may not be able to afford on your own. For example, many condos have pools or gyms, bonuses that a first-time homebuyer may not get if they're buying a house.
Of course, with sharing can come rules. That's the case with condos, where all of the owners in a building can vote on the rules that govern that building. Thinking of renting out your place when you're out of town or subletting that parking spot you're not using? Your building may not allow it. You'll also likely need to run any remodeling you plan to do past your homeowner's association.
Plus, a vote will govern decisions about the building you live in. Don't want to pay more for a new pathway to be built through the courtyard? If your neighbors vote yes, you'll be on the hook for your share of the costs even if you voted no.
How much maintenance do you want to do?
Another bonus of a condo (albeit one that you're paying for in HOA fees) is a low-maintenance lifestyle. Fixes to the building are generally managed by the homeowners' association, with individual owners only responsible for repairs in their own unit. Instead of mowing a backyard on the weekends, you'll have a condo association to manage the landscaping of any common green spaces. Maintaining a home can also cost you money in addition to time. You'll need to buy tools and yard supplies, or pay a professional.
Ultimately, either a house or a condo can be a great home for you. But if you feel strongly about any of the things we've laid out here, it could help you direct your search towards one option or another.