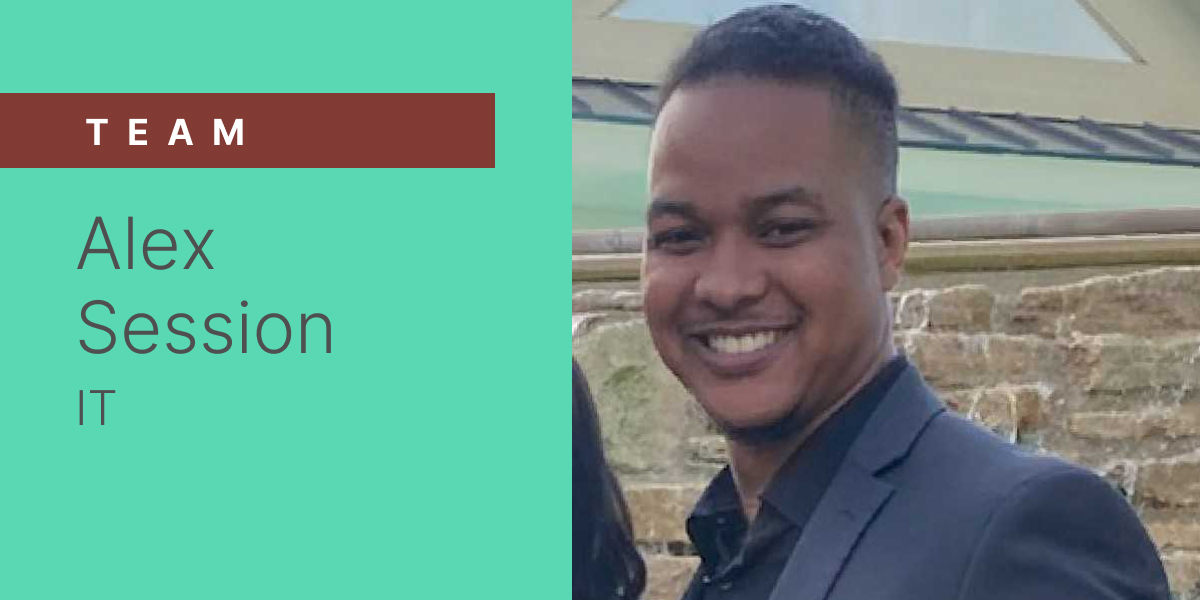 Employee Highlights: Alex Session
Note: originally posted on LendingHome.com and LendingHome is now Kiavi.

We are proud of the culture and relationship we have built in our team. Our mission to support each other is just as strong as our mission to support our customers. This has inspired our Employee Highlights series.

Afterall, our blog is an excellent resource to learn strategies, advice, and various industry information, so we also want to have a chance to share with you the smart and dynamic people who are behind what makes Kiavi your trusted lender for your real estate projects.

This post features our fantastic IT technician, Alex Session. Tech support is crucial to ensure our business is running smoothly and we are thrilled to have someone as smart, patient, and fun as Alex to turn to when we need help!
About employee:
Name: Alex Session
Nickname: "Your friendly corporate IT Guy"
Position: IT Technician
Kiavi Team: IT Team
Employed at Kiavi Since: September 2018
Questions:
Tell us about what your role entails?
I am the admin of over 90% of all the applications in Kiavi. including LH Ops (our internal application to help borrowers), Microsoft, Google accounts, and even badge access to enter the building– just to name a few.
I also set up all the computers for new hires and maintain them along with all of the technical equipment purchased by Kiavi. This includes things like the physical servers, monitors, printers, phones, and all the equipment in the meeting rooms. I also take in and solve over 90% of the technical tickets that are sent to our Helpdesk.
What do you like most about working at Kiavi?
I really like the fact that I can see an issue come up with a solution and have it implemented without the "corporate hurdles" you may see in other work environments. The feeling of being heard is not overrated and I appreciate the access to make a difference to support the company.
But what I really like about Kiavi is I have been able to do some amazing things in my community with the backing and support of Kiavi. We were able to do a Thanksgiving Drive and a Back To School Drive in Pittsburgh for those that are struggling financially. I love having the opportunity to both support this company and the community.
What is the most important thing you have learned in your position here so far?
Time management–this is a job with a lot of moving parts and responsibility. Being able to set priorities and know when to move to the next thing is key to being successful anywhere, but here, it's a necessity. It was something that I had to learn and I'm still trying to perfect, but it's something I can apply in all parts of my role.
What are you excited for the most in the future for the company?
We have some amazing new ideas coming down the pipeline due to COVID-19 in the IT department. These are ideas that are intended to make it easier to work from home so it is exciting to have an idea and see it to fruition.
Quickfire questions:
Favorite Kiavi Memory: Being able to help set up the Pittsburgh office. I was able to do and see a lot of things that I only got to read about in school so it was really awesome to get the hands on experience in this role.
Favorite Kiavi Social: My department hosted a social hourI got to be the DJ. I'm pretty loud so you heard me on the mic more than the music—LOL.
Favorite Kiavi Snack: Lay's Classic
Alex's colleagues also recognize his hard work and dedication, as well as the fun he puts into his job:
"Alex is driven with great empathy and a deep wealth of humor for anybody he encounters. He will make your day more enjoyable and fix your computer to boot. He is a rare IT technician that I feel lucky to have here at Kiavi." – Donovan Bray
"Alex is a natural when it comes to anything tech-related! He has been instrumental in helping Kiavi to ensure our employee's success while working remotely, and we couldn't have done it without him. He is always here for the team and makes time to sort out any technical issues we may be having, even though he is very busy supporting so many people remotely! Not only is Alex a talented and hard-working individual, but he also has an energetic, upbeat personality. We at Kiavi are very lucky to have found our "Friendly Neighborhood IT Guy" who demonstrates all of our values on a daily basis." -Kristin Synan
"Alex has been a great partner to work with, his dedication to keeping our users productive, and solving issues in a timely manner is inspiring. Our users appreciate his help and always have only great things to say about him." – Jesse Estrada
Thanks Alex for all your work and support! Your Kiavi family appreciates you very much.