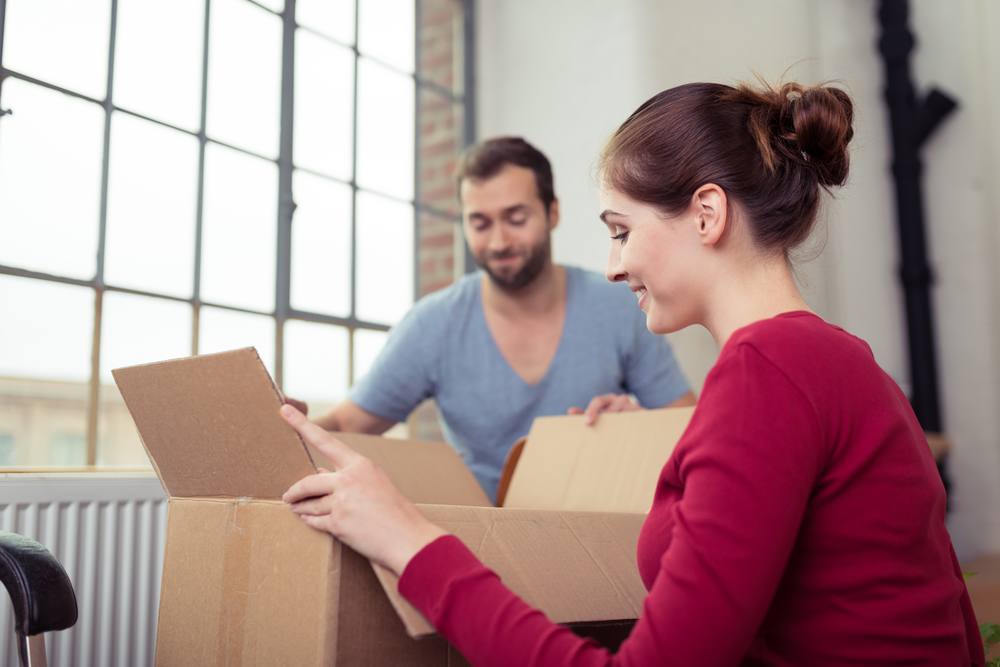 Moving in is as Easy as a Push of a Button
Note: originally posted on LendingHome.com and LendingHome is now Kiavi.

Moving day is around the corner, congrats! But are you starting to imagine exploding closets, heavy boxes and wobbly rental trucks? Forget all that. It's time to familiarize yourself with the world of moving apps and take the moving process to a whole new (and way more fun) level.
What's your moving day game plan?
Breaking down the entire moving process into weekly increments will simplify your life. If you have a couple months, great--you can definitely get it all done in eight weeks. Just keep a moving checklist and stick to it. There are plenty of free, printable checklists online and available with many moving helper apps. Here's the stuff you shouldn't forget, in order of priority:
Start budgeting for and researching moving companies as soon you know about the impending move
Collect or buy boxes, plastic bins, garbage bags and packing/labeling supplies
Sort, organize, label and start packing things you won't need until after the move: aim for at least a box a day or a room/space per week or weekend
Donate, trash, sell unwanted items
Gather up medical, vet, dental, legal and financial records
Request address change with the post office (bonus—you also get a package of coupons and special offers related to your move when you do this!)
Call your insurance company to find out about any changes
Notify utility companies, internet and phone service, bank and any other services of your address change
Label 'til the sun comes up
Packing isn't just about throwing everything from your closet into boxes and taping them shut. If you have any interest in finding your favorite corkscrew when you get to your new house, you've got to be organized on the packing end and slap those labels on. For those lovers of labels out there, you're in luck—the packing process is your playground.
But for the organizationally-challenged, there's an app for that. As you pack, Sortly assists you in organizing every item into a photo catalog (with an option for QR codes) so unpacking becomes a lot less chaotic. MoveAdvisor similarly helps you create a room-by-room inventory of all your stuff but also throws in a comprehensive checklist so you don't forget any steps as you glide along the moving timeline. Maybe the next time you move, there'll be a robot to do all that sorting, labeling and packing. But until then, do as the moving mavens do and keep the packing essentials by your side in a small box: tape, scissors, sharpie, adhesive labels, a pen and notebook.
Pack it up
There will inevitably be plenty of stuff that won't make the cut—too worn out, too broken, too 1995. But it's true that one person's embarrassing trash is another's DIY treasure. If you don't have time to deal with a garage sale and you'd rather not deal with Craigslist, try posting on NextDoor.com. Put up photos of your unwanted items on this site, set a price (or not), and get your neighbors to come pick them up! You won't have to do a thing.
If you change your mind about something at the last minute after all the boxes are packed, Shyp can help you take care of everything from pick up to packaging to finding the best rate for shipping your items.
Send in the movers
When you're on the hunt for a moving company that you can trust and afford, check out apps like My Move and Unpakt that streamline the process and make it possible to book your moving company in minutes. These apps have already done the hard work of hand-picking a select group of vetted moving companies from the thousands that exist. All you have to do is search for the best price. Unpakt's site also offers a running list of recent actual moves so you can get a quick estimate of how much you'll be spending.
And when you're all packed up and ready to go, you could try Ghostruck, which has been called a "dating app for moving trucks". With its "Make it Disappear" feature, you can knock yet another item off your moving checklist—selecting this option tells the movers to donate or dispose of your old stuff, for free!Similarly, Lugg is known as the "Uber of moving services." Just request a mover, send a photo of the items to be moved, and professional, vetted movers show up in 15 minutes to an hour.
When you need to verify a moving company's reputation, start with the Federal Motor Carrier Safety Administration's handy registration database, but also check out the mover's rating with the Better Business Bureau and Consumer Reports. Once you're satisfied with the results, don't forget to ask your movers about their policies on insuring your items, delayed arrival and anything else you're concerned about.
It's always great if you can bribe your friends and family into helping you pack up and move out. But for some extra assistance, check out the moving apps mentioned above—they're free and won't mind the long hours.