How to submit a scope of work
Your scope of work (SOW) is the outline of all planned construction and renovations of your project. An SOW is essential for nearly every real estate investment strategy. At Kiavi, an SOW is required after submitting your bridge loan application.

A detailed, accurate Scope of Work is vital for speedy loan origination and a painless Draw Process. This guide will walk you through Kiavi's SOW requirements and how to build a professional SOW right in your online borrower dashboard.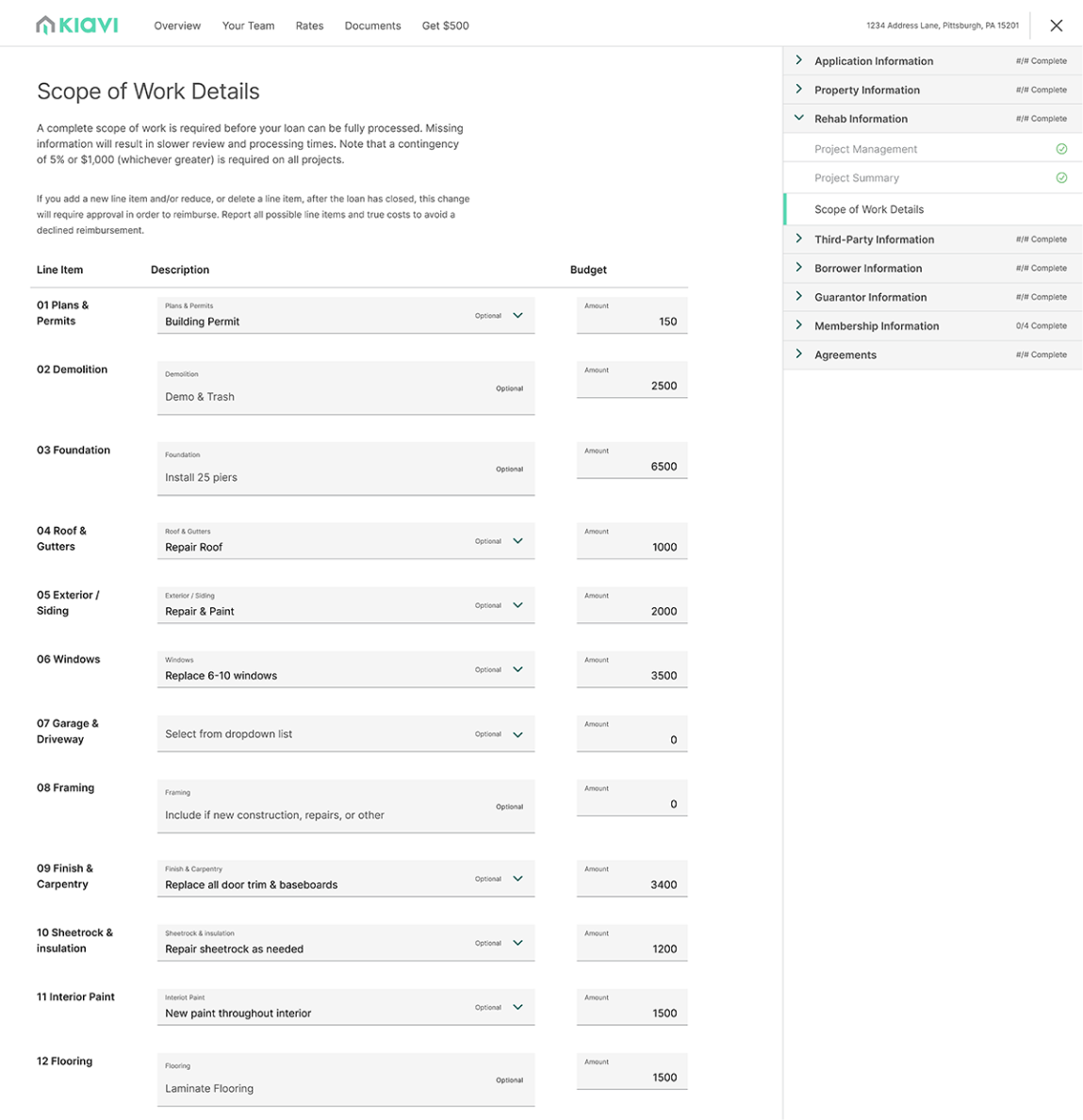 Submitting your SOW
After you complete and submit an application, it's time to submit your SOW. As mentioned above, we have integrated the scope of work template and process directly into the online loan experience.

In your borrower dashboard, you'll see the Rehab Information tab, with three sections to which you'll enter the various components of your scope of work:
Project Management
Project Summary
Scope of Work Details
Project summary
Describe the current condition of the home and summarize the work that will be completed during the project. Any and all additions, square footage increases, floor plan changes, or bedroom and bathroom increases should also be explained in the Project Summary. The updates described in the Project Summary must also be listed in the itemized Scope of Work.
Submitting cost estimates
When submitting your cost estimates, you'll need to specify the target quality of finishes for the project (low, mid, or high-range). Here are some examples of the types of materials for different types of construction projects which would be considered low, mid, and high range:

Do's and don'ts of completing your SOW budget
Review the details below to ensure your SOW meets Kiavi's requirements.
Do make sure all division budgets are sufficient to cover standard labor and material expenses.
Budget revisions will be requested if either of these components is missing.
Note: Make sure that materials already purchased or "free" labor from yourself, friends, or family aren't included in your budget.
Don't call out the same work in multiple division budgets.
For example, the SOW includes an Appliances division so kitchen appliances would be listed there rather than the Kitchen division – never in both.
Do pick selections that best represent the work being completed.
In the dashboard, several budget divisions offer pre-written descriptions from a drop-down menu. Pick the one that best represents the work being completed. If there is not an exact match, add a note in the Project Summary stating what work is actually planned.
Don't include staging or miscellaneous expenses.
Kiavi does not reimburse for staging or "miscellaneous" expenses. If the task is unclear or does not add permanent value to the structure, we cannot reimburse for it. Any fees charged by a general contractor should be allocated evenly across all other division budgets.
Scope of work review process
Once you've completed your Scope of Work, Kiavi analysts will conduct a review, checking to verify:
What does it mean if my project deemed 'extensive' during the review?
A construction project is deemed extensive if any of the following apply to your project:
Adding square footage
Performing significant structural foundation work
High renovation cost as compared to the purchase price
If your project is deemed extensive, a Licensed General Contractor will be required to manage the project for Standard level borrowers, and a Feasibility Analyst will have to verify the General Contractor license.
Learn More
Visit our blog The Ins and Outs of Your Scope of Work for even more details about the importance of creating a detailed SOW, its benefits to your projects, and its implications for financing. For any additional information regarding submitting an SOW with Kiavi, contact your Kiavi Experience Manager.