Fix and Flip / Bridge Loans
Fix and Flip with short-term financing
Kiavi provides fast and reliable fix and flip loans for both the purchase and rehab of investment properties.
Quick closing
Close in as few as 10 business days to compete with cash buyers
High leverage
No need to drain your own funds. We offer up to 90% LTC
Competitive rates
Maximize your returns with our competitive fix and flip/bridge loan rates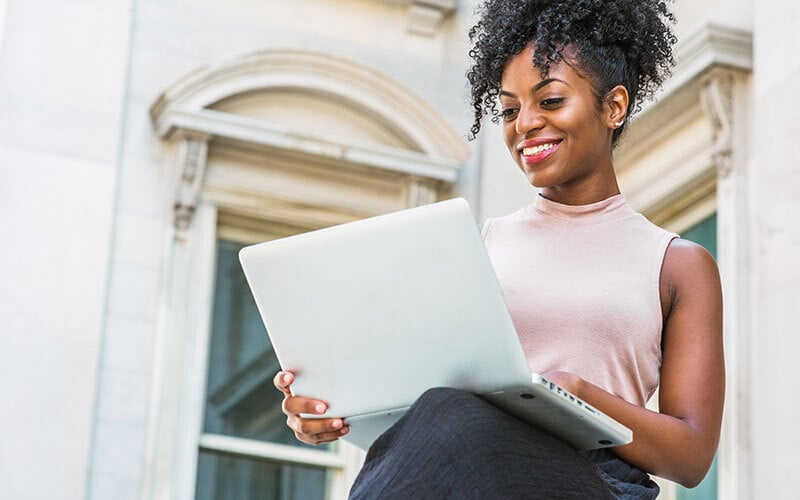 Fast funding for real estate investments
Kiavi's fix and flip loans allow you to free up your own capital by leveraging ours and close at the speed necessary to finance a deal in today's market. And, with our in-house servicing, you'll experience a fast and easy financing process from start to finish.
Fix and Flip / Bridge Loan Rates + Terms
Rates as low as 9.25%*
Loans from $100K to $2.5MM
Up to 90% of purchase price
Up to 75% of after-repair value
12, 18 + 24 month terms w/ interest-only options
100% of rehab cost
Our fix and flip loans can be used to fund new purchases or restore your cash position
Kiavi's fix and flip loans support three types of transactions on non-owner occupied properties including single-family residences, manufactured homes, 2-4 units, condos, and PUDs:
New purchase
Kiavi can provide the funds to purchase the property plus the renovation costs and can close quickly allowing you to compete against cash buyers
Delayed purchase refinance
Using your own cash or home equity to purchase a property, restore your original cash position within 6 months of the property purchase
Seasoned finance
Owned the investment property 6 months or longer? Our fix and flip loans can be a perfect way to provide extra runway to get you across the finish line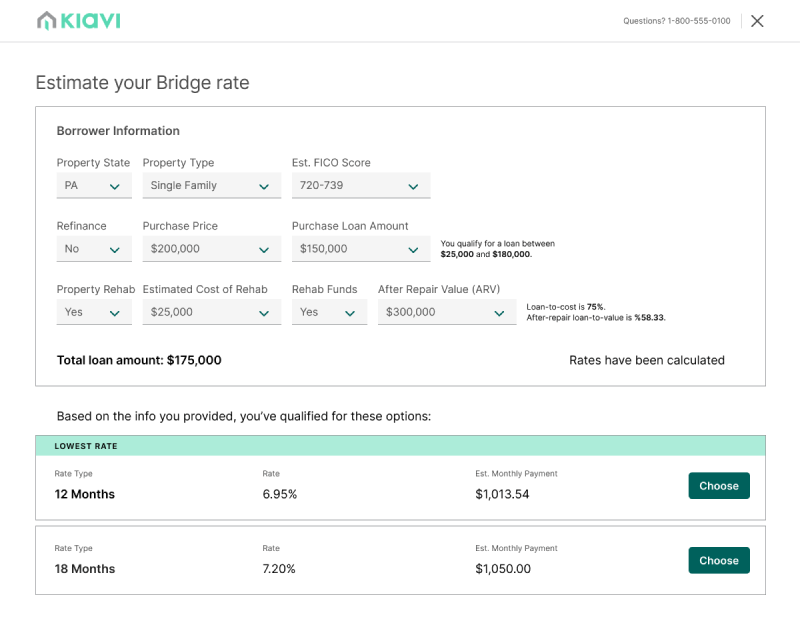 The quick and easy way to finance your real estate deals
Kiavi can close much faster than traditional banks with conventional loans. Forget searching for pay stubs and old W-2s, we do not verify your income or employment. On top of that our tech-forward platform eliminates time-consuming tasks, speeding up the process to close.
Three easy steps and you are on your way!
Get pre-qualified online
With just a soft credit pull, we can give you the confidence & clout to make offers on hard found deals.
Call us to talk
When you find your property, let's review the numbers–leverage our experience and expertise for your project, we've seen it all!
Submit your application
Like what you see? It's GO time. With no application fee or upfront costs, there's no obligation for you.
No appraisal necessary on fix and flip loans!
Waiting on appraisals is often a hurdle when using banks or other hard money lenders to finance your fix & flips. Kiavi instead uses an internal valuations team that speeds up the process, getting you to the closing table quicker!
How much can I borrow with a Kiavi real estate fix and flip loan?
Don't settle for banks draining your funds with down payment requirements, having to borrow against your 401k, or working with other lenders' inconsistent leverage options. Our bridge loans provide the leverage to fund both the purchase and rehab costs for investment properties.
Kiavi finances up to 90% "initial" LTC plus 100% of rehab costs. Your FICO score and real estate exit experience are two of the biggest factors in what leverage option you qualify for.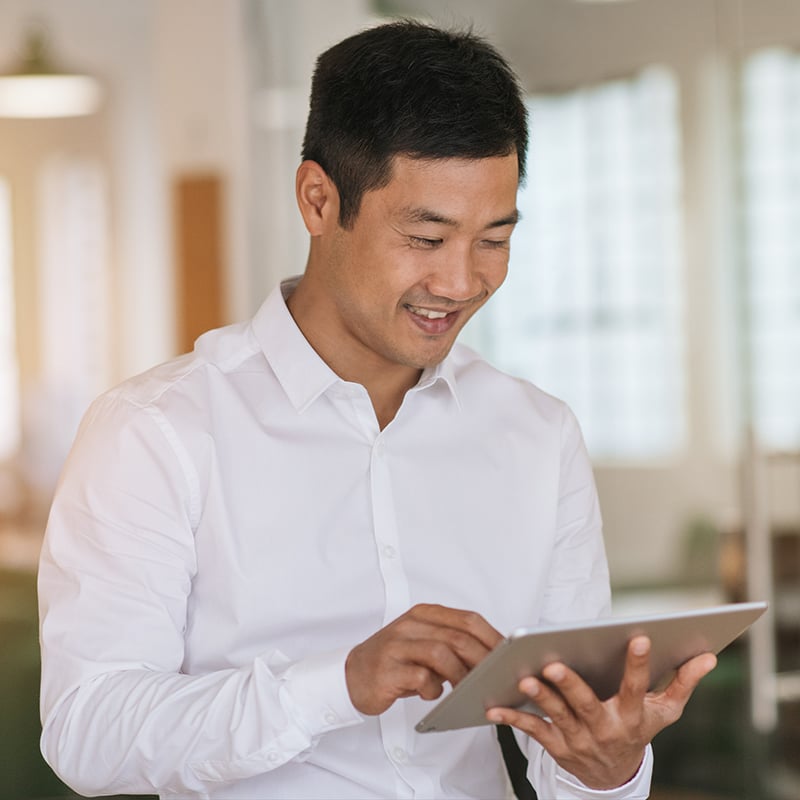 We actually want you to read the fine print
We're very upfront and transparent with the fees we do and don't charge. The fine print in financing can have a serious impact on your ROI. For example, unlike other lenders, Kiavi has no prepayment penalties and does not charge points at exit.
Depending on your rehab plans and timelines, allow your Kiavi customer experience manager to walk through the numbers with you and provide guidance in prioritizing lower upfront costs versus maxing your leverage. We want you to have a successful exit!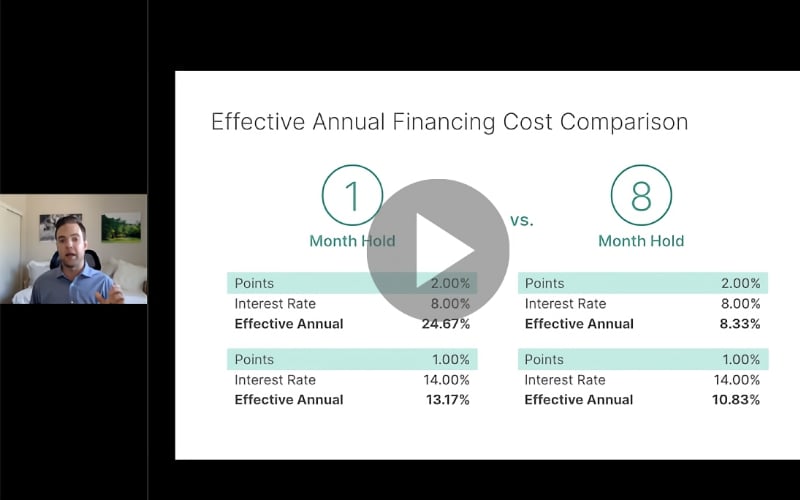 On-Demand Webinar
Want to learn more on how funding decisions can impact your ROI?
Real estate investors have more options in investment strategies than ever before. Kiavi walks you through the differing factors among these strategies and real-life examples of the impact of funding decisions.
The more you do, the more you get
Each investor we work with is unique and no two deals are alike. We'll work together to support your investment goals. Plus as your business grows, your rates and benefits will improve as well.
Experienced real estate investors with at least 5 exits in the past 24 months, we will take that into account and customize a plan for your thriving business model with lower closing fees, customized points, and even quicker closings.
From new investors to seasoned professionals, Kiavi is invested in your growth and wants to help you fulfill your dreams of building wealth through real estate.
$16+ billion
of loans funded
32 states + DC
where we lend