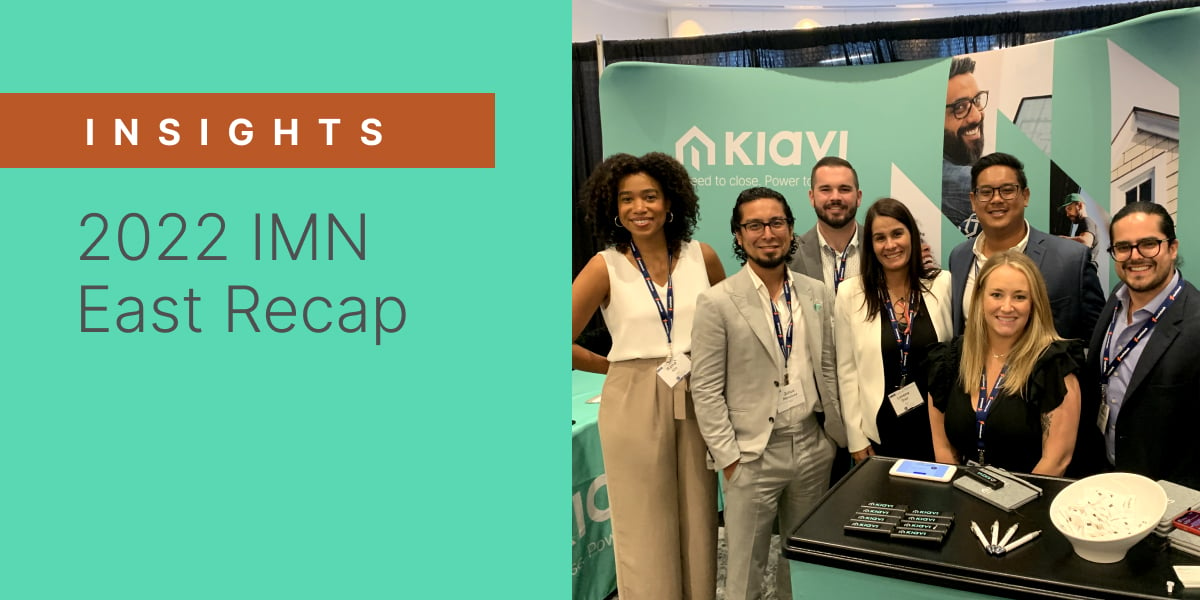 3 Highlights from the IMN Single-Family Rental East Conference
Where else could you find the industry's top real estate investors (REIs), lenders, and service providers all in one place, discussing top market trends? The recent IMN Single Family Rental East Conference in Miami, FL! With market volatility, unstable interest rates, and increased housing demand - many attendees were eager to understand what to expect and how to move forward from top thought leaders in the asset class.
It's safe to say that the conference was not only buzzing with excitement but also looking for answers from the top leader's point of view on market trends. With the single-family rental (SFR) market currently estimated at $3.4 trillion and occupancy rates at an all-time high, an increasing number of investors are expanding their strategy to include this asset class.1 In fact, it's expected that there will be an additional demand for 7 million rental homes in the upcoming years.

Kiavi attended this highly-anticipated event to discuss key insights on several panels and connect with many of our customers and service provider partners. After multiple days of conversations, networking, and insightful panel discussions, the Kiavi team came back with several highlights to share with those who were unable to attend. Below are our top takeaways to help you get a pulse on what's next for SFR.
Rising Interest Rates, Spiking Home Prices, and Extreme Uncertainty - Oh, My!
Unsurprisingly, the most widely discussed topic within the keynote, panels and networking chatter was the impact of the increased interest rates. With low inventory, the demand for homes will continue to rise, and changes will be felt within the SFR asset class and, eventually, the cap rates. However, while industry leaders cautioned about extreme uncertainty, many believe that the market and housing prices will start to normalize eventually.

Overall, the industry appears to be very optimistic despite the incoming tailwinds, inflation, and rising rates from the Fed. There was caution around aggressively raising rates. REIs need to be cognizant of rent collection and how to move forward profitably – especially with the possibility of rent control legislation in the future. Many panelists agreed that REIs have the unique opportunity to create quality and affordable housing for their current and future tenants.
Build to Rent Continues to Pave the Way
BTR continues to be a highly discussed topic for REIs and lenders alike. With a housing shortage and increased demand, the industry is more bullish on BTR than ever because the market needs more homes to accommodate the incoming renter demand. It's predicted that with over 14,000 BTR homes throughout the United States, the market will grow to 80,0000 and eventually account for 10% of all new construction homes.2

It's also believed that BTR will trend towards multi-family homes in highly sought-after locations instead of SFR. For REIs looking to expand their strategy into BTR, it's important to find the correct city center markets with both the renter appetite and land available to build.
The Future is Green
While 'sustainability' and 'eco-friendly' are common terms in most industries, environmental, social, and corporate governance (ESG) practices are becoming increasingly popular for REIs in the SFR asset classes. While there are no mandatory guidelines, many REIs are finding new ways to implement features like solar and smart tech into their investment homes to attract younger tenants and fresh talent to their businesses.

Efficiency allows REIs to become more responsible owners by earning potential tax credits and helping communities through elements like using sustainable construction materials, implementing renewable energy, and monitoring water/waste disposal. Panelists urge REIs to start now and take small steps to make it happen.
Final Takeaways
With continued market volatility and interest rate instability, many REIs are evaluating their investment strategies and bracing for what's to come. Due to increased rents and inflation, the demand for affordable and quality rentals will continue to rise, making SFR an essential asset class for investors to hedge their bets on. Despite the ongoing fluxations, the industry as a whole remains highly bullish about the future of SFR - encouraging investors to hold firm and focus on the long-term value.

Kiavi appreciates the opportunity to speak on leadership panels and connect with so many of our peers and partners about the buzzing SFR asset class. We're committed to keeping our customers informed on the industry trends and how to infer their own investment strategies to scale. Until next time!
Sources:
1 "The 10th Annual Single Family Rental Forum (East) (May 23rd, 2022," Information Management Network, accessed June 16, 2022, https://www.imn.org/real-estate/conference/Single-Family-Rental-Forum-East/.
2 Alexandra and Ciuntu, "Built-to-Rent Homes Expected to Hit All-Time High in 2022, Fueled by Need for Space and Privacy," RentCafe rental blog, January 21, 2022,https://www.rentcafe.com/blog/rental-market/market-snapshots/built-to-rent-single-family-homes-double-in-2022/