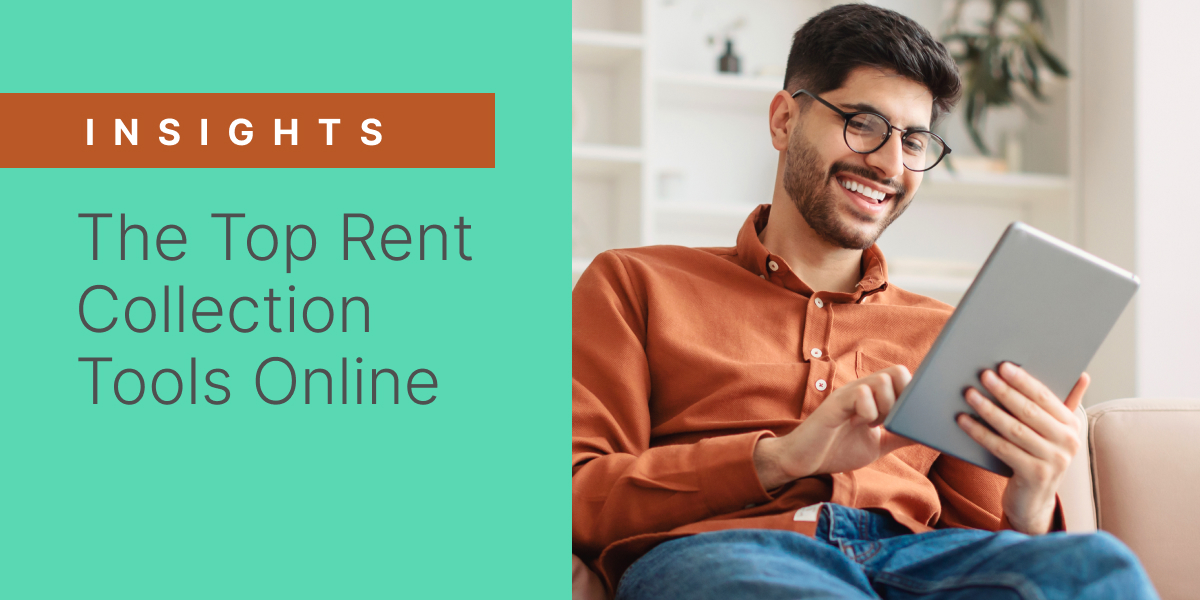 A Landlord's Guide to the Top Online Rent Collection Tools
No landlord wants to be stuck wondering when rent payments will come in — or whether they're on their way at all. Traditional rent collection methods like cash or paper checks leave a lot of room for human error. Your tenant may lose track of time and forget to make their monthly payment, or their check might get lost in the mail. Either way, it's a headache waiting to happen for landlords, especially those who own multiple rental units.
But inefficient, old-school payment methods no longer have to be the status quo for real estate investors. Built to enhance the landlord experience, modern rent collection software can prevent late payments, increase transparency between tenants and landlords, and combat common rent collection challenges.
Benefitting both landlords and renters, the best rent collection software is secure and convenient — relieving stress rather than causing it. Instead of relying on paper checks and the postal system, tenants using a rent collection software can choose from a variety of payment methods like bank transfer, debit card, or credit card, then send their rent from any device with just a few taps.
Automated payment options improve the rent collection process even further by preventing payments from slipping through the cracks. Instead of wondering when rent checks will arrive in the mail, landlords who use online rent collection tools can monitor tenants' payment statuses in real time.
If you're interested in modernizing your rent collection process for your buy-and-hold investment strategy, you've come to the right place. In this blog post, we'll compare some of the most popular online rent collection tools to help you discover which is best to scale your real estate investment portfolio.
Evaluating Rent Collection Software
Here are four key factors to consider when researching different rent collection tools:
Cost: When it comes to pricing, online rent collection tools range widely, with some platforms costing landlords no money at all and others charging several hundred dollars per month.
Tenant payment options: Which platform gives tenants the greatest flexibility for making payments? Each tenant has their financial preferences, so it's important to find a tool that accommodates multiple payment methods, including electronic bank transfers, debit cards, credit cards, and paper checks.
Accounting and bookkeeping tools: Some platforms — like peer-to-peer payment services — don't offer any landlord-specific tools. On the flip side, other platforms have plenty of rental property features to help landlords with accounting, expense management, and taxes.
Complementary products and services: Of course, you want your chosen platform to streamline the rent collection process. But what else can it do beyond that? Some tools offer bank accounts designed for landlords, rental property insurance, or competitive loans — while others are much more limited in their offerings.


7 Top Online Rent Collection Tools for Real Estate Investors
To make your evaluation process easier, we've listed seven of the most popular online rent collection tools for landlords — along with their pros, cons, and any unique features to consider.
Azibo
Benefits: As a free, all-in-one platform for landlord finances, Azibo* offers simple online rent collection and comprehensive tools for rental property owners — from banking and expense management to insurance. It also has one of the fastest payment deposit times compared to peer online rent collection platforms — with rent payments arriving in your account in just 2-3 business days. In addition, Azibo offers business checking accounts designed for landlords, where you can earn 3.75X the national average interest rate with no monthly fees or minimum balances. Azibo also allows you to make payments, set up online tenant applications, and simplify tax preparation by tagging expenses by Schedule E category.
Best of all, Azibo is 100% free for landlords. Azibo also offers benefits for tenants, who can also use the platform to purchase renters insurance or improve their credit score by reporting on-time rent payments to the credit bureaus with Azibo Credit Boost. Renters can use Azibo to make online rent payments for free, or choose to pay rent with a credit card for a 2.99% processing fee.
Considerations: While Azibo boasts many free landlord financial tools, it doesn't offer some of the services other property management solutions do.. For example, Azibo's platform does not assist landlords with property inspection, vacancy advertising, or lease creation and renewals. However, landlords and renters using Azibo can access exclusive offers for real estate investor services through partners listed in the Azibo Marketplace — including lending, property management, legal services, maintenance, and more.
Peer-to-peer payment services (PayPal, Venmo, Zelle)
Benefits: Many tenants are already familiar with these free platforms even if they haven't used them to pay rent before, so there shouldn't be much of a learning curve.
Considerations: Peer-to-peer payment services weren't designed for landlords, so they lack robust automation, tax prep, and bookkeeping features. In addition, these platforms have weekly or monthly payment limits (e.g., Venmo maxes out at $6,999.99 per week, and PayPal caps at $10,000 per transaction), which may impact your higher-rent or commercial renters or tenants who already use peer-to-peer payment services for other expenses. The IRS also now requires users of these third-party payment platforms to file a separate form (the 1099-K), which may complicate your tax returns.
Apartments.com
Benefits: Apartments.com allows landlords to collect rent and set up rental applications, tenant screening, lease creation, vacancy advertising, dashboards, and other organizational tools for landlords such as expense management. Collecting rent with Apartments.com is free for landlords. Tenants can pay rent with an online bank transfer for free, or pay a 2.75% processing fee for rent payments made on credit or debit cards.
Considerations: Apartments.com is known primarily as a website to list rentals, but after it acquired Cozy, the platform began offering online rent collection in 2021. Some Cozy users were frustrated in the migration to Apartments.com and switched to other rent collection platforms. Apartment.com's 5-business-day turnaround time for bank transfers is longer than others, so if quick access to your funds is essential, you may prefer another option. And while it's free to list rental units, landlords have reported that they must do paid listings to actually get applicants.
Buildium
Benefits: Well-suited for larger real estate investors, Buildium offers an extensive variety of property management services to scale your business. This platform assists landlords with vacancy advertising, lease applications, tenant screening, rent payments, lease renewals, and more. Buildium also provides accounting tools, automated rent reminders, and financial performance insights. Property managers can submit and manage maintenance requests and pay vendors online.
Considerations: Unlike some of the other online rent collection tools, Buildium isn't free. Customers get a free trial, but plans start at $50 per month — and Premium accounts start at $460 per month. Smaller independent landlords may prefer a more cost-effective option, as many of Buildium's advanced features may go unused.
TurboTenant
Benefits: Along with its rent collection software, TurboTenant offers landlords convenient features for advertising properties, evaluating rental applications, screening tenants, and creating lease agreements. It also has a free plan for landlords.
Considerations: While TurboTenant does offer a free plan, landlords will have to purchase a paid plan if they want access to upgraded features like phone support, expedited rent payouts, or unlimited connected bank accounts. TurboTenant also doesn't offer any accounting or expense management features for landlords.
RentRedi
Benefits: RentRedi provides landlords with a robust suite of solutions across several different areas, including rent collection, property listing, tenant screening, rental management, lease agreements, and more. Its mobile app makes rent collection simple and straightforward.
Considerations: RentRedi doesn't offer free plans, so this isn't the most cost-effective option for landlords. RentRedi also charges tenants ​​$1 for each ACH payment, which is steep considering ACH transfers are free on platforms like Azibo.
Stessa
Benefits: Beyond offering rent collection and expense management, Stessa provides free asset management tools that help residential rental property owners track, manage, and report on all their real estate investments via a personal online dashboard. Stessa users enjoy automated income and expense tracking, document organization tools, and tax-ready financial reports. One reviewer called the platform "Quickbooks on steroids for real estate."
Considerations: While Stessa is known for offering user-friendly financial tools for landlords, you'll have to use another platform to get services like tenant screening and rental advertising.
Choose the Right Online Rent Collection Tool for Your Business
Evaluating the many options for rent collection software can be overwhelming for independent landlords. To help you make a decision, think about your biggest pain points, and find an all-in-one platform that will support your business goals.
*Kiavi collaborates with Azibo by providing real estate investors the ability to leverage a custom, online technology platform that uses modern technology and data science to access financing quickly, efficiently, and reliably.