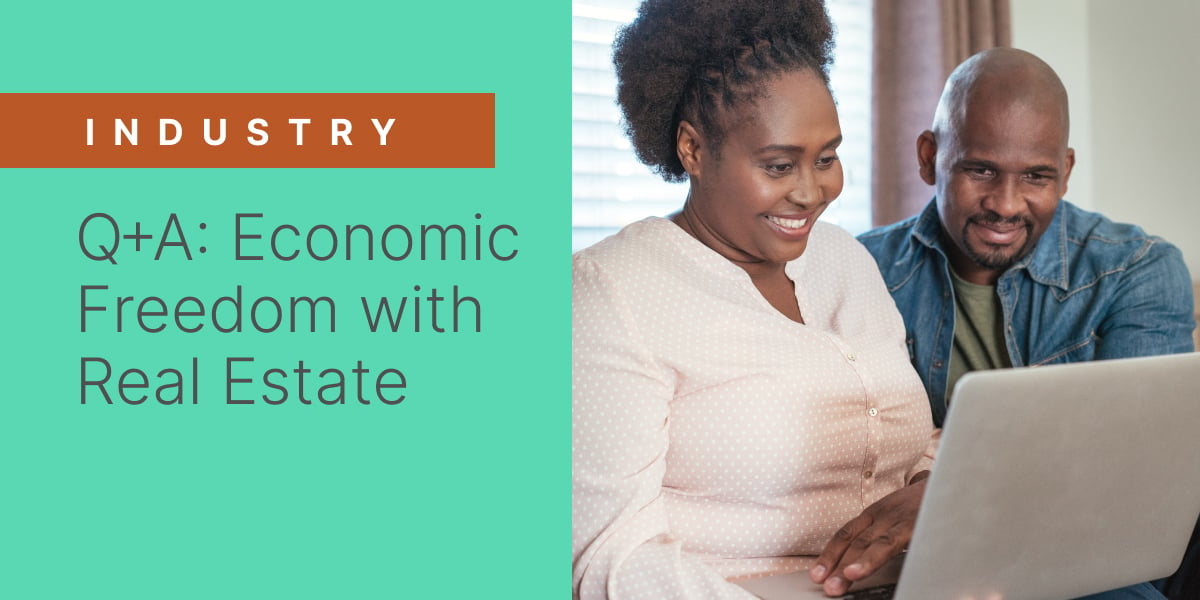 Achieving Economic Freedom with Real Estate: Fireside Chat Recap
Kiavi and Corporate Community Connections (CCCI)* are joining forces to help aspiring real estate investors in minority and underserved communities.
On February 28, 2022, the CEOs of both organizations hosted a fireside chat to discuss their mission to provide underserved communities with training and financing as a pathway to build wealth, revitalize neighborhoods, and rehabilitate aged homes across the country.
Watch the full discussion, "Achieving Economic Freedom with Real Estate: A Fireside Chat with Dr. DeForest B. Soaries Jr. and Michael Bourque," here:
"We're a mission-driven company, and we're really trying to help people live better through real estate," said Michael Bourque, the CEO of Kiavi. "For us, the goal is to help people identify opportunities in their local environments. Be a partner for them and help them understand how to make that exercise successful and help them do it again."
Through the strategic alliance, people will have access to financing to purchase and rehabilitate single-family homes in distressed communities. Kiavi will provide them with access to timely capital and support. CCCI's initiative, the dfree® Financial Freedom Movement, will provide financial literacy courses to help them get started with their real estate investing journey.
"There are entire communities that are plagued with non-development," said Dr. DeForest B. Soaries, Jr., the CEO of CCCI. "We want to mobilize the people who live near the block to buy the block and make it not only socially viable but economically profitable for the people who live there."
Hundreds of attendees tuned in to watch the fireside chat. Here are the answers to some of the questions we received during the session:
Q: How do I receive the training from the dfree® Movement and is there a cost?
A: To pre-register for the free training, please sign up for the dfree® Real Estate Investor Network at dfree.com/REIN, and you will receive email notifications about the course when it becomes available. To learn more about the strategic alliance between the dfree® Movement and Kiavi, visit dfree.com/Kiavi.
Q: What are your thoughts on the housing shortage in relation to real estate investing? Will there be more opportunities to invest or will the industry shift to new construction?
A: With 65% of American homes being over 30 years old, the demand for move-in ready homes continues to grow and residential real estate investors are needed more than ever. We see massive opportunities for real estate investors to renovate these properties and turn them into move-in-ready homes for new families.
Q: Are there organizations that help low-income home buyers that are ready to purchase homes? How do we connect with these groups after rehabilitating homes?
A: We recommend that you connect with other real estate investors through dfree®'s Real Estate Investor Network (REIN). In the network, you will receive exclusive information about real estate investment opportunities, join a supportive community of real estate investors, and access resources that can help your projects grow.
Q: Does Kiavi help new investors?
A: Kiavi provides financing to both new and experienced real estate investors. Our new investors are defined as completing 0-4 flips per year and will receive financing based on their experience level, FICO score, property, and more.
If you have an investment property in your local neighborhood that you need to receive financing for, visit kiavi.com/dfree. If you'd like to learn more about the real estate investment process and how to get started, visit dfree.com/Kiavi.
*Kiavi collaborates with dfree® Financial Freedom Movement to provide training and financing to people in underserved communities as a pathway to build wealth, revitalize communities and rehabilitate aged homes across the country.
Bridge and rental loan rates and terms are based on a combination of factors: LTV, FICO, experience and are subject to change. Loans available in AZ, CA, CO, CT, FL, GA, IL, KY, MA, MD, MI, MN, MO, NC, NJ, NV, NY, OH, OK, OR, PA, SC, TN, TX, VA, WA, and WV, as well as Washington D.C. Prepayment penalties as allowable by state.