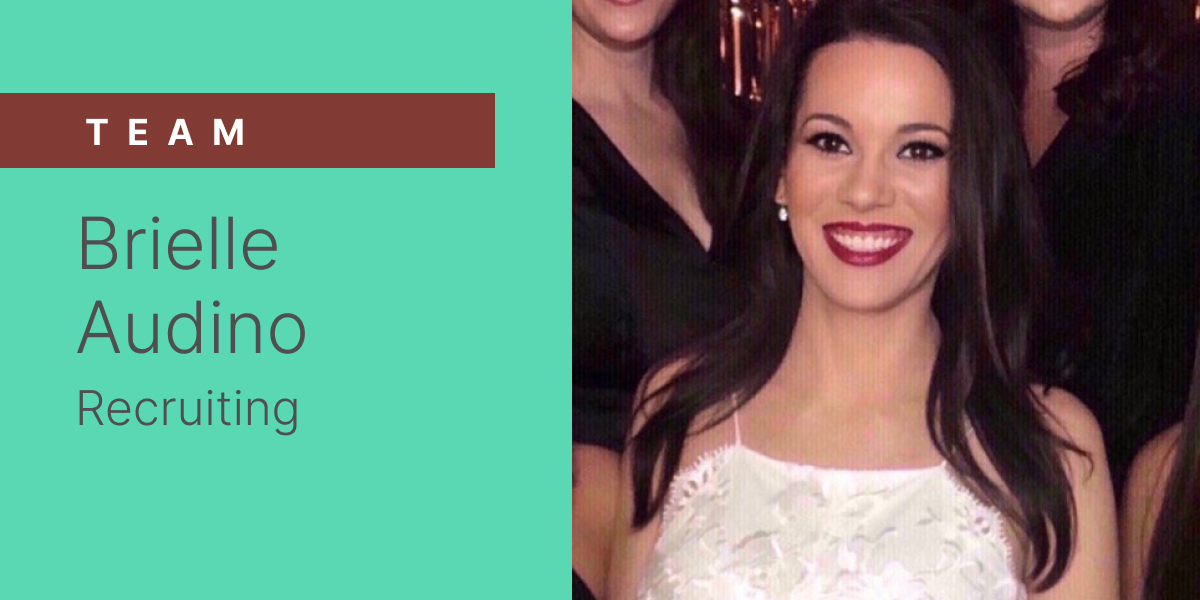 Cultivating the Team: Brielle Audino's Journey in Recruiting and Knack to Finding Candidates
Note: originally posted on LendingHome.com and LendingHome is now Kiavi.

We boast a team of many talents, backgrounds, and experiences that has helped create our own amazing melting pot of talent which is part of what makes us so special. However, we have to give credit where credit is due, our team is overall fantastic, but we also have an impressive team of recruiters who find the wonderful, skilled, creative people who help make Kiavi what it is today.

One of these rockstar recruiters is Brielle Audino. Brielle is our Recruiting Operations Lead.

Lead who has been here three years. She is also a ball of energy and positivity and her infectious personality brings the best out of candidates.

Based in our Pittsburgh office, Brielle shared some of her background, a bit about Kiavi, and the great things about working for us, particularly on the tech side!

Check it out:
How did you get into recruiting?
I graduated college with a degree in Accounting, so I went to a placement agency to help me find a new job as I wasn't fulfilled in the position I was in. After my meeting with the recruiter, the manager of the firm approached me about working internally which I thought was a much better fit for my personality because it allowed me to work with people in finding new career opportunities as well as utilize my education and experience because I had to know what accounting and finance professionals did.
What attracted you to work at Kiavi?
Pittsburgh used to be known as an old steel city, however over the past ~10 years it has really turned into a growing 'Tech Town'. Google, Amazon, Facebook, Stitch Fix, and Uber all had operations here and I wanted to be a part of that industry. I also really wanted the experience working at a start-up and everything I found out about Kiavi fit exactly what I was looking for.
What is your favorite thing about the culture at Kiavi?
The people. I tell candidates all the time that I could talk about the culture all day! The open and transparent communication from our leadership team, the drive and dedication from everyone across all departments, and the continuous devotion for our workforce to grow and develop in their careers.
What is it like to recruit for Kiavi?
It's exciting! Our company is truly pioneering in a space where other companies don't provide the service and products that we do. And having the opportunity to tell our story to candidates during the recruitment process is just as exciting today as it was when I joined three years ago.
What are the things you love about a candidate?
I love when candidates genuinely fit our Kiavi values. When someone shows the dedication to innovate and simplify, or has the soft skills where they think like an owner, I know they're going to be a great addition to the company.
What are some challenges in recruiting in general?
It's a hot job market. Unfortunately when a candidate is interviewing with Kiavi, they're most likely also talking to other companies as well. We have to ensure that every aspect of our interview process and offer is exactly what they're looking for. Not only in compensation, but also the benefits package, the job title, the potential career development, and typically the most important part is the people they'll have the experience to work with on a daily basis.
Tell us what you think is the best part about working for Kiavi?
Kiavi was founded to provide services and products to real estate investors that weren't readily available on the market. Our co-founders developed technology from scratch, which we still have complete control of today, which has not only allowed us to get the keys in the borrowers hands faster with an average close of 10 days, but also significantly decreased the cost to originate our loan products.
How is our engineering team growing? What exciting things are they working on?
Our Engineering team is one of the main parts of the foundation of building our new products. Last summer, our rental product was launched, and in Q4 2020, the Kiavi Property Marketplace was launched. Without our engineering team, these product launches would not have been possible. They continuously strive to make our technology and products more efficient and identify ways to automate the process to provide a better experience for our customers.
Anything else you want to share about the benefits of joining our engineering team?
You'll have the opportunity to make an impact on big company initiatives. Every single engineer has a voice where collaboration is valued.
What other teams are growing fast at Kiavi?
Our Mortgage Operations team is growing faster than we could've possibly imagined! This is exciting because these hires are all new incremental headcount due to the sheer demand of our loan products. Our G&A teams are also growing rapidly this year within areas of Employee Success (HR), Accounting and Finance, Legal, and Marketing.
How does Kiavi support career growth and development?
One of the things I love talking to candidates about is our constant commitment to growth and development. Not only does every employee have regular 1:1s with their direct supervisor to discuss what they're working on, but also where they want to take their career and what steps they need to take in order to get there. Also due to the fast growth of our company, internal mobility is a huge part of career development and our management team works very closely together to ensure our workforce is getting the opportunities to grow and develop.
What is the benefit of working at a company the size of Kiavi compared to one of the bigger companies (like Google/Apple).
We get to make a difference. Larger companies are already well established in their policies and procedures and employees rarely have the chance to make process improvements. At Kiavi, we not only value what the employees are doing on a day to day basis, but also the project work they're able to contribute to in bettering the company.
What are some of the best benefits and perks about working for the LH team?
Our commitment to work / life balance. We have a flexible time off policy which supports our workforce in taking the time off needed to unplug and refresh, as well as truly support family first.
How has recruiting changed during the pandemic?
Kiavi adapted exceptionally well to recruiting & hiring during the pandemic. Since our office locations were already across the country in San Francisco, CA and Pittsburgh, PA we were already accustomed to video meetings. This made it an easier transition to having all interviews conducted via video. We also quickly shifted to a remote friendly environment which drastically opened the talent pool to candidates that we didn't have access to prior as most roles were required to be in the office. For our Mortgage Operations and Sales teams specifically, this allowed us to hire candidates with direct industry experience in either the bridge or rental loan spaces.
Thanks Brielle! Your positive energy, attention to detail, and people skills have helped cultivate the Kiavi family to the wonderful community it is today. We appreciate you and your story!