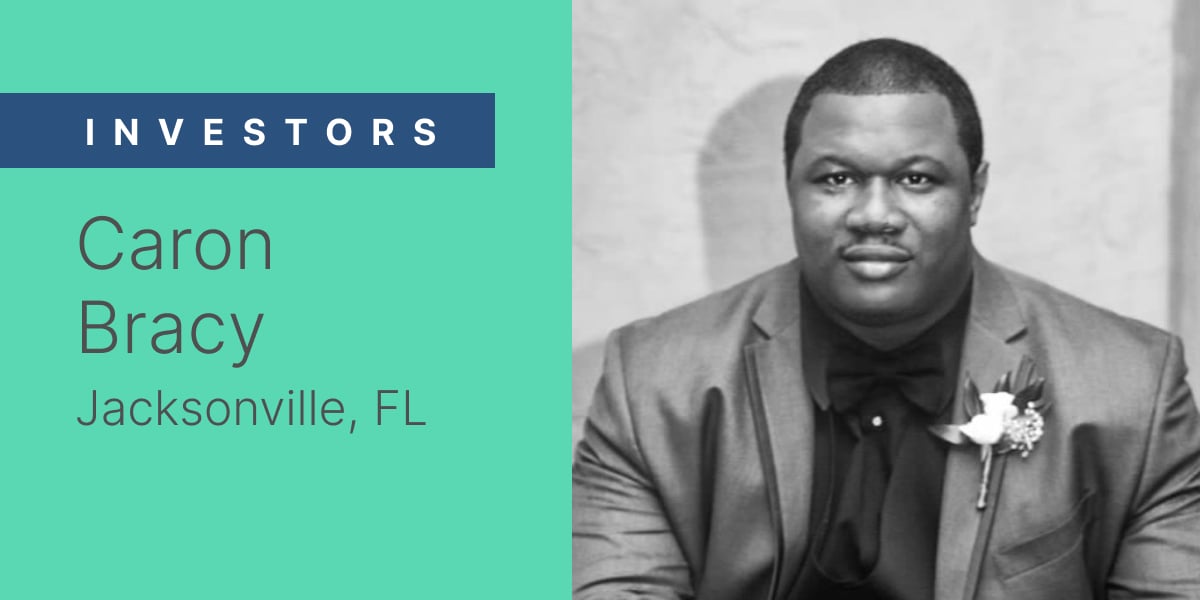 Real Estate Investing Success: Caron Bracy
Note: originally posted on LendingHome.com and LendingHome is now Kiavi.

Customer Caron Bracy learned about the real estate investing industry through friends and acquaintances when he was a teenager. That implanted the idea and desire to gain financial freedom, opening him up to opportunities and possibilities in the field.
Caron Bracy's house flipping success story
Since, he has flipped about four houses, teaming up with his wife, and continues to build and scale his real estate investing portfolio as a house flipping investor. As if that wasn't impressive enough on its own, he is still a manager of a technical recruiting team at a well-known, successful tech company.
Balancing the two worlds is not an easy task and his road to success is an excellent example for those who want to keep one foot in each type of work. Learn more about Caron, how he started in the industry, and how it has evolved. He inspires our team and we know he'll inspire you!
Getting started
Caron's high school football coach was a real estate investor and business owner. Admiring his lifestyle and his perk of being his own boss, Caron's interest in the industry sparked. In addition, he had another friend who was a real estate investor. Following their examples, he tried his own hand at flipping houses for profit.
He did plenty of research before going into his first project three years ago. He read, he listened to real estate investing podcasts, and he talked to plenty of people with first hand experience. Due to his studying and prior learning, he felt like he definitely had the correct expectations going in. One thing he notes about the process though is that finding and working with contractors can often be a challenge, a sentiment many real estate investors express.
The main thing he learned through all the research though was valuable. "Nobody cares about your business more than you," Caron says. He understands that in this industry, you need to be entrepreneurial, self starting, and your own advocate.
Current flipping career
These days Caron typically looks for at least 3 bedroom, 2 bathroom single-family homes. Most projects he is usually all in on purchase and renovation. His investment properties are often between $100,000-$130,000 with a target after-repair value of $145,000-$200,000.
He currently invests primarily in Jacksonville, Florida, but is open to expanding his portfolio to other states.
When it comes to getting to the point where he's at today, aside from all the research he did, Caron also gives much credit to his networking skills. But he doesn't think the learning stops there.
"I think it's important to continue to educate yourself," he says.
Working with Kiavi
Kiavi came into Caron's financing plan when he was referred by a fellow house flipping investor. When he was introduced to the program, he was working with another hard money loan lender. But after funding a deal with Kiavi, he was immediately impressed with the draws process, his interest rates, and the online dashboard. Caron mentions, "The dashboard is easy to access, keeps paperwork in one place, and creates a smooth overall process. The technology aspect that Kiavi has brought to lending is amazing."
Another benefit of using Kiavi that Caron appreciates is that a rep checks on him and his deal. The personalized touch and relationship aspect helps create a genuine partnership.
"Kiavi provides hard money that works for investors. The more you work with them the better your rates. The technology brought to the lending process makes everything quicker and smoother."
If I knew then what I know now
Hindsight is always 20/20. Caron mentions he wishes it would have started sooner and continued to learn from there. He believes the foundation of doing well in this business is continuing to learn. Building your portfolio and garnering skills sooner than later, benefits your growth.
As far as changes go, there hasn't been much change, only that profits may have decreased a bit.
Crucial partners
Another impressive aspect of Caron's house flipping and real estate investing career is that he does it from out of state. He isn't there to do daily check-ups on his properties himself. It adds another layer to coordination and management, but he has found a formula that makes his process tick.
He says his team is of utmost importance. Finding contractors, real estate agents, and property managers who are skilled at their crafts and who he can trust is key to helping a deal run successfully. Finding these quality partners? Again, he credits it all to plenty of networking!
Management style
Bringing his role of managing a recruiting team at a tech company to the table, he is keen on ensuring he brings out the best in his real estate investing team as well.
For example, when partnering with contractors, Caron makes sure he finds those with creativity. He gives them flexibility to spread their wings and bring their ideas to the table. For the contractors that are more doers and executors, he partners with them and a real estate agent so they all collaborate together to find the right design and vision.
As any good leader knows, finding the talents of those you are directing and giving them room to flourish and nurture those skills can result in great relationships and even better work.
Preparing for the unexpected
For example, he says if the market is down, Caron mentions he hasn't experienced one yet, but his game plan to move through anything would be to continue to network and build relationships. He's a believer that these set the foundation for your work and help you long term.
For example, he says if the market was down, you have to make deals and having those connections can help present the right deals to you, giving an advantage. Also, Caron emphasizes continuing your education in the field is crucial, so understanding the industry and knowing when to pivot your investments helps you go into the unknown with a bit more amour.
Rewards and future goals
One bit of gratification that sparks Caron's passion is seeing a property transform. He invests in rundown properties and seeing their potential come to fruition is satisfying.
When it comes to diversifying his portfolio, Caron also has two rental properties and is looking into doing more by following the popular BRRRR strategy. He would also like to further diversify by branching into flipping multi-family homes so he can see the transformations on a larger scale.
For the future, he hopes to continue to build and grow his business for flipping houses for a living, generating wealth and a business that he can pass down to generations.
Thank you for sharing with us Caron! Your ability to balance many responsibilities, wear many hats, and continue to expand in this demanding industry is inspirational and motivating.
If you are interested in building a career like Caron's, contact Kiavi for reliable house flipping financing, an expert team, and flexibility that helps you grow for the long term. There's a reason the company is a top lender in hard loans, and ultimately a benefit for drafting a house flipping business plan to make profit.