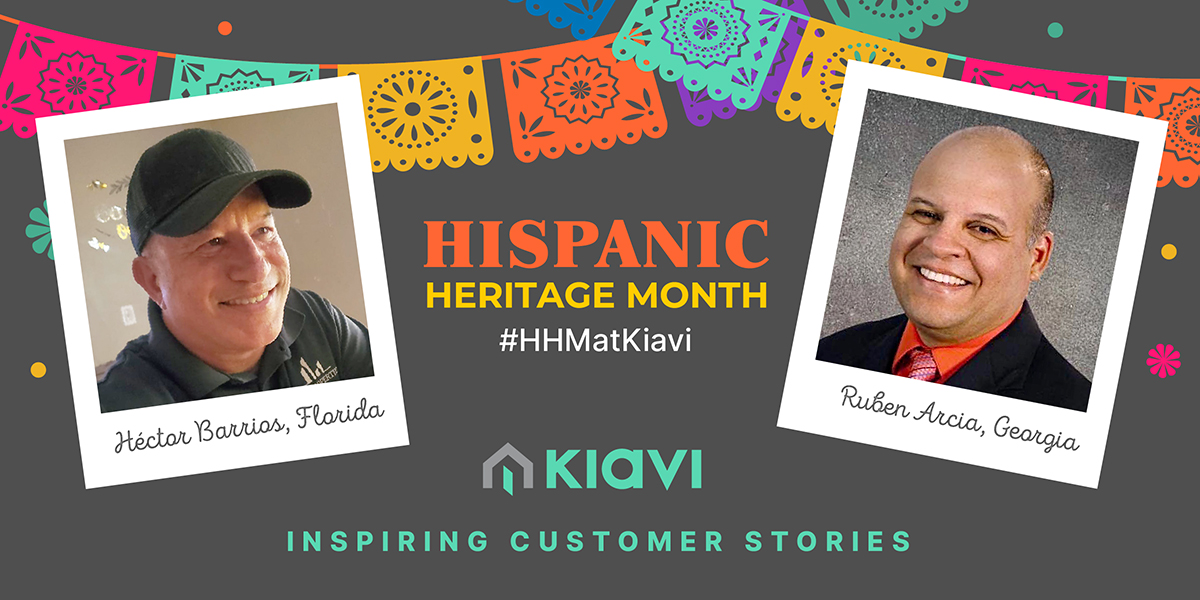 Celebrating Hispanic Heritage Month with Inspiring Customer Stories
Hispanic Heritage Month, which spans from September 15 - October 15, celebrates the history, culture, and contributions of the American Hispanic communities and ancestors. The 2022 Hispanic Heritage Month is 'Inclusivity for a Stronger Nation,' which encourages all voices to be represented to build stronger communities.
Throughout history, Hispanic Americans have played a major role in driving economic growth and entrepreneurship. In fact, there are over 4.7 million Hispanic-owned businesses that contribute to more than $800 billion. Additionally, 82% of all new businesses are owned by Hispanic entrepreneurs. A core belief of the American dream is that of becoming an entrepreneur and reaching financial freedom. Here at Kiavi, we're inspired by our customers who are fulfilling their dreams through renovating aged homes and delivering more move-in-ready homes across the country.
Renovating with Grit and Determination: Q&A with Kiavi Customers
In honor of Hispanic Heritage Month, we're highlighting our customers who are focused on reaching their goals through real estate investing in various markets across the country.
Héctor Barrios - Real Estate Investor in Florida Markets
Question:
How long have you been investing in real estate?

Answer: I started investing in real estate in May 2018 by doing a remote fix and flip in Puerto Rico. It was a cosmetic flip that resulted in an awesome profit. Due to the success of this project, I began to educate myself in real estate investing strategies and looked for a mentor. By September 2019, I decided to become a full-time investor in Florida.


The first year we set a goal of one flip a month, and once we mastered the game, we started scaling to completing two, three, and four flips a month. While many people think that inventory is low, I believe that if you stay optimistic and look hard enough, you will find all the properties you need to grow your investment business.



At the beginning of our operation, we used our own cash as gap funding and then brought private investor and hard money lenders into our operation. As of today, we have purchased over 60 properties and completed over 50 flips. Our most recent projects include the purchase of multi families buildings to rehab, stabilize and maintain as passive income.



Question:

Why did you start investing in real estate? What was your motivation behind building your business?

Answer:
Having worked as an IT consultant for many years and operating my own retail business, I felt that the path to my financial freedom had yet to be charted.

Like a light switch from off to on, reading Rich Dad, Poor Dad by Robert Kiyosaki was a great motivation to fully understand the impact real estate investing could have on my future. Bringing my family into the process and helping them change the way they think about money is a force that moves me every day. Leaving a legacy for them is essential.

Question:

Do you have any advice for other investors that you would like to share?

Answer:
Removing fear was the key to shaping my projects and future in real estate investing. Of course, you must financially educate yourself, know your market, and have a good business plan to succeed. Confidence in yourself is a necessary ingredient for success.

Additionally, having a mentor has also helped me make successful investments and projects when getting started. You never really become an expert because there is always something to learn. Your mentor is one of the sources for that continuous learning.

Another factor that helped us increase the volume of projects was having family members as real estate agents since you can trust them 100% with your property leads and negotiations. Working hand in hand with my wife as a real estate agent allowed us to increase the number of deals and profits.

From the very beginning, we surrounded ourselves with people from the industry like contractors, real estate agents, lenders, wholesalers, title companies, lawyers, home inspectors, and many others. All those trusted partners, along with our own team, were a perfect match for a successful formula in this industry.


For example, Kiavi's support adds great value to that formula. Our Account Manager, Mauricio Montalvo, always had confidence in our vision and opened the doors of Kiavi financing for us, which has been a key factor in our growth.



Question:

Is there anything else you'd like to share about your story, business, or advice?

Answer:
Every project comes with obstacles and setbacks. While the path of the flip is full of chaos and "surprises" that were not expected, focus on taking immediate action to control these, and you will be successful in every deal.



Ruben Arcia - Real Estate Investor in Georgia Markets



Question:

How long have you been investing in real estate?

Answer: As a Venezuelan businessman for more than 25 years, I worked in various management ventures and saw the potential of real estate investing in United States markets. I started full-time investing in real five years ago, focusing on a fix and flip strategy in Atlanta, Georgia surrounding regions.

Question:
Why did you start investing in real estate? What was your motivation behind building your business?



Answer:

I decided to chart my path in real estate because, historically, it has been the first source of wealth in the world, especially in the United States. Additionally, I consider this industry to be the vehicle through which I am fulfilling my life purpose. Through my passion for the real estate investing industry, my goal is to help others unleash their inner power and find financial freedom.

Question: D
o you have any advice for other investors you'd like to share?

Answer:
The most valuable piece of advice that I can give other real estate investors is to apply massive, conscious, and constant action (AMCC). Meaning, to take multiplying action in the present time, along with consistency and discipline to achieve success. When you apply this principle, you'll be able to succeed in the industry and reach your financial goals.



Question:

Is there anything else you'd like to share about your story, business, or advice?

Answer:
Along with real estate investing, I'm also distinguished in different investment fields such as stocks in the commodities market, investment funds, crypto assets, creative financing, and real estate. I consider myself to be a passionate, disciplined, and consistent person who has the necessary operational tools to promote investment projects in the real estate industry.