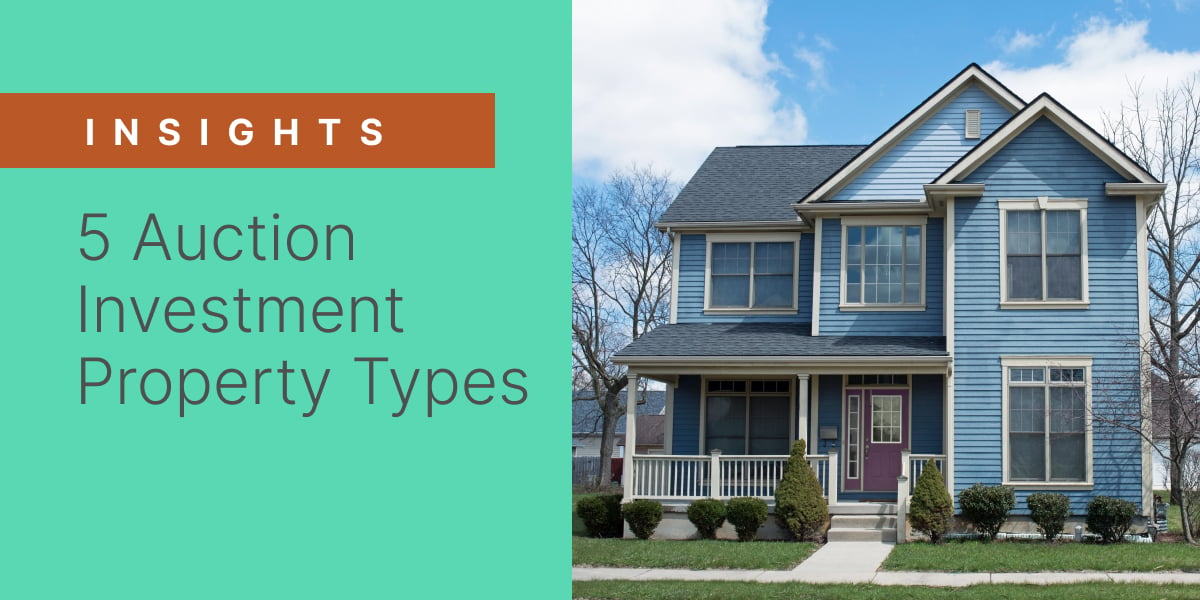 Expand Your Real Estate Investments with These 5 Auction Property Types
Whether you're looking for a home to rehab and rent or fix and flip, online property auctions can be a great way to find properties to add to your investment portfolio.

But there are things you should know about the different kinds of properties available at auction before you jump into bidding. On Xome.com, you'll see these five property types available to search, bid on, and buy—here's what makes each of them tick.
Bank-owned properties 
Bank-owned properties (which you might also see called real estate-owned, or REO properties) are owned by a lending institution and often sold through auctions by a real estate agent.

These properties have gone through  foreclosure, failed to find a buyer during the foreclosure auction event, and are priced to move!

These property types are often sold "as is," which can be very beneficial for buyers. The lending institution wants a hassle-free process and is motivated to make a quick, seamless sale. Other benefits of bank-owned properties include:
They come with a clear/clean title, title insurance, and confirmation of the property's occupation status
Buyers can visit vacant properties through open houses or private tours before the auction
They can be financed or paid for in cash
Bank-owned properties can be a great source for affordable fix and flips or rental properties that might require some love before going on the market.
Non-bank owned properties
Sometimes a seller doesn't want to list their property in the traditional way. That brings us to properties that a bank or a lender doesn't own, as with other auction properties.Non-bank-owned properties are typically retail properties that are listed through the auction platform.

Non-bank owned properties could be listed by investors, or they could be represented by a realtor working with owners who have opted to put the property in auction. Some benefits of a non-bank owned property are that:
They can be financed or paid for in cash
Buyers can tour some properties prior to the auction (depending on the seller)
Owners keep the proceeds from the sale of the home at auction, and the buyer's premium attached to the property—which is typically greater of 5% of the purchase price or $2,500—covers the realtor's fees.
Second chance foreclosure (CWCOT) properties
You might see these types of properties referred to by a few different names: Second chance foreclosures, Claims Without Conveyance of Title (CWCOT), or even second chance CWCOT properties. 

But no matter what you call it, this program gives buyers a chance to purchase cash-only foreclosure properties through online auctions. It's important for buyers to understand that second chance CWCOT properties are sold in "as is" condition, as occupied, and without warranties. 

But there are a lot of benefits, too—these cash-only properties usually close quickly and are offered below the appraised value. Second chance CWCOT properties can be a great value for investors because:
They're frequently being sold at greater discount
Buyers do not have to pay a buyer's premium (which is often the greater of 5% of the purchase price or $2,500).
Some second chance CWCOT properties are also a part of HUD's First Look program. This gives select buyers like owner-occupants (aka homeowners who will be living on the property), government entities, and HUD-approved nonprofits exclusive access to make offers through the National Community Stabilization Trust for the first 30 days on the market.
Foreclosure trustee properties
When you think about what an auction is like, you might picture the process of someone "crying" a traditional auction in person. That's closer to what you might find with foreclosure trustee property auctions.

A neutral third party handles the whole foreclosure process for these types of properties. Who that third party is depends on your state—a trustee could be an individual, like an attorney, or a business entity, like a bank or a title company. 

Some states allow you to bid on foreclosure trustee auctions online, but most are held live at in-person locations. The auction listings for these properties will post the date and time in advance, which again varies by state.

Foreclosure trustee properties can net bargain-hunting buyers a great deal, as they are often sold only for what is owed on the property. They offer a number of benefits, such as:
Quick day-of-auction sales without months of negotiation
Less competition due to the cash bid requirement
Just be aware that foreclosure trustee properties scheduled to go on sale at a live auction are not guaranteed. They may be pulled any time before the auction day because of changed circumstances.
Short sale properties
You might think that a short sale refers to the length of time it's available at auction—but think again! Short sale properties are sold at a lower amount than what the seller owes on the mortgage. So,o, it's being sold short of the amount borrowed.

This kind of sale often occurs when the seller can't afford to continue paying their mortgage loan and needs the proceeds of the sale to pay their lender.

Short sale properties are like traditional property purchases but can take longer to finalize due to lender approvals. However, short sales have some great benefits for buyers, like:
A guaranteed clear title
Property tours before the auction
The ability to purchase with financing
Split closing costs between the buyer and seller
All of this adds up to short sales being a great way for buyers to save money on a great property.

Are you ready to see what you can find at auction to expand your real estate investment portfolio? Then head on over to Xome.com and create an account today. You can search, save, bid, and buy properties right from our auction platform—and for properties where financing is available, utilize Kiavi's great bridge and rental financing offerings to secure your next investment.