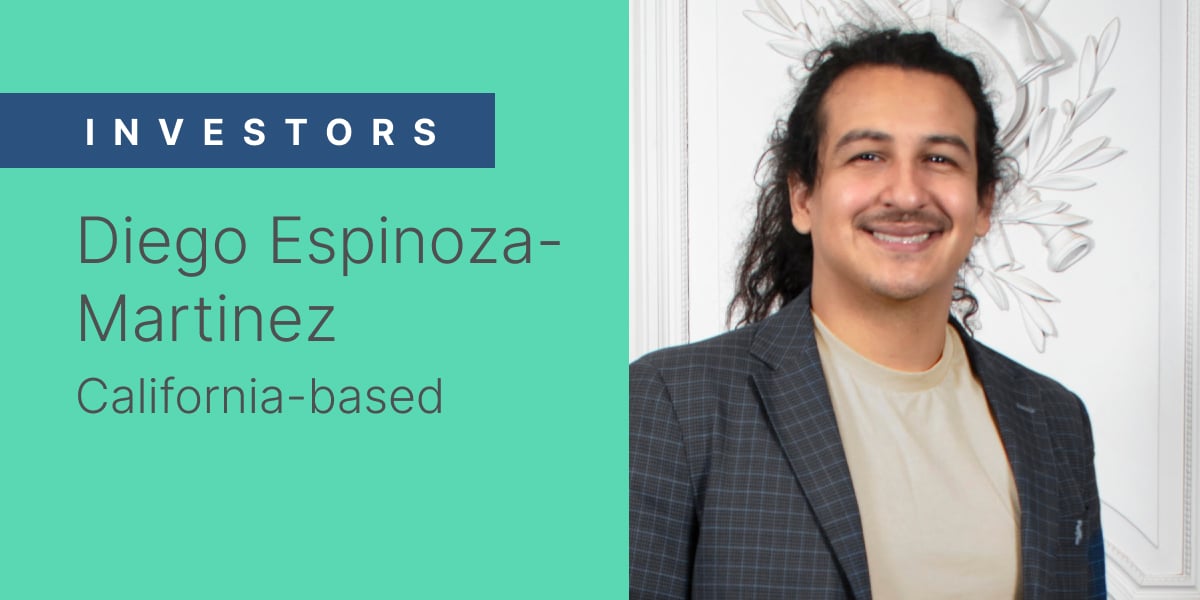 Finding Success From Knowing What Your Limits Aren't
Meet Kiavi customer and Pro investor Diego Espinoza-Martinez – a California-based investor who, after buying his first rental property at the age of 17, has built a successful, multi-million dollar REI business from the ground up. His inspiring story comes with sound advice for REIs who are just getting started and those who are ready to move to the next level. Read on to discover how Diego got started, how he grew his business and what's proven to work for his continued success.
Getting started
Diego came from a humble upbringing in a low-income, agricultural community in California. He was raised in a close-knit family with five siblings and parents who worked hard for what little they had. From age 10, Diego worked in the fields doing farm labor, which built his work ethic and taught him the value of a dollar. He would also pick up summer jobs for extra cash. As a teen, when other kids might have been out having fun or working to buy their first car, Diego already understood the importance of being prepared for the future through saving money and being frugal.

Diego got his start in real estate at the age of 17 when an opportunity arose from a family going through a divorce. To invest in what would be his first rental property, he had to put up $15,000 – $9,000 toward the loan and $6,000 for the couple to split. While Diego knew nothing about real estate at the time, he recognized this as a good investment opportunity. He put his strong work ethic and entrepreneurial spirit into action and jumped on that first property.

Diego turned eighteen on the 27th of October, and he lost his father on the 31st. His father was on a business trip to Mexico when he got hospitalized. Diego, who was in college, dropped everything and flew to Mexico to be with his father until he passed away two months later. When Diego returned to the U.S., he put college on hold to help his mother keep his brothers and sisters on track, putting his life on pause. He had promised his dad that he would make sure the family was okay, and he did just that.

After turning 18, Diego got a loan, co-signed by his mother, to purchase his first rental property under his name. The selling agent gave Diego the book Rich Dad Poor Dad by Robert T. Kiyosaki and encouraged him to get his real estate license. He took that advice and got his real estate license. Soon after, Diego purchased his first fix-and-flip property, putting him on the path to growing a successful real estate business.

About a year after getting his RE license, Diego met his mentor, Kevin Blain, a highly successful real estate agent who was well-known across the Valley. Kevin's mentorship played an integral role in Diego's earlier success. It was valuable to his career to have someone in his corner to offer suggestions, believe in him and guide him on how to succeed at a high level.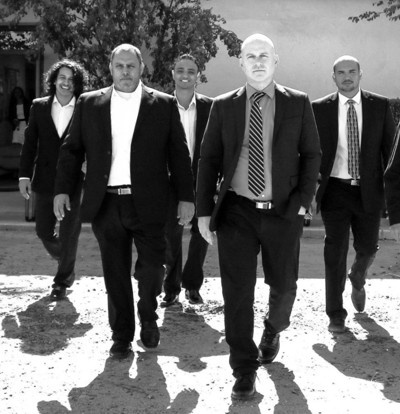 Diego (back-right) with Mentor Kevin Blain (front). In Diego's first full year in real estate, he sold 102 Homes as a 22-year-old, going to college full time and raising his siblings after his father's passing. This would make him the youngest in their market to have broke 100 units in sales – Kevin held the record prior, he did it at age 26.
By the time Diego was in his mid-twenties, he was running a successful real estate investment company and construction company. In addition, he was named as one of Realtor® Magazine's 30 Under 30 in 2016, recognizing young entrepreneurs and the difference they make in the real estate profession. You can watch his interview with Realtor® Magazine here.

Diego's siblings have moved on to reputable colleges like Harvard, Columbia, Princeton, London School of Economics and Notre Dame. Looking at the neighborhood his family grew up in, coming out with this level of success isn't the norm. But, Diego had a fire that came from his upbringing and losing his father at a young age – he refused to be another statistic. For Diego, it's crystal clear – it's in his company's name – Varo-Real Investments (Varo Inc.), named after his father, Alvaro.
Growing the business
While many real estate investment businesses are built on generational wealth, for Varo Inc., that's not the case. Diego started the business ​​relying on profit from each fix-and-flip, thus snowballing the growth of Varo Inc. However, he realized early on that if they couldn't morph into a holding company that provided continual cash flow, they would likely not be in it for the "long haul."

After building up the company's cash reserves with flips, Diego folded a buy-and-hold strategy into the mix. By having different exits available in this way, the business could be more flexible – some properties make sense to flip, others make sense to rent. He continued to scale his portfolio by implementing these strategies in tandem.

Diego's multi-strategy approach caused a snowball effect on the company's growth. Long-term rentals can provide significant cash flow, building wealth over time. The company now has single-family holdings in large markets like Los Angeles, San Francisco, Oakland and San Diego. They also invest in lower markets where assets are purchased for a lot less and equitable gains aren't super high but the cash flow is very good. It has been a natural transition, solidifying Diego's credence that investors solely doing fix-and-flip should consider going into holding as soon as possible.
For Diego, his success in starting with fix-and-flips and then implementing a holding strategy to grow the business further has made him recognize that getting into more extensive projects and larger assets will be his best next move.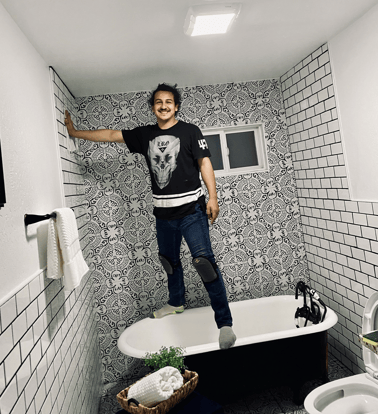 "I have always told myself I am not the smartest guy in the room but I am willing to do whatever it takes. This was my first Million Dollar flip in the Bay Area. I was so obsessed with it being perfect that for the final cleaning I got some knee pads and myself and a friend were there until 3 am cleaning." - Diego Espinoza-Martinez
Growing a team
Diego learned from managing the business and growing a team the importance of understanding your people and what makes them tick. For example, some people have a lot of stamina and are obsessive about the job, constantly pushing for the next thing. Those people are great to have on a team, but not all of them may be as good at following systems as an organized, detail-oriented person. Diego quickly learned that all of his people would not fit into one box. What's important to one person may not be as important to another. After they got that out of the way, he set out to find managers to run teams who could recognize that same thing.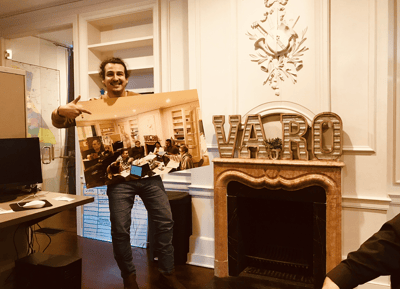 "Just a proud moment – this is in our second office. I had just purchased the building and we were slowly expanding." - Diego Espinoza-Martinez
As the business grew, Diego focused on building out a leadership team. Through that, he began to delegate and help others become leaders by teaching them the lessons he had learned. He believes that strong leadership is essential in balancing productivity while understanding that people are a resource and remaining sensitive to their individual needs.

After much growth, Diego saw the need to restructure and strengthen his team. In doing so, the team returned a lot stronger, and he's happy to have it back to where it was in those early years. His team is delighted to come to work daily and excited about the projects. His team members advocate for each other and cheer on one another. Says Diego, "once you've reached a certain level of success, a lot of the initial character that got the business there gets lost along the way. If you don't put the right people in the right seats, who can communicate that over to the right team leader, you're running around crazy trying to do it yourself."
The state of Varo today
Not only does Diego have a successful investment company, but he also runs a construction company alongside it. The construction company has 50+ employees and is divided into the new construction development and flipping teams. The flipping team also takes care of the company's rentals.

They have a powerful team composed of eight real estate agents and three support staff on the real estate side. They take care of listing properties–additional revenue comes from their production. Plus - they help to bring in new deals. They also have a rental department, Yellow Door Rental. This team is responsible for property management across all markets.

The company also has acquisitions and finance teams in the U.S. and Mexico. The acquisitions team comprises a data team in Mexico and a large team of drivers and doorknockers in the U.S. The finance team is out of Mexico City and handles many of the company's back-office functions.

Diego firmly believes that the only way to be successful is through vertical integration, and structuring his business this way has allowed the company to grow and thrive. Outside of partnering with Kiavi on financing, everything is done in-house. This model provides savings and helps maintain control of the transaction from initiation to when it's sold.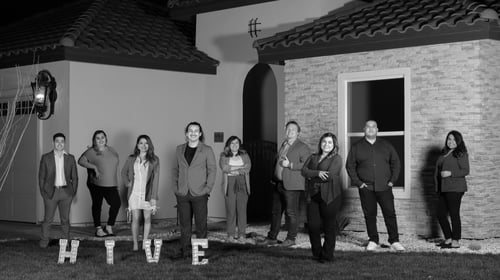 Diego is pictured with members of the Varo Inc. team.
What does the future hold?
When asked what he sees for the future of Varo Inc., Diego says they are just scratching the surface. He has lofty goals of getting the business to a scalable model. He believes that technology can revolutionize real estate, and he sees it playing a large part in the company's further growth. But, there still must be a human element, especially around acquisitions. He wants to see Varo stores and dreams of having these franchises over a large geographic area.

Diego's company's current goals and trajectory are to break into commercial development. They are working on a 25k square foot event center and a restaurant from scratch to build a model for duplicatable restaurants. They are also building a 32-unit complex and another 148 units in Tulare, CA. Diego accounts that these large development projects wouldn't have been possible without fix-and-flip first building their base.
Advice to new investors
For anyone just getting started with flipping or looking to get into real estate investing, Diego stresses that understanding your risk tolerance is the most critical aspect. He states, "it's not about finding what your limits are. It's about finding what your limits aren't." That means that with each deal, you learn a little more about what the outcome of any given deal could be – good or bad. Through this, you are learning what your limits aren't, and you develop the skill of being able to look at a deal and picture every possible outcome before moving forward.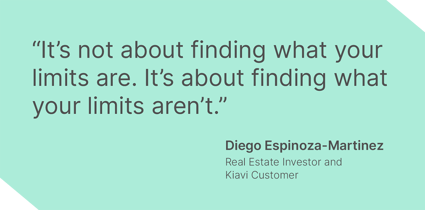 There are times in this business when you'll have painful situations happen. Still, if you assessed the risk correctly in the beginning and thought of the worst-case scenario before going in, then if a bad outcome occurs, you still did your job as an operator because you assessed the risk correctly.

The art happens in the ability to say no. Investors often take a lot of credit for when deals go well, but it's more important to take credit for the times you said no and didn't drive the car off the cliff. As a new investor, you must be able to measure risk between the best and worst-case and look at that scenario to determine if you could come out alright if that happened. If it's not tolerable, then say no and move on.
Advice to investors pivoting from fix-and-flip to buy-and-hold
Learn to properly evaluate each property to determine if you should flip it or hold it. Diego says, "not every property wants to be a holding, but some properties are just screaming to you, 'please make me a holding!'" For example, one property may be almost rent-ready but leaps away from flip-ready. Whereas another property may be where the rents can't even cover the mortgage, but you could score $65K in equity from it, making it a prime fix-and-flip. The property will give you a clear picture of what you should do with it.

You need to identify where you want to live as an investor regarding holdings because there are two sides to the scale. For instance, you can buy rentals in St. Louis, MO, for $45K - $55K and rent them for $900 a door, but your equity is not going up – it's risky, and you're going to have more of a problematic socioeconomic level across the board. On the other hand, say you're getting a 2% cap rate in the Marina of San Francisco – it's going to have substantial equitable gains, be less risky, and you're going to enjoy collecting that rent every month.

Once you can identify what you're able to tolerate, how involved you want to be and what risks you want to take, you can see what fits into that pocket. So when you come across those properties, you will know where they need to go. You'll know what to rent and what to turn and burn.
Final thoughts
Diego believes that operators and owners alike must recognize how lucky they are to have people come along who believe in them. In his business, he has 70-80 people to whom he's accountable and who believe in his dreams. As he's grown his business and reached a certain level of success, he hasn't forgotten how lucky he is to have a strong team along with him for the ride. That's why on any given day, he can be found in the trenches, along with them – spending the night at the office or taking that difficult phone call that no one else wanted to take.

Says Diego, "just as I love my family, and I got started in this business for them, everybody who's in my 'spaceship' also has a family and their own reasons. I think that, as owners and operators, as long as we make sure that our goals align with theirs and we're honest about that, it can be a really fun ride. It has been for us."


Want to learn more about Varo Inc.? Visit their website and follow them on Facebook or Instagram.