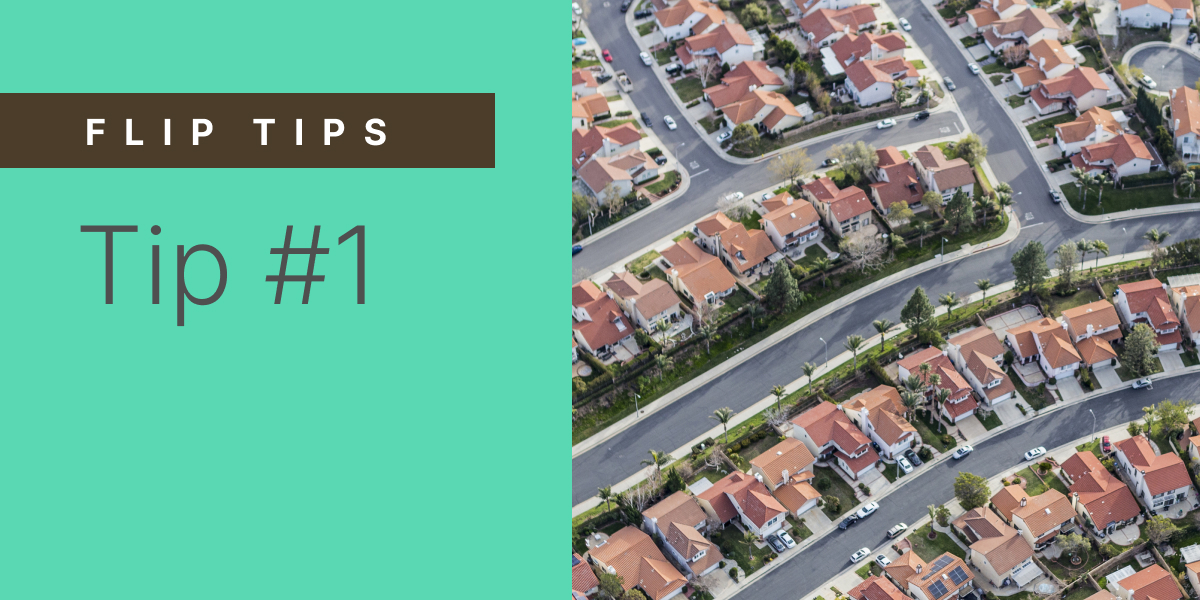 How to Find Investment Properties: Flip Tips
Note: originally posted on LendingHome.com and LendingHome is now Kiavi.

Kiavi's latest monthly blog series, Flip Tips: Advice Straight From the Experts, asks top-of-mind questions from house flippers and features answers from our most successful customers.

Welcome to Flip Tips: Advice Straight From the Experts, our new monthly series where we will feature quick, useful bits of advice that come directly from some of the most experienced fix and flippers out there. And trust us, these professionals know their way around the block!

Learn from their expertise in Flip Tips—whether you are a seasoned flipper and need some inspiration from fellow professionals, or are newer to the game and need some guidance. Their real estate experience and point-of-view is invaluable. Be a part of the conversation and check it out!

Our first question revolves around the quest of how to find investment properties to flip. It's a common challenge that most flippers face, but there are quite a few resources, opportunities, and strategies out there that the experts stand by when it comes to growing their businesses.
Question: It can be a difficult to find houses to flip. How do you find investment properties? Give us your best tactics and advice.
"Wholesalers, MLS, and online Foreclosure Auctions. The majority of my flips have been purchased at online foreclosure auctions. One unique way I have used to find properties is to go to sellers at least a couple of weeks after the conclusion of the auction and present backup offers, many times lower that the winning auction price and hope that the original winning offer will fall through. I have picked up quite a number of properties using this strategy."
-Albert Nyabwa, Texas, 35 flips completed, 4 years in the industry
"I buy a lot of properties from wholesalers, as well as running an active digital campaign with PPC (pay-per-click) as the primary driver. I also throw real estate industry parties where I bring all manner of people together and serve complimentary food and drink. We also do a raffle and raise money for a local charity and because of these events, I typically get 2-3 deals residually from each party—and we get to have a great time doing it!"
-Luke Weber, Nevada, 500+ flips completed, 18 years in the industry
Website
Website
Facebook
Facebook Group
"Courthouse steps, auction sites, tax liens, and MLS."
-Daniel Carr, flips in Georgia, Alabama, and Florida, over 200 flips completed, 19 years in the industry
"Direct marketing and networking with wholesalers, agents, and other investors. Keep follow up consistent."
-Jimmy Tang, Washington, 50 flips completed, 7 years in the industry
Website
Instagram
LinkedIn
Facebook
"We do a lot of direct marketing and actually meet directly with homeowners who are looking to sell."
-Mandy Clark, Nevada, 27 flips completed, 3 years in the industry
"Mostly direct mail, but we also use billboard, TV, radio, and some publications. Direct mail seems to be how people call most of the time, but I think having a brand reinforced with the other media types is very helpful when it comes time for the seller to select which mailer to call. Also, keep in mind that referrals are great too. Talk to everyone about what you do—you never know where leads will come from."
-Steve Stimson, Texas, 60 flips completed, 4 years in the industry
"Direct mail, cold calls, referrals, and PPC (pay-per-click)."
-Kevin Lee, California, 28 flips completed, 1.5 years in the industry
Facebook
LinkedIn
Finding houses to flip is an integral part of your real estate investing plans. Give these various tactics a try, like direct mail, hosting events, networking, ads, and auctions. Getting to know your community and building a presence around it are so important when it comes to consistently finding and purchasing investment properties that are not only in need of a flip, but that are also great candidate to earn a profit on. It also helps you to build your brand and develop your a business on a wider scale.
Check back in next month for our next house flipping question on our Flip Tips series. To learn more about our flippers' businesses, be sure to click on their social links underneath their names, if shared!
Feeling inspired?