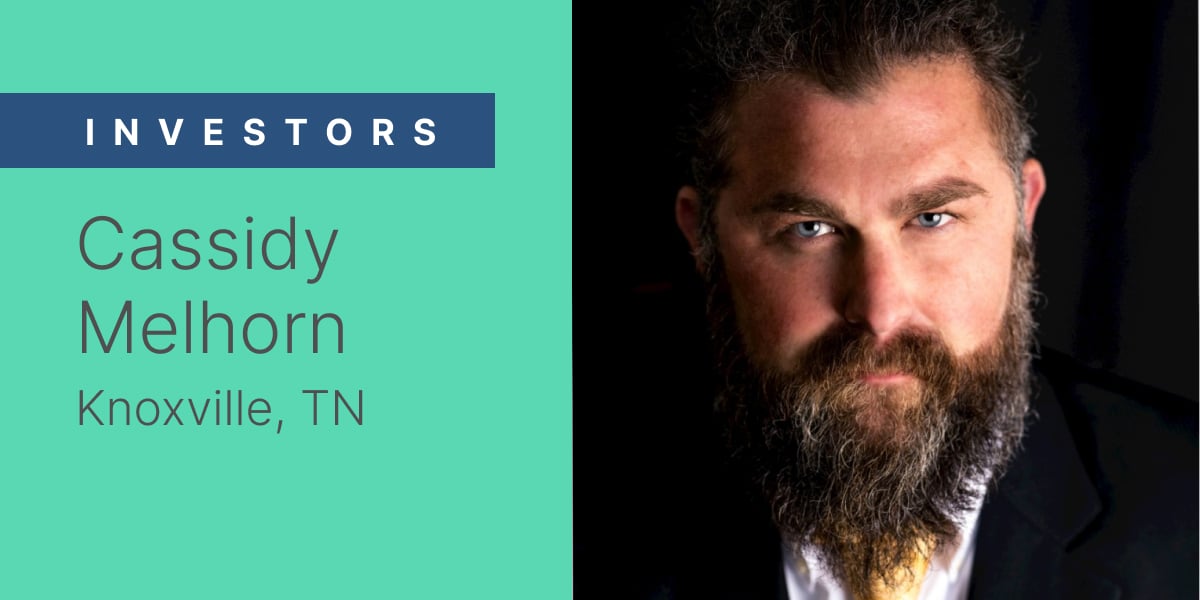 Real Estate Investing Success: Cassidy Melhorn
Posted by Jenna Quilalang

Note: originally posted on LendingHome.com and LendingHome is now Kiavi.

Cassidy Melhorn, a customer and founder of VOL Homes LLC in Tennessee, is the quintessential example of hard work and resourcefulness paying off in the real estate investing industry. With a mechanical engineering degree under his belt, a knack for fixing things, and a strong work ethic, Cassidy started house flipping in 2013 and has over 150 flips to his name.

His journey to success started with a unique skill set that propelled into a lucrative business over time. It has allotted him great opportunities and as a result, a reputation as a leader and established real estate investor. With a go-getter spirit, he exemplifies this industry's possibilities. Read on to learn more about Cassidy's story and to get inspired by his accomplishments.
The beginning
Cassidy Melhorn began flipping years ago, but not houses. As a kid, he took a strong interest in taking used, worn appliances and "flipping" them. Anything from calculators, to guitars, to used vehicles—he had a knack for refurbishing things. And with such an impressive talent and mind for deconstructing and rebuilding, he became a mechanical engineer. These skills and his self-made appliance flipping business eventually led him to support himself, paying for his school and rent, while also developing the useful set of skills he later translated into a career.
He saved enough money to get an initial taste of what life could be like with that type of financial freedom from being your own boss. It ignited his entrepreneurial spirit.
Cassidy's father was a car salesman, exposing his son to the heart of hard work. He took note from his father, who used to buy land and rental properties, and followed suit. When he wanted to buy a house, he ensured that it would be like everything else he previously worked on; something he could eventually refurbish and earn a profit on. So, the natural next step for him was to try his hand at house flipping.
Learning and developing in the industry
Cassidy found a home going into foreclosure and after a couple years of living in it and fixing it up, he sold it and made a profit. Since the experience was positive, Cassidy educated himself, he talked to people, had house flipping friends who helped him to find his first deals, and read a lot about the basics of the industry, like how flips are evaluated for a profit.
Eventually, he put up signs about buying houses (which brought in leads) and he had an initial partner that helped him finance the projects. He started to really gain traction, but of course, going in on such projects, didn't come without apprehension.
"I knew a handful of people in real estate companies that were doing flips and there were sizable amounts of money being made, but I feared going broke and failing," he says.
Since, he has experienced both ends of the spectrum of flipping houses and chalks any negative deal to being a valuable "learning experience."
Flipping for a living
Fast forward and Cassidy overcoming his initial fears paid off. He now has flipped over 150 properties, flips five to 10 homes at a time, and has a small team of construction personnel to help him renovate the properties.
He primarily flips in Knoxville, Tennessee and the surrounding counties and is considering new markets such as Chattanooga, TN, Wilmington, NC, and Jacksonville, FL.
Currently, a typical project for him is around a 2,200 square foot, 3 bedroom/2 bathroom home that he purchased for $90k, put $50k into it for renovation, and sells it for around $259k with a 90-day turn around.
As for the actual renovation, Cassidy and his team do tile, plumbing, and concrete work most of the time in-house because the market rates for these services are generally disproportionately high for the level of expertise required.
Sheetrock, refinishing hardwood, roofing, and painting are some of the trades that they hire vendors for. So, there is still an element in his business of a very hands on approach and skill—making Cassidy somewhat of a Renaissance man in the field.
In addition, he earned his contracting license and after his first flip, his wife joined the team and earned her real estate license as well.
Funding fix-and-flip properties
Cassidy used several methods for funding his investment properties in the past, including cash, traditional mortgages, renovation loans, and seller financing. However, he found cash to be his most effective. That was until he was introduced to Kiavi.
Kiavi reached out to Cassidy since his success in the field was noticeable. After introductions and initial conversations, he agreed to try out Kiavi and the experience has made his house flipping projects easier.
"Having Kiavi as a resource is like having a Swiss army knife. You may not need a corkscrew very often, but it's nice to have one when you do," he says.
And as someone who believed cash is the most effective, Cassidy says, "To the skeptical investors who may have had bad experiences with hard money lenders, make no mistake: Kiavi is as effective as using cash. They can literally close a deal in four days. They do their appraisals after closing and no interior inspections are necessary."
Cassidy has continued to use Kiavi because he now has a reliable partner that helps scale his business.
"Kiavi is like tripling your cash available to make purchases. This can mean tripling your volume, tripling your income, or simply tripling your peace of mind."
Expert advice
When Cassidy looks back at the changes of the industry, he comments on how much more competitive it has become since he started. The younger generation is moving in so being savvy and on top of the business game is crucial.
Part of this is developing a brand. His flips have their own flair and design, keeping up with the trends, but also layering in classic and rustic elements that appeal to all kinds of buyers.
For that younger generation, or anyone else looking into flipping, Cassidy recommends making people a priority and to always be kind.
And when it comes to preparing for any market downturn, he acknowledges that they are inevitable.
"Real estate markets are cyclical and mathematically predictable. The same cycle has existed in the real estate market for over 100 years now. The real estate market history tells us when the next downturn will occur. If one does their due diligence, then they will be prepared when it arrives."
As far as connecting to investors, lenders, websites, contractors, content creators, realtors, etc.—Cassidy hopes for the future that there will be an app to communicate easily, suggesting that it takes a lot of self-starting and motivation to be on top of managing these relationships and partnerships in this industry.
Worth the work
Alongside the financial freedom, ability to run his own business, and the opportunity to put his talents to use, there is also a very people-oriented element to flipping that is gratifying.
"The most rewarding experience is to see the relief in someone's eyes the moment they sell a house they expected to lose in a foreclosure or similar unfortunate event."
There is also a sense of personal accomplishment and fulfillment. One of Cassidy's dream homes to flip would be his next lake home, making his skills in the industry not only enriching financially and professionally, but also personally.
For the future of his career, he hopes for freedom, longevity, and peace of mind—and given his enormous success in the field, we don't doubt he will make this happen.