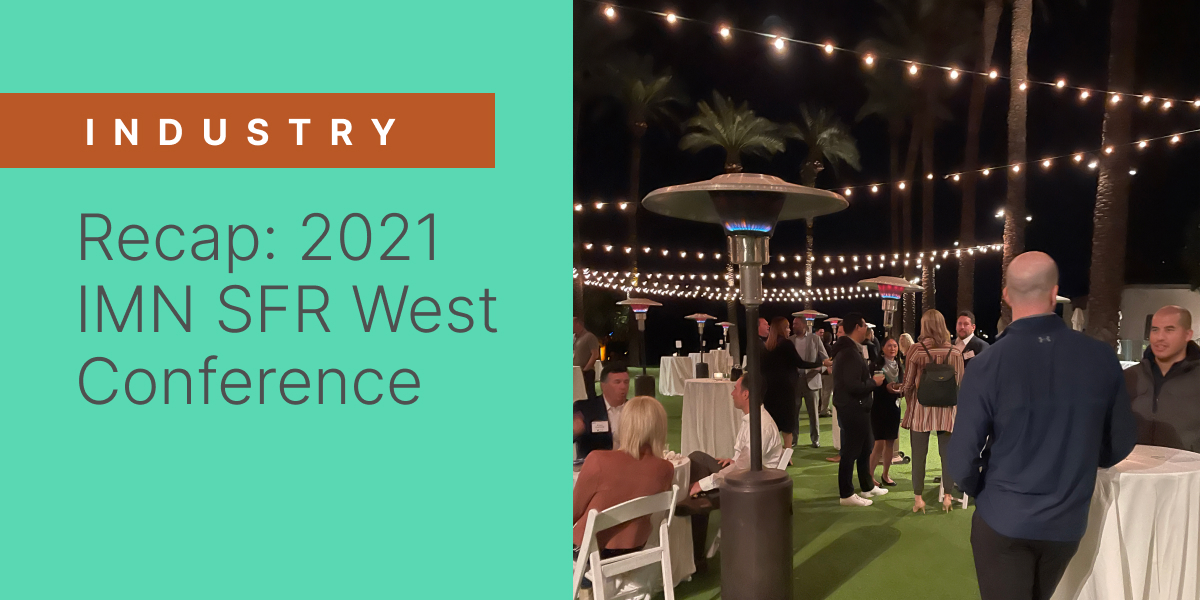 The Key Takeaways from IMN's Single Family Rental West Conference
Real estate investors, lenders, service providers and more, from all across the country descended upon Scottsdale, Arizona for IMN's recent Single Family Rental Investment Conference West earlier this month. Everyone in attendance was anxious to talk about the future of this sought-after asset class and take home with them some learnings from the who's who of the industry.
The fact that the conference was sold out should be no surprise to anyone. The SFR market is estimated to be over $3 trillion and the growth of this asset class is expected to outpace the growth of the long-standing asset class of multifamily just within the next few years. To say there's a bit of interest in this asset class is a gross understatement.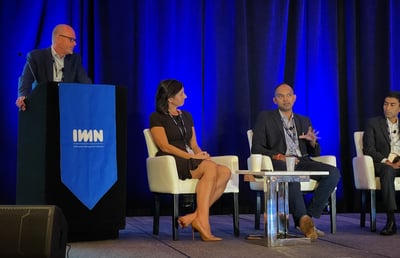 Arvind Mohan, Kiavi's COO, shared with the audience that he believes economic indicators can't be viewed in isolation. He believes that the markets with good weather, low taxes and strong job opportunities, like FL and TX, will continue to see growth despite headwinds facing the country.
Besides being an exhibitor and revealing our new brand to the industry, senior Kiavi team members also spoke on several panels, sharing their insights with the other leaders in the industry. If you didn't get a chance to make it to the conference (or did and lost your notes), here are our top takeaways the industry was discussing to get you caught up:
1. Making it rain
The SFR industry is truly being flooded with money. The sheer amount of capital flowing into this space suggests that SFR is recognized as a true asset class now. With low-interest rates and property values rising, REIs are putting their time and attention into building rental portfolios. Many lenders confirmed that they are seeing more and more appetite from their clients to move from bridge to rentals (with many combining both!). On the Cap markets side, bondholders can't get enough of SFR either. They view this diversification of assets as highly attractive and only want more.

With tight supply and money aplenty, RE Investors are seen operating on a play for yield versus play for value. Overall, the sentiment was that the liquidity landscape is expected to be healthy throughout 2022.

2. Three little words
Build. To. Rent. The industry is buzzing about Build to/for Rent (BTR). Three short years ago, this category didn't even exist. Now the experts anticipate this trend to only continue expanding as it becomes more standardized. Currently, for lenders, this is a complex transaction which many expect to become more uniform in the next 18-24 mo. Cap markets are pushing for efficiencies in management so that they can jump into this trend. That's why we're seeing a shift now from scattered homes to actual master-planned rental communities. The real headwind here is supply chain issues. Once the impending foreclosures hit the market, this will put even more strain on the building resources.
3. Costs are rising
Unless you've been living under a rock, you know the cost to rehab a house is significantly higher than in previous years; land value is rising; the cost to purchase property is rising. SFR rents have risen 7% YOY but experts believe there's a limit to just how much rents can continue to rise before renters are just plain priced out. One panelist noted that although debt ratios are very different now than in previous years, (Americans are less overextended now vs. 2010) their wages aren't rising like rents.
Supply-side-driven inflation is causing disruption in every step of the supply chain. Despite this, SFRs tend to be more stable than their multifamily counterparts.
Charles Goodwin, Kiavi's Director of Sales, reminded the audience that many lenders may appear similar regarding terms, however it's important to understand minor process nuances and underwriting requirements (like DSCR, occupancy or reserve requirements for occupancy, DSCR, reserve requirements, and more).
Our final thoughts
Real estate investors, more than ever, have a diversity of solid asset classes that provide opportunities to fit a variety of investment strategies. Good weather, low taxes and strong job opportunities continue to be the ideal conditions for markets to look to invest in for just about any asset class.
Industry overall was extremely positive on their outlook for the coming year. People will always need a roof over their heads. Despite any headwinds this industry may face in the following year, the need will be still there…making SFR a very attractive asset class to investors.