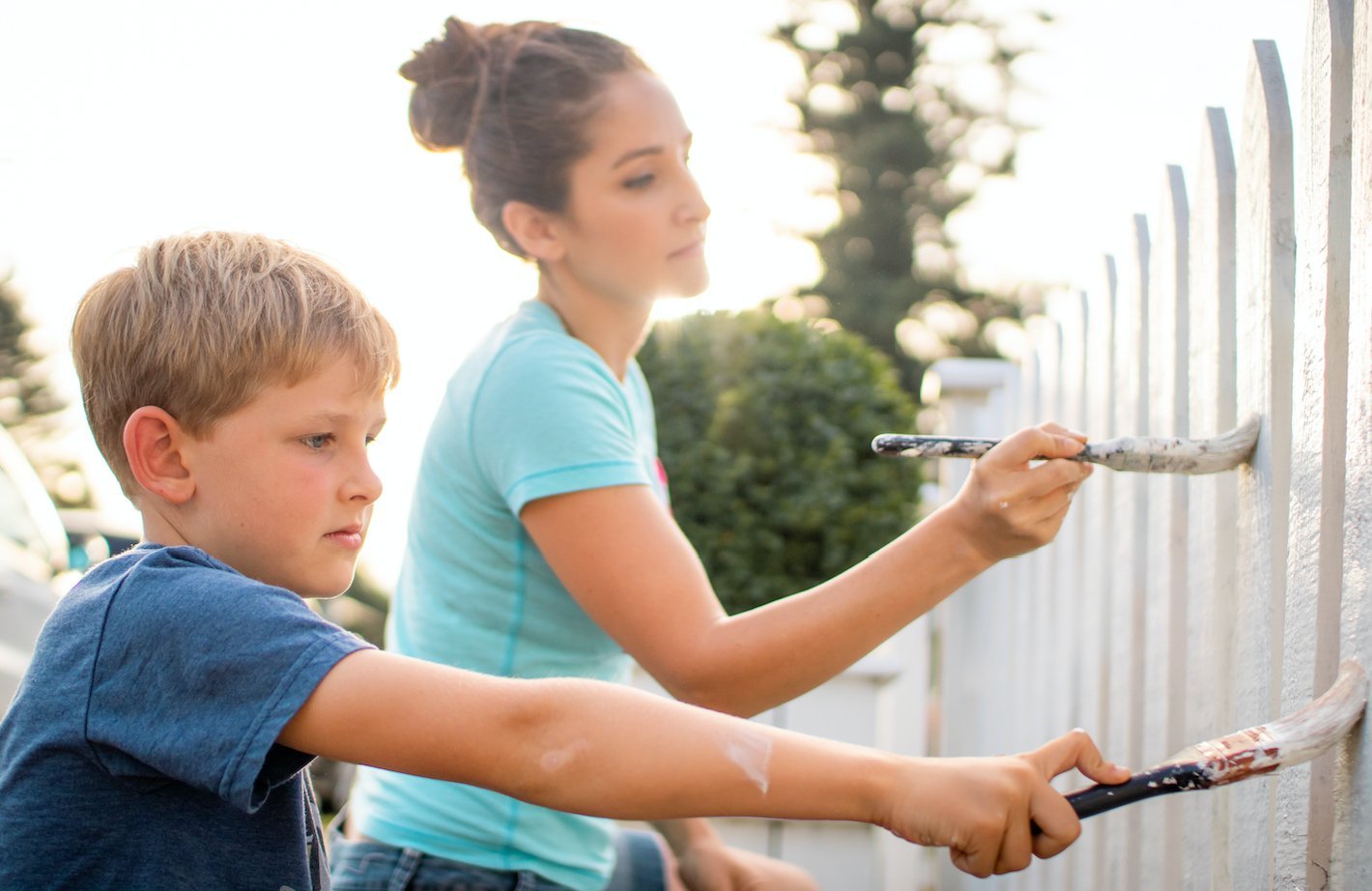 8 Ways to Improve Rental Property Curb Appeal
Note: originally posted on LendingHome.com and LendingHome is now Kiavi.

About the author: Jay Betts is a licensed real estate agent, a research analyst for Lawnstarter, and an avid gardener. He enjoys hiking in nature and enjoying a minimalistic lifestyle.
How to improve rental property curb appeal
First impressions can make or break a deal on renting a property. They mean the difference between tenants clamoring to live in your rental property–or turning the car around before even taking a second look. When you boost curb appeal, you increase your return on investment (ROI), and it may be simpler to do than you think.
When it comes to boosting curb appeal, you can spend very little and do it yourself, or you can spend a lot and hire contractors to do the work. Either way, your first step is to walk around outside the investment property (and view it from across the street) with a keen eye.
Look at the house as if you're a potential renter or buyer. Does the paint look good? Is the house shabby? Is the yard cluttered and overgrown, or neatly landscaped? Once you've taken a good long look at your real estate investment property, you can start work to increase its curb appeal.
List of improvements
Consider this list of potential improvements in your real estate investing business plan, to help give your property the extra TLC that could give you a large profit.
Roof repairs
When you make necessary repairs, it can run into the thousands. However, if you want to attract quality tenants, it's a good investment. Among the biggest challenges? The roof. It's not one of the most budget-friendly home improvements, but you'll need to replace it every 15 to 30 years.
Missing shingles and stains stand out and ruin the property's appearance. Potential renters will wonder about mold or water damage inside. Call an inspector and have the roof replaced if necessary. The average cost is $5,000-$15,000, but the ROI is robust, averaging about 60%.
Clean it up
This is a no-brainer and a budget-friendly home improvement. Sweep the porch. Clean the door, the windows (inside and out), and the screens. Remove weeds, dirt, and gravel from the driveway and sidewalk and rent a pressure-washer to clean them. Go over the siding as well, and make sure to follow instructions so you don't cause any damage.
Gutters may not be noticeably dirty from a distance, but clear them out anyway to be sure they're working properly. Wind up hoses, put toys in the garage, and store away garbage and recycling containers. Deep cleaning the property makes it look newer and boosts curb appeal.
Paint
Whether it's just a touch-up or a full paint job, this is one home renovation that completely changes the face of your investment property. If the trim around doors, windows, or shutters is cracked and peeling, but all else looks good, then stick with the small stuff. Brighten the property's appearance with vivid, but tasteful, color. But if the siding is worn or faded from years of sun and rain, take the plunge and paint the whole building.
Look around the neighborhood and find the homes with the best curb appeal. You don't have to copy them exactly, but you also don't want your property to stand out because it looks out of place in the community.
If the tint on the building still looks good, consider painting just the front door. This popular trend is something potential tenants look for. It changes the property look without a big commitment to a new style or a lot of money. The most popular houses feature red, teal, and slate blue doors. This minor change results in major curb appeal and draws in potential tenants.
Lighting
You never know when people may come by to look at your real estate investment property for a drive by. You want your house to shine when the sun goes down, so boosting nighttime curb appeal is something to think about. The easiest and most cost-efficient way to do that is with lighting.
Consider stringing lights along the driveway and sidewalk, without overdoing it. You don't want the property to look like a carnival. You can also add solar lights along the walkway. Or keep it simple and merely update the porch light with a fixture that changes the look of the entrance. An added bonus? Outdoor lighting helps prevent crime.
Change the walkway
The sidewalk or pathway to the home is one of the first things to catch someone's eye. Putting in designer walkways can be costly. If you're going to stay with a standard concrete sidewalk, keep it clean and make any necessary repairs to the cement.
Consider edging the driveway and path with bricks or stones. If you take it a step further and replace them, curb appeal will skyrocket. Cobblestone and brick or stone pavers are the most durable options that give your real investment property a more expensive appearance. They're also the most costly but change the property's appearance for the better. A budget-friendly home improvement, but still a complete change from concrete, is crushed stone or gravel. This gives a home a more charming look. Crushed stone isn't recommended for very cold climates, as it's difficult to remove any snow.
Update the mailbox
We may do most of our mailing electronically these days, but a mailbox is still a necessity for your real estate investment property. It's one of the first things people see as they come up the driveway. If it's obviously old, rusted, leaning to one side, or broken, it's a turn-off for potential renters.
For minor fixes, you can do it yourself. Touch up paint and sand off smaller rust patches. If the mailbox is old, it may be better to replace the whole thing with an updated, eye-catching model. Consider adding bold house numbers, so the address is visible from the street. There's usually consistency in a neighborhood when it comes to mailboxes, so find something that fits in. Renters may not want the attention that comes with one that sticks out like a sore thumb.
New garage door
In many cases, the garage door takes up much of the home's facade and plays a major role in curb appeal. Changes, both minor and major, can improve the investment property's appearance. With new doors, get the best upgrade you can afford. The garage door, whether traditional or modern, defines the style of the home and can turn a bland look into an appealing one. Choices include carriage-style with sliding or swing-out panels, framed translucent glass panels, solid wood, steel "barn doors," and vinyl.
If the cost to replace the garage door is prohibitive, you can add lighting to existing doors. This boosts curb appeal and is an added safety feature. And painting garage doors is trending lately. Choose a neutral color that contrasts with the home's trim for the safest bet. Blasting vivid colors that clash with other properties in the neighborhood will bring attention, but not the kind you want.
Landscape
The appearance of the yard can make or kill the deal. An overgrown lawn, abundance of weeds, patches of dirt with no grass tell potential tenants that the property is neglected. A bright green lawn with neatly trimmed hedges, window boxes, and flowers invites interested renters to take a deeper look. Other small touches also bump up curb appeal and can more than double your ROI.
Weed flower beds, plant new flowers, and replace or add mulch to make the beds appear neater.
Keep the lawn mowed and the bushes trimmed.
Trim tree branches, so they stay overhead and provide shade.
Pull weeds by hand or use a weed-killer.
Fertilize plants and grass.
Complement the design of the property with the landscaping. Don't overwhelm a smaller investment property with large trees and bushes, and don't put miniature plants in front of a large home.
Add hardscaping like benches, large planters, or edges around trees and flowers.
According to the National Association of Realtors, properties with desirable landscaping sell for an average of 7% more than homes without. If it attracts buyers, it will attract renters. And a recent survey by the National Association of Landscape Professionals shows that 79% of Americans say when looking for a home, the lawn is one of the top features.
Why improved curb appeal boosts profits
For a rental investment property in particular, you want to fill it with responsible tenants. When you set a good standard for the appearance of your property, you'll attract like-minded tenants who will care to keep it up during their time there. That is ideal. The more money and effort you put into your property's appearance, the more you'll get out of it.
Higher rent
The more attractive the property, the higher the rent. If the first thing people see is a clean, updated, and well-maintained exterior, the odds are they're willing to pay more. If they like the outside, they'll want to see the inside. Curb appeal raises expectations that the home is well cared for, so quality tenants are willing to pay more to live there.
Higher resident retention
When you find a good tenant, you want to keep them. Many factors play into how long someone stays in the home, and the property's appearance is a big one. When tenants are happy with their home, they'll stay longer.
While many real estate investors focus on attracting customers, those who aim to keep the tenants they have, save money. It costs much more to compete for renters than it does to keep them happy.
Improved upkeep
When tenants feel a sense of pride in their house, they're more likely to take care of it. Homes with high curb appeal create an attractive neighborhood. Both renters and owners take satisfaction in knowing their community is one that draws people. Of course, the rental agreement will have stipulations on what tenants are responsible for, but those in homes with great curb appeal will go above and beyond to maintain the home.
Benefits of being an REI property owner
When you make changes to boost curb appeal, it may seem daunting. However, it shouldn't turn you away from becoming a real estate investment property owner. A good percentage of the world's millionaires made their fortunes by investing in real estate.
An investment property is not likely to experience short-term fluctuations like the stock market, and there are tax benefits for investment properties. If you choose wisely, you have consistent cash flow and there's a good possibility the properties will appreciate over the years. And if you already have an investment property, you can use the existing equity to get another loan to buy another investment property.
Final thoughts
There are many financial details and variables to consider when you invest in a rental property. However, it is an excellent way to grow your path to financial freedom. Understand various techniques, and the various responsibilities it requires to become a landlord, so you can be set up for success and make profit investing. And when you prioritize the desire for a beautiful property, you will likely secure a more quality tenant who will help keep investment in top shape.