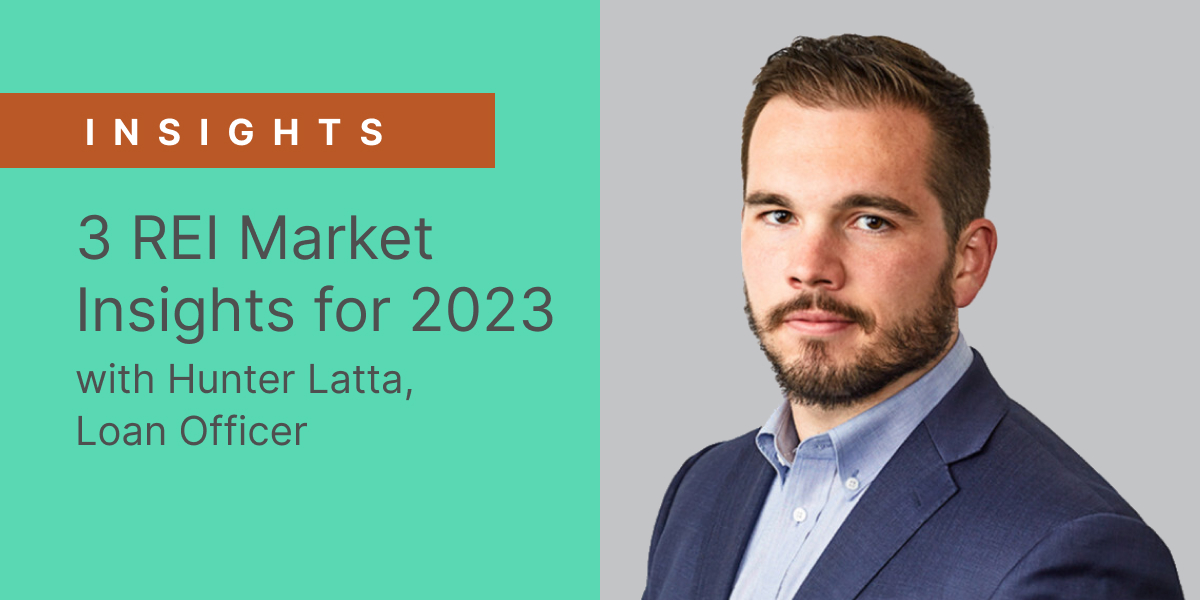 3 Insights Real Estate Investors Need to Know in 2023
From rising interest rates to market pullbacks, increased rental demand—and everything in between—many real estate investors are focused on getting a pulse on what's next to set growth goals for the new year. While some real estate investors are shifting their fix-and-flip strategies to holding long-term, others are finding less competition in local markets to make their money on the buy.

We sat down with Hunter Latta, a Loan Officer at Kiavi, to get his viewpoint on where the market is headed and what real estate investors can expect in 2023. Here's what he has to say:
A Bird in the Hand is Worth More Than Two in the Bush
Rates are not going down anytime soon. If you've ever seen The Big Short, you've seen the characters talk about mortgage-backed securities. The secondary market, where investors buy different mortgage-backed securities, is currently experiencing a lack of liquidity, which means there aren't many people buying these. In fact, only $1.5 billion of RMBS securitizations occurred in Q3 20221. Because of the lack of liquidity in the secondary market right now, big banks are being forced to hold these mortgages on their balance sheets, thus adversely affecting markets.

While there is currently a lot of investor capital on the sidelines in the secondary market, things will need to stabilize before they get back into buying. We need to see a few months of negative trending consumer price index (CPI) numbers before things even begin to have a chance at returning to a "new normal." While we had some positive news about CPI numbers in November, this was only one data point—shortly after that, the retail numbers increased. Before rates start to stabilize, the market will likely need to see several trending data points toward inflation retreating.

Then rates will start to come down, right? Not so fast, Jerome Powell has repeatedly stated that he will do whatever is necessary to bring inflation down to its target mark of 2-3%. Recently Reuters posted an article that surveyed economists who surmised that the Fed might consider pausing rate hikes when inflation halves. Inflation is not expected to be cut by half until at least Q2 of 20232.

As we embark on 2023, rates will likely be higher than you'd like for longer than you'd like. Does that mean you should sit it out and wait to jump into your next deal? No—actually, quite the opposite. Some real estate investors are finding less competition in local markets to make their money on the buy, so many are shifting their fix-and-flip strategies to holding long-term.

As the saying goes, "a bird in the hand is worth more than two in the bush." The best deal you can get is the deal you have in hand if the math makes sense. Get the deal done while you can before any more unpredicted volatility hits the market. Focus on the trusted lender relationships that you know can get the deal done. While you may potentially pay a little bit more in the rate, the certainty of execution is going to be your strongest form of currency in the current market environment.

Of the lenders you currently work with, focus on flexible prepayment penalties and forward rate locks. If your current lender is quoting you a rate that floats during underwriting, run. Fast. Imagine signing up at today's rate, and a few days before closing, you realize your rate has moved by 25-50 bps. Now, your debt service could be constrained to a lower LTV, not looking at the same cash-out proceeds. Kiavi currently offers forward rate locks on their rental properties—reach out to your loan officer to discuss this further.

Finally, cash is going to be king in 2023. Pay off your revolving debt, get your FICO® scores as high as possible, and build the coffers for those opportunities that are going to present themselves. And trust me, they will present themselves. Get your deals done now and take some cash out, so you can buy with cash if you need to in 2023. Since those deals will be the ones at the deepest discounts, you can figure out a refinance to take the equity out and recapitalize it.

My final advice: fortunes can be made in real estate during a down market. Look at some of the publicly traded real estate investment trusts, for example. Make sure to keep your eyes open for the opportunities—they will present themselves.
About Hunter Latta
Hunter Latta began his real estate career in 2016 at A10 Capital after graduating from Boise State University. He holds an undergraduate degree in finance. Hunter then went to work for CoreVest Finance before joining Kiavi. During his career, he has financed over half a billion dollars in SFR, multifamily and construction loans.

Hunter has a passion for all things finance and has a passion for this industry. He is also an investor in a few syndications.

On the weekends, you can find Hunter outdoors, whether hiking, fishing or camping and in the winter, you can find him on the slopes of any mountain in the western half of the country.
Sources
1John Bancroft, "Prime Rmbs Market Flops in 3q22: Just Five Deals Issued," MBA Newslink, November 15, 2022.
2Prerana Bhat, "Fed to Hike by 75 BPS Again on Nov. 2, Should Pause When Inflation Halves -Economists: Reuters Poll," Reuters (Thomson Reuters, October 25, 2022).