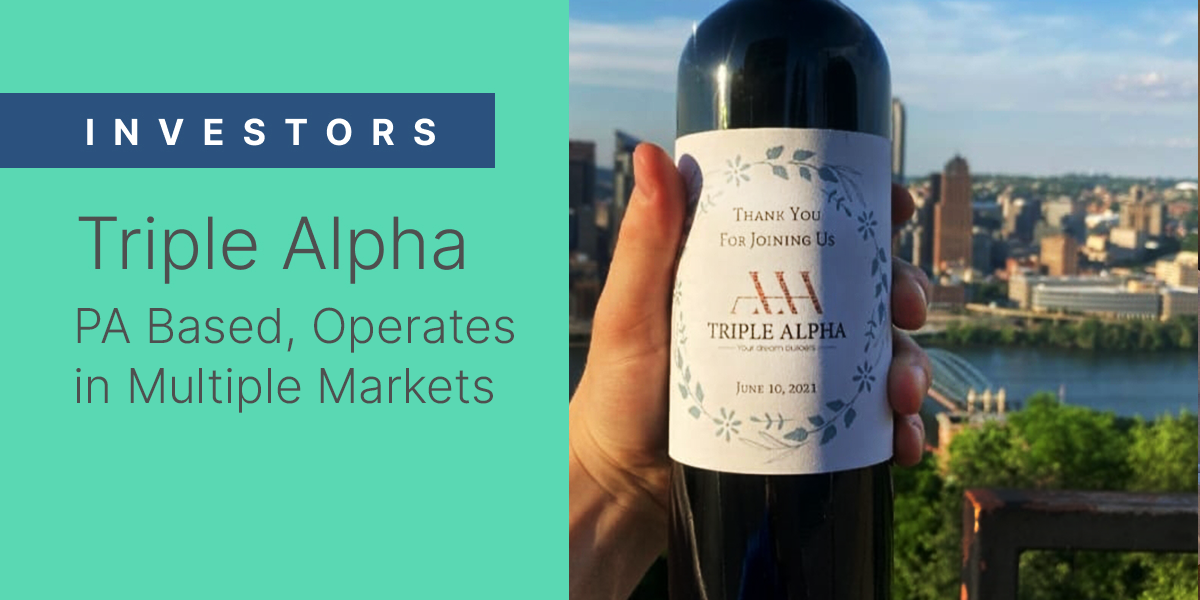 100 Transactions in the First Year?! It's Possible – Just ask Triple Alpha!
Posted by Erica Mansfield
Successfully completing 100 transactions in one year is quite a feat for many real estate investors. To accomplish this milestone in your very first year of business AND during a pandemic, that's what many would call a TRIUMPH.

In a single year, while living abroad, Kiavi customers Erez Leibovitz, Kfir Almog, and Uri Hagay founded Triple Alpha, executed a business model, sold their first home, and then made the impossible possible. Based in Pittsburgh, PA, Triple Alpha thrives because of key values and a strong mission upheld throughout every avenue of the business. Read more on what's proven to work for their continued success.

Triple Alpha celebrates the successful completion of 100 deals in 2021.
Getting Started
When childhood friends Almog and Hagay retired from the Israeli army, they had the desire, and the funds, to invest in real estate. When Almog found out that Leibovitz was also looking for new investment opportunities, they immediately decided to team up and invest together. Because the new partners had only done RE investing in Israel, they attended a 9-month workshop to learn how to invest in the United States. Triple Alpha was born.

In 2020, the motivated investors made their first trip to Pittsburgh and purchased their first fix and flip property. However, they faced challenges with COVID-19 and an unstable contractor that slowed production. This first project ultimately did not turn a profit, which caused another challenge – they needed funds upfront.

Through market research, Triple Alpha predicted that the shift to rentals would happen sooner than later. It was evident that they needed a robust business model to profitably scale the business. In 6 months, they used their individual strengths to form this model.

Hagay spearheaded financial growth and success. Leibovitz began to research, reach out to investors on LinkedIn®, and search for different options to develop a model that didn't require them to raise money from other investors. Almog sourced all the homes and created the model to get them under contract within 24 hours for purchase.

On January 21, 2021, Triple Alpha sold its first home under the new business model. With a $500,000 line of credit with Kiavi, they've grown to complete 100 deals since.

Triple Alpha spent time with members of the Kiavi team in Miami at the IMN SFR Form East conference in July 2021.
Running a Business from Abroad
While the founders of Triple Alpha may live in Israel, they show their dedication, involvement, and care intentionally throughout their day-to-day workflow. They've created a foundation of trust and loyalty with everyone they've chosen to grow a relationship with. The result is lasting partnerships where everyone involved grows as Triple Alpha grows.

For example, Triple Alpha works with a "boots on the ground" realtor, who now has a team of about 5 agents and won the top agent award in his brokerage last month.

"We travel to Pittsburgh every 2-3 months," says Hagay, "where [we] create events with our partners, contractors, agents, and whoever is involved in our business." All of the partners are truly committed to the success of Triple Alpha, which makes it easier for the founders to be abroad.
The Secret of Success
Although money is important in any business, the secret to Triple Alpha's success is the belief that everyone is family. Relationships are at the forefront. They build together, share and consult with each other on every aspect of the business and decision-making process. There's a deep desire to always make sure their team and partners know they're trusted, respected, and valued.

"People most need to feel appreciated," explained Almog. "When we tell someone we appreciate them, it's really from the bottom of our heart."
Triple Alpha's passion for making sure everyone is appreciated directly correlates to their business's rapid growth and success. Through their actions, they show everyone who works with the business how much they're valued, instead of just telling them.
Triple Alpha's Advice for Novice Investors
Hagay shares that it's essential to understand that business is all about people, not money. Money will always be the result, but not without the right people. He advises that if you find the right people to do business with, you'll be able to achieve your goals. Aside from that, you must invest in yourself and continue learning.
The Future of Triple Alpha
Triple Alpha will continue to push to the forefront of the real estate industry in the United States. They expect to complete 500 transactions this upcoming year by expanding into 7 or 8 markets. Market expansion is based on working with existing customers who need a secondary buyer in high volume, lower risk transactions. They have already opened operations in Florida, Georgia, North Carolina, South Carolina, and Texas and will soon be expanding to Arizona.

Triple Alpha's attainable goals are to become a unicorn company in less than 5 years, give back to the community, and become one of the biggest national companies in real estate investing. With their core values, business model, and motivation, there's no doubt that they will continue making the impossible possible.

Want to learn more about Triple Alpha? Visit them on LinkedIn or Facebook.