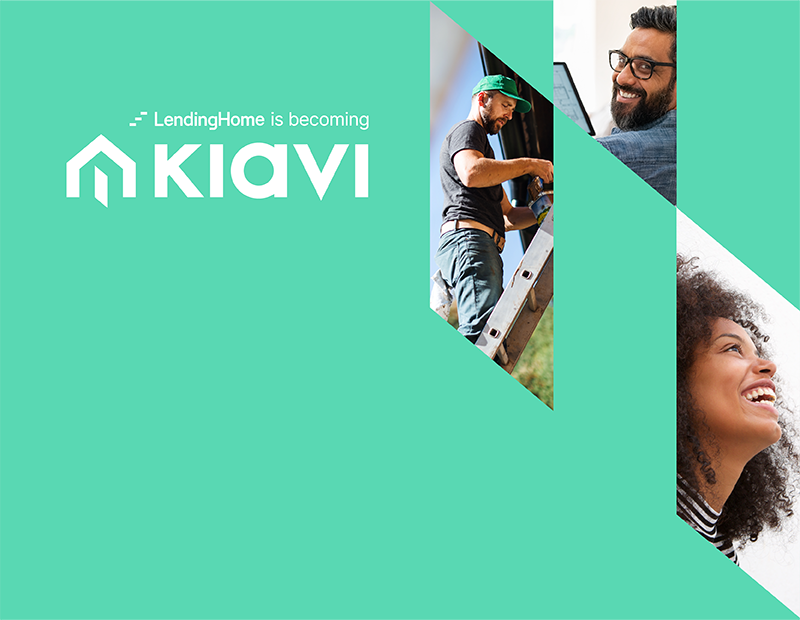 LendingHome is Becoming Kiavi
Posted by Michael Bourque

Note: originally posted on LendingHome.com and LendingHome is now Kiavi.

Our company was born out of the belief that real estate investors could benefit from the power of modern technology paired with tailored industry expertise. In just a few years, we've built an industry-leading team and a powerful technology platform that delivers flexibility, speed, and simplicity that our customers have come to rely on. Together, we've funded more than $7.8B in loans over 35,000 projects, and unlocked more than $3.4B+ in value for our customers.

For over a decade, the US housing market has been struggling to keep up with the demand of potential homebuyers. While the need for turnkey homes is growing, over 65% of America's homes are over 30 years old, leaving many homebuyers struggling to find a place to call home. We're proud to support real estate investors as they help to close the gap, revitalizing aged homes across the country and making them move-in ready for the next generation of families.

While we've worked to modernize and streamline the funding process for real estate investors, I'm always reminded of just how many challenges they still face running and growing their businesses. When talking with our customers, whether they are new entrepreneurs or seasoned real estate investing professionals, I'm struck by how they often don't have access to modern, tech-enabled tools and the right insights to strengthen their decision-making. These conversations remind me of how much untapped opportunity lies ahead to provide them with a better experience throughout their real estate investment lifecycle.

So today, as we look ahead to our company's next chapter, I'm excited to announce that in the coming months, LendingHome will rebrand to Kiavi.
Meet Kiavi: Your Key to Unlocking Value
Kiavi comes from the phonetic representation of the Italian word "chiave," meaning "key." It embodies our aspirations to help real estate investors fully unlock the value of aged homes across the country. As Kiavi, we will continue to focus on serving real estate investors through industry intelligence, timely capital, and expert support. Our new name is custom-built for the future, like our technology, and driven by our desire to help our customers scale their businesses.
Our new motto reinforces our commitment to offering investors what they need to succeed:
Speed to close: Timing is everything in real estate. Today, we are proud to deliver timely capital to our customers. However, we know there are opportunities to bring speed and efficiency to more of the real estate investment process, whether it's finding and buying an investment property, managing renovations, selling a home, or making it available for rent.
Power to scale: Our streamlined, data-powered tech platform and reliable team of experts mean real estate investors can depend on us as they grow their businesses.
Looking Towards the Future
Over the coming months, LendingHome will start to look different. Rest assured, there will be no change to the people, processes, or products that our customers have come to depend on. As we look ahead, we are excited to expand the ways we serve real estate investors, bringing technology and data-driven insights to more of their challenges.
The heart of everything we do will always be our customers. Our transition from LendingHome to Kiavi isn't only to create space for future growth but to expand on the many reasons why our customers choose to work with us today. Becoming Kiavi is a testament to helping our customers succeed in the future.
We're excited to embark on this new chapter together.
Sincerely,
Michael Bourque
CEO