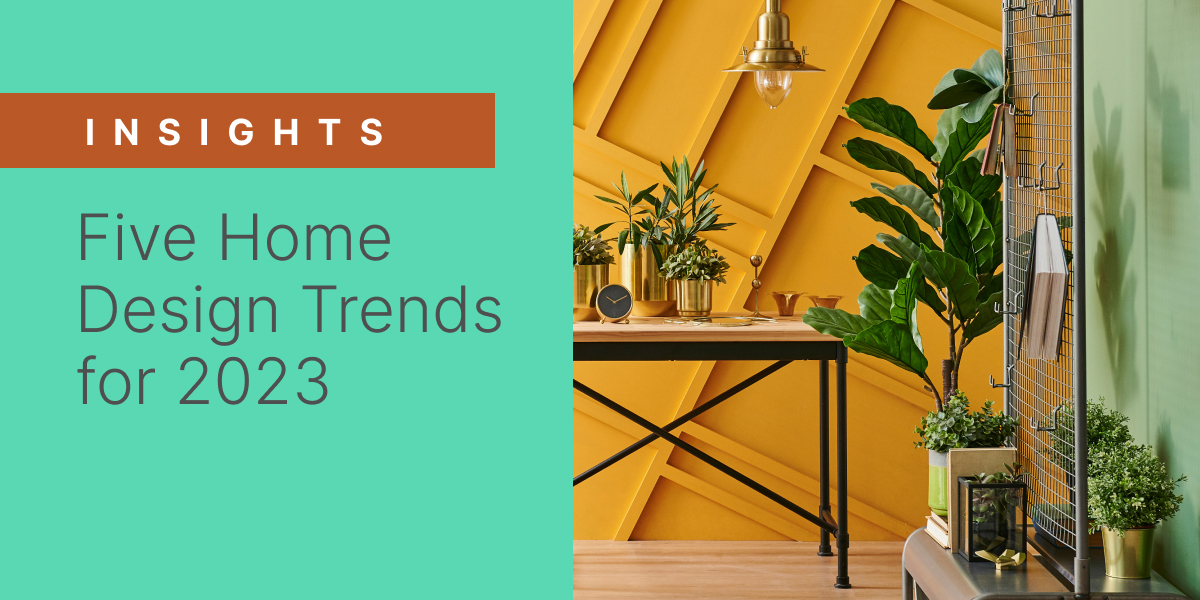 Keep Your Property Rehabs Fresh with New Looks for a New Year
The start of January is a time for rebirth, the perfect opportunity for "new year, new me." Or, in this case, "new year, new home vibes." You're not alone if you're looking to turn over a new leaf with your investment properties.

Potential buyers on the hunt for a new home or those looking for a property to rent will be in tune with what's hot, and seeing something attractive, comfy, or creative can be what seals the deal. Should fresher home renovation—or rejuvenation in general—be on your list of real estate investor resolutions, these design trends can help you start 2023 off on the right foot.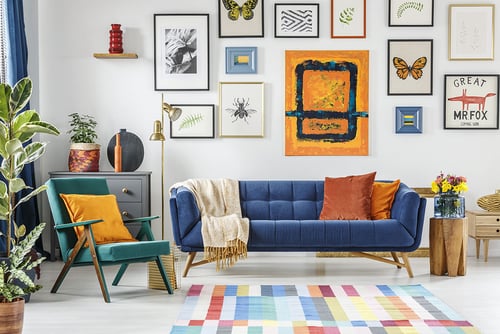 Big, Bright Colors
After a stressful few years, many homeowners are ready to shake off anxiety and unhappiness with bright, bold, and fun colors1 throughout their properties. This trend contrasts sharply with the past few seasons when neutral tones were the hot thing in decor.

Minimalism has been leading the scene for quite a while, but the landscape is shifting from stark and spare to warm and comforting. In 2023, dimension is no longer a bad thing—in fact, it's a must-have.

If you're not eager to overhaul a recently renovated space, that's okay—creating a simple statement wall or staging with a unique piece of furniture are great ways to ease into a bright color. You can even throw in some throws, cushions, or wall art to showcase a little color when staging your properties.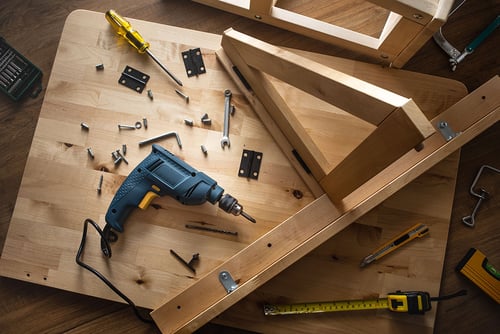 Creative Craftsmanship
As nice as the convenience of the fast fashion furniture equivalents can be—no shade to you, IKEA—those who have spent an extended period of time at home over the pandemic and beyond are starting to appreciate quality products made to last. It makes sense—when you spend most of your time at home, comfy cushions and proper support become essential.

When the time is right, consider replacing worn-out cabinetry or built-ins with well-crafted pieces. This doesn't mean spending a fortune or stretching past your budget limits, either—plenty of companies and artisans produce shelving, fixtures and appliances intended to hold up to heavy use that doesn't require breaking the bank. For this reason, higher-end products designed to last are replacing pieces picked for the sake of style.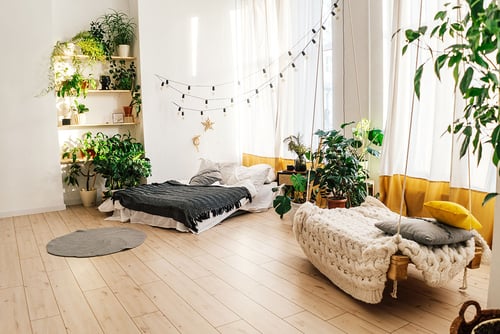 Sustainability
With a high focus on the planet's future, sustainable products and styles are in demand by many potential homeowners. As Karen Rohr of Mackenzie Collier Interiors says, "One of the biggest trends we're seeing is a move toward sustainable, eco-friendly materials."2

The concept of sustainability goes hand in hand with the other trends already mentioned. This means less waste, fewer temporary designs, and more ways to keep spaces looking fresh without having to redo a property from floor to ceiling on a rotating basis.

For eco-friendly additions, some fix-and-flippers are considering passive solar design—using building materials that reflect, absorb or transmit the sun's radiation. When replacing windows, they're looking at high-performance windows to cut energy usage or invest in energy-efficient appliances for the home.
Some other sustainable considerations are adding greenery throughout the home when staging or creating a space for a vegetable garden in the backyard. Something as small as adding window treatments that can block the sun and reflect back the solar energy that heats the home in the summer but reduces drafts in the winter can add sustainability to your design.
Just remember that a departure from sterile spaces to comfortable and uplifting ones—something that can be accompanied by nostalgic design concepts that are less transient in nature—and an embrace of function over form can mean big things for the home's evolution.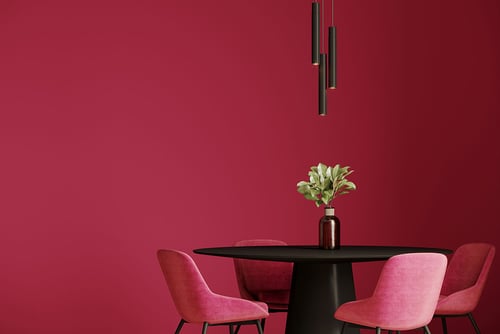 Individuality
Another trend that isn't entirely surprising is that individuality is also at the forefront of 2023 home design. This means leaning into one-of-a-kind pieces and designs that embrace creativity versus uniformity3. For your fix-and-flip or rental, this could mean focusing on accent pieces, using local artisans for unique cabinetry or a statement wall—bonus points for ones built to last—or even seeking retro fixtures.

In fact, vintage and vintage-style furniture are making a comeback, and 1970s-style vibes, in particular, are standing out to stylish renters and homebuyers, with curves and color replacing straight lines. If you're eager to show off bright colors, this time period is ideal—from burnt orange to vibrant teal, there are lots of individual styles and plenty of upbeat hues to add to a home during a living space refresh. Even Pantone agrees—the color of the year is vivid magenta4. Groovy!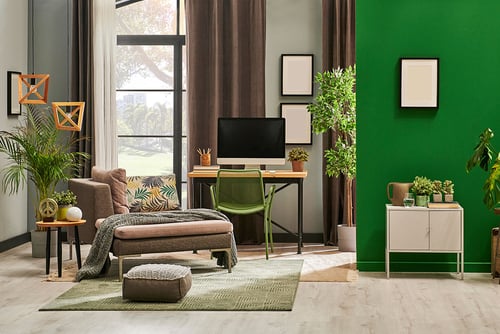 The Presence of Plants
Greenery has seen an upward trend over the last few years, and 2023 is proving to be no different5. Plants can do wonders for areas of all kinds, from a smaller duplex to a spacious home, adding color and vibrancy to even drab, dull spaces.

Succulents were the name of the game in years past, but 2023 is all about bigger statement trees, unusual styles not common to house plants, and options that require less light for growth that can be placed in a wider range of rooms. Fast-growing plants can be ideal, too—it won't take long for a philodendron to blanket a bookshelf in foliage. For those up for a challenge, orchids are proving to be hot, too. If you're simply staging, adding plastic plants may be the way to go.

Bringing the outside in has also increased popularity. Installing more windows or doors that open larger and wider, like bi-folding and sliding doors that span the full width of a wall, are popular ways to bring in more natural light and greenery while incorporating indoor-outdoor living into the home.
The bottom line
If you're feeling the itch of a new year's potential—and the opportunity for profits—there are plenty of ways to make meaningful changes to a living space, no matter your budget. Based on design trends for 2023, this year is all about breaking away from the minimalism of the recent past and leaning into the things that stand out. From friendly colors to vintage and sustainable pieces, now's the time to pretty up your investment property with the year's hottest styles.
Sources:
1Wight, Ted. "4 Interior Design Trends You'll See Everywhere in 2023." ST LOUIS STYLE, December 19, 2022.
2Lyon, Sarah. "These 7 Furniture Trends Will Be Everywhere in 2023." The Spruce. The Spruce, October 26, 2022.
3Scagell, Julie. "Retro and Vintage Are the Name of the Game in 2023." 21Oak. 21Oak, December 16, 2022.
4DePinho, Gabriella, and Zoe Malin. "Pantone 2022 Color of the Year: Where to Find Viva Magenta-Inspired Products." NBCNews.com. NBCUniversal News Group. Accessed January 5, 2023.
5Schwartz, Sandi. "The 12 Biggest Houseplant Trends for 2023." Bob Vila, November 9, 2022. .