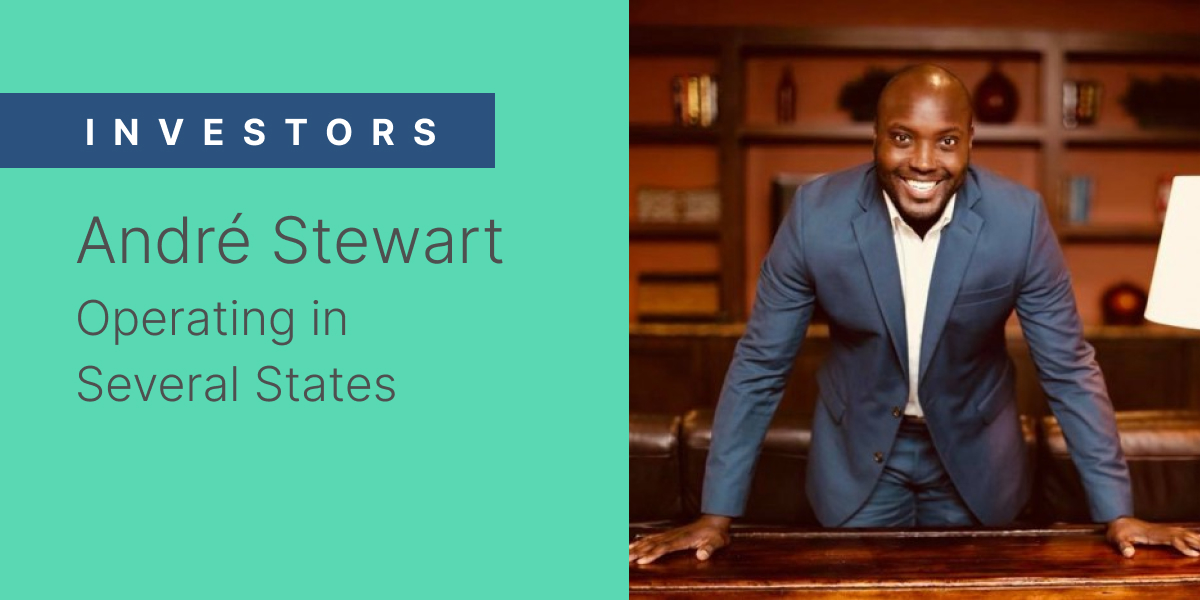 Reaching Financial Freedom in the Real Estate Investing World
As someone who was on the brink of cardiac arrest working as an advisor to CEOs, tech startups, and high-net-worth individuals, André Stewart was told by his doctors that he needed to eliminate the stress by quitting his job as a banker and finding a new lifestyle. Within seven months, André was able to become financially free through real estate investing and pursue other avenues within the industry to help him foster his passion. Read more to discover his journey and growth.
Getting Started Flipping Houses Remotely
From a young age and fueled by helping his family become financially comfortable, André Stewart knew that he was going to become a millionaire. After growing up in poverty between two households, André believed that building long-term wealth was the best way to get his family out of their current environment. Instead of letting his circumstance dictate his future, André was well on his way early in his life by creating two businesses by the time he was 16 and was constantly teaching himself new ways to reach his financial goals.
After ten years of a successful career in banking in the Los Angeles area, André became interested in real estate investing after his doctors told him he needed to find a less stressful career. André was inspired by not only supporting his family but also building generational wealth and becoming his own boss in an emerging asset class. He found a successful mentor and started investing part-time in real estate at the age of 32 – from there, he never looked back.
When André began his real estate investing journey, the market was hot with deals due to the 2008 housing crisis. However, Los Angeles had a higher standard of living and property cost, so he needed a way to capitalize on the housing market outside of California. Once approved to work with Kiavi (previously LendingHome), André was able to invest remotely out of state from the comfort of his home. He explains that he invests where the numbers make sense, using data trends like job growth, barriers to supply, and industry expansions to examine where the best ROI opportunities are for high-profit margins. André believes that one of the more attractive benefits of real estate investing is that it doesn't matter where you live – building a local team enables you to flip remotely and successfully grow your portfolio from anywhere in the world.
Since becoming a full-time investor in 2018, André was able to get approved into Kiavi's PRO Program quickly and increase his net worth by $1.2M in just seven months. He credits much of his early real estate investing success to having Kiavi as a reliable lending partner.
Additionally, in 2020, André founded InvestFar Capital which has provided over $10M in capital to help investors fund their properties and has additionally partnered with Kiavi through the broker program. When it comes to his investment strategy, he's mostly focused on fix and flip exits due to the current environment and doesn't have plans to buy and hold in the future. To date, André has successfully flipped over ten properties remotely.
Writing an REI Book to Help Investors Succeed
After André found his own success in real estate investing, he wanted to spread his knowledge to help others build wealth in the industry. Recently, Stewart released his first book, The Real Estate Investing Diet: Harnessing Health Strategies to Build Wealth in Ninety Days, for investors of all experience levels - from CEO-level to beginners looking to achieve long-term economic freedom through real estate investing. The book includes several examples, calendars, and a strategic plan to remove typical barriers investors experience.
"Dispel any beliefs you have about real estate investing, becoming a millionaire, and the ideology around money. Whether you have a bank account in the negative or a million dollars to invest, this book will not be like any other real estate guide you've read before. Stewart not only gives you every single tool to make money in any real estate economic climate, but he also does so while navigating an unprecedented modern economy. If you want to be financially free in an unparalleled time in history, this book is for you," from The Real Estate Investing Diet.
In The Real Estate Investing Diet, Stewart shares practical techniques to acquire properties and various exit strategies without using your own personal credit or upfront capital. Along with providing the fundamental foundation needed for real estate investing, André focuses on how to become mentally prepared to get through your first deal. Coaching on how to build mental toughness, he claims that the key to having the right mindset is knowing what to expect so you don't feel surprised during the process and turn away when something inevitably goes wrong.
Developing an App to Invest Remotely
In addition to becoming a real estate investor and author, André founded his own app, InvestFar, for others to benefit from his experience and flip an entire house at the touch of their fingertips. InvestFar is the first global investing app that allows people to remotely invest in real estate easily and safely across the world. With InvestFar, users can do everything from finding properties and using predictive data for valuations to connecting with local service providers for inspections, walkthroughs, and more. André believes that real estate investing isn't confined to the United States and strives to make globalizing real estate investing easier and more accessible for all.
With the InvestFar app, André also facilities advisory and broker services, so users have everything they need to buy, renovate, and sell properties anywhere in the world. By offering his expertise, he's able to empower clients and set them on their own path to financial freedom with actionable strategies and tools.
Focusing on the Future
André is passionate not only about remote real estate investing but also about helping others succeed in the industry and learn from his achievements. Looking toward the future, Stewart is currently growing his real estate empire in the United States and Colombia as he continues to expand InvestFar globally. His main goal right now is to make real estate investing accessible for everyone, and he is also finalizing his second book to be published in 2023.
Want to learn more? You can purchase André's book here or connect with him on LinkedIn!