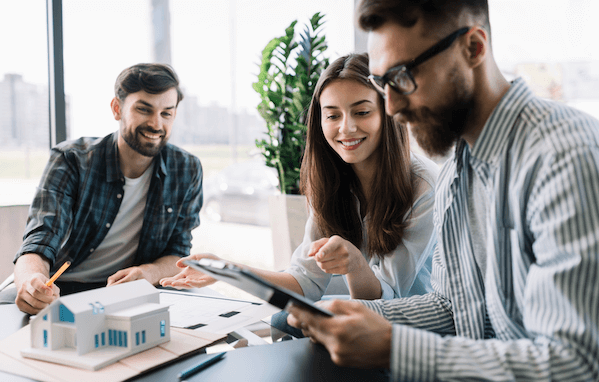 Who to Have on a Real Estate Investment Team
Note: originally posted on LendingHome.com and LendingHome is now Kiavi.

Luke Babich is a real estate investor in St. Louis, MO, who specializes in multifamily units. He now has more than two dozen units, and his first investment was a house hack with Clever Real Estate's co-founder, Ben Mizes.
Who you should have on your real estate team as an investor
Whether you've fallen into the world of investment real estate or you've meticulously planned your entry, it's no secret that one of the keys to success is to build a good team. Investing in real estate is not a task you should take on by yourself—in fact, you'll need to rely on others to make it work for you.
The key is to gather a good team early and with intention. Here, we will explore who you need on your team to make the best real estate investment possible every time and keep things running smoothly.
Spouse/partner
Your spouse or partner is probably someone you spend the most time with. It's important they are on board with your investing and aware of your goals since usually, there is a sense of independent entrepreneurship in the beginning.
A spouse or partner is important to your career as a house flipping investor or otherwise, as they have a major impact on how you spend your time and money. Even if they're not active in investing themselves, they can provide much-needed support and encouragement when things get tough or deals fall through.
Discuss your investing ambitions with your partner early and often to maintain a healthy balance.
Also, a professional partner can be another key member of your team and help offer the same support that can really enable you to move the needle. Afterall, two heads are better than one! There are pros and cons to a real estate partnership, which is important to keep in mind when looking to grow your business.
Real estate agent
Not only do agents have access to the local multiple listing service (MLS), but a good real estate agent can also find you great deals before they even hit the market. This means less competition and usually a cheaper price and smoother closing. Plus, agents have a great understanding of your local real estate market and can help you be realistic in your goals.
Make sure you work with an agent who has experience finding investment properties. Seek out referrals, and check out the properties that the agent has helped clients buy or sell. This can give you a good pulse on the agent's expertise when it comes to investment properties.
When you find a new agent, make sure they know your exact criteria and why certain things are deal breakers. For example, you may be interested in single-family properties under $120,000 but only if there's an opportunity to add value. Or, you may be interested in any property that cash flows and fits the 1% rule. Being clear to an agent what you expect in real estate investment properties will ensure they only put in effort on properties you'd be interested in.
Your real estate agent may also help you sell a property at some point, so having one with a large network of fellow investors is a good idea. Although you won't pay anything for an agent to help you find a property, you will likely pay the 6% real estate commission if they help you sell one. But, a good real estate agent is well worth the commission costs you have to pay and can help your property sell more quickly.
Lenders
You'll need to take out a loan for a new property you purchase. Oftentimes, quick closings entice sellers, so a go-to lender can help you get these loans quickly and may make the difference between securing or losing out on a deal.
A good lender, like Kiavi, can get creative to come up with the best loan package for your purchase and flipping houses for a living.
If a lender has a good history with you as an investor, they can come up with the best loan—or combination of loans—depending on your needs and timeline.
Contractors
Good contractors can be hard to find. We've all heard stories of waiting months for a job to be finished, only to find lots of mistakes and incomplete work. While it can be hard to vet contractors, finding an honest contractor who will get the job done can save you both money and headaches with your house fix and flips.
You'll reward the contractor with repeat business—and positive referrals!—and they'll make sure you don't have any headaches related to the job.
Lawyer
An experienced legal counsel does more than just review leases and purchase contracts. They can also be proactive in helping you structure your business to protect your personal assets. Setting up these systems prior to an issue arising is much easier—and cheaper—than hiring a lawyer to defend you in a lawsuit. Not to mention the peace of mind that comes from knowing you're protected if you ever end up getting sued.
When you look for a lawyer, find someone who is familiar with the laws in your region and experienced with your type of investments.
For example, you may need someone comfortable with doing evictions, or handling land contracts. You'll be relying heavily on this person to advise you on the legalities of all your decisions, so it's extremely important they are familiar with the type of deals you intend to do.
Property manager
Many investors who prioritize rental properties manage their properties themselves, but at a certain point, you may have so many properties that you'll need to hire a property manager unless you're willing to quit your day job.
Property managers can handle the day-to-day work of managing your properties and tenants. They'll also help fill vacancies by marketing, accepting applications, scheduling tours, vetting tenants, and ultimately filling your property with its new tenant.
Do your due diligence in finding an attentive property management company—make sure they're experienced, responsive, reputable, and organized. Inevitably, at some point, they'll also need to discuss eviction with a tenant, so they'll also need to have thick skin.
Good property managers aren't only helpful with the properties you currently own. They can tell you the market rate for rent in a given area before you buy an investment property. Since you'll use this number to determine a property's potential cash flow, it's essential this number is accurate—especially If you are an out-of-state real estate investor.
Accountant
Real estate comes with lots of nuances when it comes to taxes and bookkeeping. An accountant or bookkeeper on your team can keep your income and expenses organized and also ensure you're paying your taxes correctly.
As a new investor, you may be able to hobble along by continuing to do your own taxes. When you only have a couple properties and you haven't set up any legal business entities, you can still file using your personal tax form—a 1040. But, if you don't have much tax knowledge or you've done enough deals to complicate your taxes, you need to hire an accountant.
The right accounting professional will help you structure your business to maximize profits and minimize taxes for your house flipping financing. It isn't just as simple as taking in rent and paying out bills and handymen. Different structures have different tax implications, and you'll rely on your accountant's expertise to know what those are. Keeping good records with your bookkeeper and leaning on your accountant's knowledge of the write-offs you qualify for can pay for their fee and more.
Insurance agent
When you're doing the back-of-the-envelope math on whether to invest in a property, you'll include expenses such as your mortgage payment, real estate taxes, yearly insurance, and estimate for repairs and vacancy. Clearly, your insurance payment can play a big role in whether your next deal cash flows.
Find an insurance agent who can provide quick quotes and know where you may be able to reduce coverage to save money. You don't want a surprise after purchasing a property and purchasing insurance only to find that insurance in that area is particularly high or that you need to purchase flood insurance.
Also look into the agent's experiences in dealing with claims. You don't have much need for an insurance agent until a problem arises, and you'll want to make sure they have a track record of hassle-free and fair payouts for legit claims.
Final thoughts
A great team is key for success. Rarely do you find an incredibly successful real estate investor who doesn't have a knowledgeable, professional team to support them. It's nearly impossible to do it all alone.
As you get more serious about investing, carefully consider who you want on your team and who has the skills to grow with you and your business.