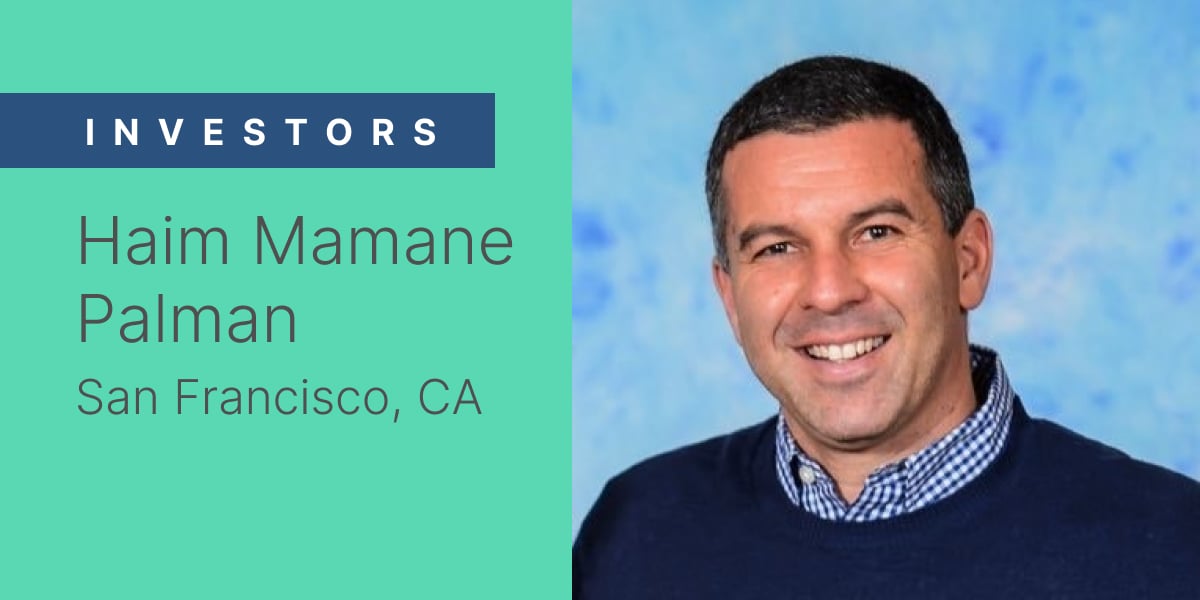 Real Estate Investing Success: Haim Mamane Palman
Note: originally posted on LendingHome.com and LendingHome is now Kiavi.

Customer Haim Mamane Palman has mastered the house flipping craft. As a real estate investor, developer, and wholesaler, he has a foot in different dimensions of the real estate investing universe.
House flipping tips from Haim Mamane's Success
And considering he has seven years in the business and flips a couple of houses at a time—with over 50 properties (mostly wholesale) to his name—he is a true master of the hustle needed to earn success in this field. He worked very hard in a short period of time, gained plenty of traction, and is now an extremely influential real estate investor in the San Francisco Bay Area.
Read on to discover how he developed his real estate investing career, his house flipping success with partner Tomer Maymon, as well as a sneak peek into the field trip the Kiavi team took to one of his and Tomer's renovated properties. (Spoiler alert: It was absolutely beautiful!)
Beginning real estate investing
Haim was formerly a Director of Security at the Jewish Community Center. He had an interest in real estate investing and began wholesaling properties virtually in other markets, really learning the industry and garnering experience. He eventually built a team of seven people who helped run the operations.
He then decided to expand and transitioned to house flipping locally in his home base of the San Francisco Bay Area. Haim found that as he pursued this kind of real estate investing, he preferred having a low volume of deals with bigger margins as opposed to high volume of deals with lower margins that wholesaling provided. He also wanted to downsize his team and really spend more time doing quality work, rather than focusing on quantity.
As Haim found his footing in the industry, he took his learning into his own hands by buying learning courses, joining masterminds, going to meetups, and networking with other successful individuals. This helped him learn, gain expertise, find excellent resources, and build a community around his newfound career.
Finding success
Haim now has built a little empire of his own. He's highly respected in the real estate investing community, and found a strategy and recipe to his success. A typical property for him is usually a smaller one in San Francisco where his focus is to add value through additional square footage within the envelope of the property. He aims for his property to be starter homes for the Bay Area and targets them at a value of $700,000 to $1,300,000.
The past few projects Haim has worked on in San Francisco were alongside Tomer Maymon, a very talented architect. Together they create incredible homes that surpass the standard of an average flip—they are truly beautiful, artfully designed places that really add genuine value and substance to neighborhoods. Haim credits Tomer's vision and their partnership to playing a major role in this success.
And when it comes to design elements, they ensure a high-end remodel in B neighborhoods. They coined this niche as 'Affordable Luxury Homes' and the flips all have a very similar design, finishes, and overall look and feel.
Haim previously focused on flips in Daly City and Oakland but now primarily keeps it to San Francisco as he has found plenty of opportunity in the City by the Bay.
When it comes to partners, including great ones like Tomer, he finds the best ones by networking. Haim also mentions that good contractors, a knowledgeable real estate agent, and a dependable lender are a must in order to be successful, recognizing that there is a lot of collaboration in the industry. And that's where Kiavi came into the picture.
Partnership with Kiavi
Haim first heard about Kiavi when he was referred and has been a deeply appreciated customer ever since.
When describing Kiavi's offerings, he says, "They are fast, responsive, and provide great terms to help us be profitable. It also helps us negotiate better deals because we know they close and fund the deals quickly. "
This partnership has thrived throughout the years as Haim has further built his presence in the industry, adding more memorable flips to his portfolio.
"They are fast, responsive, and provide great terms to help us be profitable. It also helps us negotiate better deals because we know they close and fund the deals quickly."

-Haim Mamane Palman
A rewarding pursuit
House flipping changed Haim's life. It allowed him to quit his 9-5 job and work full time for himself—controlling his own schedule and determining his own value. This allows him to provide for his family while also setting an example to his children that it is possible to gain financial freedom, work hard, and still be present for the people you care about most.
He hopes that the future continues to bring more opportunities to grow and help transform neighborhoods in San Francisco, one property at a time.
"The journey is not easy, but definitely fulfilling. Thank you Kiavi for playing an important role in my fix and flipping journey!"
"The journey is not easy, but definitely fulfilling. Thank you Kiavi for playing an important role in my fix and flipping journey!"

-Haim Mamane Palman
Thank you Haim!
Be sure to follow along and learn from Haim's expertise on his social channels:
YouTube
Instagram
LinkedIn
Twitter
Also, for some amazing before and after video of Haim's work, head to these links now:
751 Geottingen Street, San Francisco
2127 31st Avenue, San Francisco
250 Ralston Street, San Francisco
In addition, we are thrilled to share that recently, Haim and Tomer invited some of the Kiavi team to check out his recent flip. Their flip was stunning and the team had a great time taking a tour, looking into the details, understanding their goals and the project, and getting the overall look and feel for their work.
Visiting their property offered insight into the quality of work they do and the creative nature of their goals of adding square footage and value to starter homes. It truly was an 'Affordable Luxury Home' and their hospitality matched the warm welcoming design of the flip.
We are so grateful for our customers and their openness to share and collaborate with us. Thank you Haim and Tomer! We appreciated the opportunity to see your beautiful work firsthand and are proud to be a part of your successful journey.
Property: 363 Bright Street. Bought for $760,000 and sold after renovations for $1,640,000. Check out more in this video.
We want to start a partnership like this with you too! Our bridge loans and rental loans both start with low rates—and we work with you individually to make your deal happen.