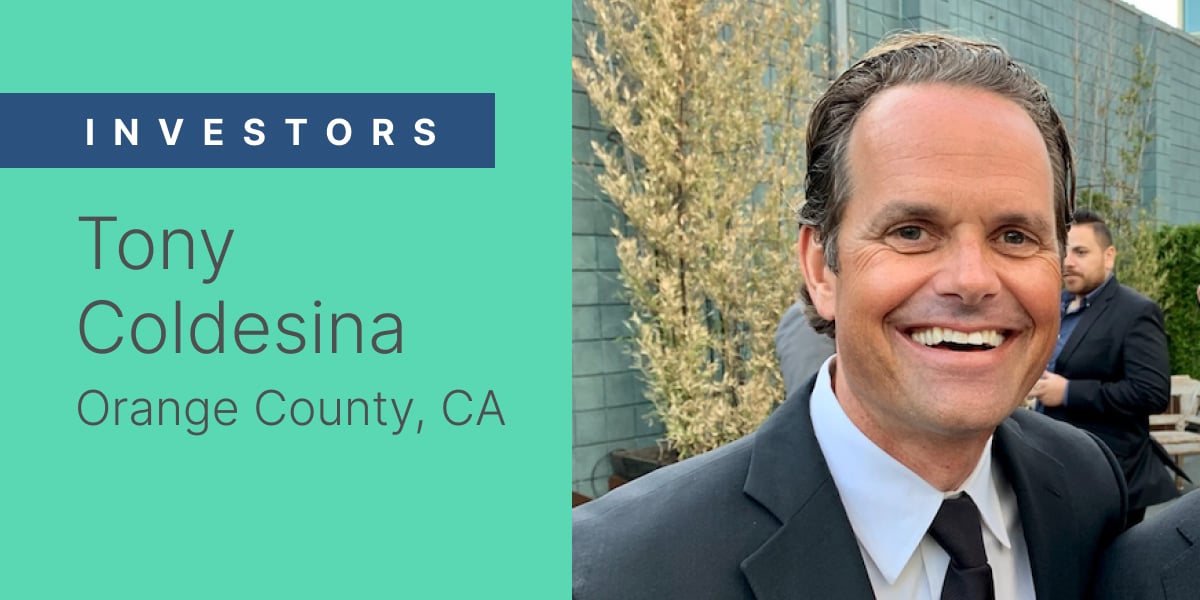 An Entrepreneurial Spirit and Career Flexibility: Learn the Success Story of Tony Coldesina
Note: originally posted on LendingHome.com and LendingHome is now Kiavi.

We have always been proud of the amazing roster of talented investors and real estate professionals we have as customers. Even as we rebrand into Kiavi, the heart and talent behind what we do is as strong as ever in this new era of our company. And we are continuing to celebrate our exciting changes by celebrating the amazing customers who make it all worth it.

We're happy to introduce one of our brokers, Tony Coldesina, who embodies exactly what makes becoming a real estate investor appealing. He has flexibility, drive, freedom, and innovation in his life through his job as a broker—proving that when you work hard, you really can have it all.

His Broker Experience Manager, Daniel Shepherd, can't say enough positive things about him:

"Tony is a professional broker and an all around good guy. He says that he can see the ocean from his Orange County, CA office and loves the flexibility that being a broker provides. I often call him and he's fresh off a morning surf or a mountain bike ride with his kids. We mostly work on fix and flip deals together for PRO clients in CA. He loves the portal, visibility into loans and our valuation process. He also loves the customer service that our operations team provides and how he can reach us via phone whenever a question comes up."

And with that, let's learn more about Tony's journey into real estate investing and with Kiavi.
About Tony
Tony has been a mortgage broker for 15 years and works out of Orange County, California. He works with about 40 clients at a time and has done over 1,000 deals—a true expert in his field.
Prior to developing his impressive prowess, he owned a clothing company. He was also interested in entrepreneurship and the freedom it brings—and since he has many other talents like surfing and biking, he wanted a role that could allot him this).
So, when he learned more about real estate and the opportunities and flexibility it provides, he decided to dive in and start in the owner-occupied spaces. Being self employed was a huge priority and this seemed like the best fit and place to redirect his talents!
One of the best parts about his particular role in the field is that he gets exposure to all types of projects. "The great thing about this business is how many unique opportunities are available."
We couldn't agree more.
How the business has evolved
As Tony has ventured deeper into the real estate investing industry, he has made it a family affair—another benefit of flexibility and access to the industry. His wife helps with business development and together they often meet with clients to discuss what types of investment opportunities they are involved in and how they can add value.
Primarily, he has supported commercial properties alongside his clients, but in the last couple years, he has ventured into supporting fix-and-flip projects more for larger clients, expanding his portfolio in the industry. He does 90% of his business in California and takes advantage of the location too—he makes it a point to meet with his clients in person. He knows the impact of meaningful relationships in reference to business.
Getting started
As many real estate professionals will tell you, it's important to learn from others, network, and expand your connections. When Tony first started about twenty years ago, he had a mentor who really helped him learn more of the financial realm.
However, with his entrepreneurial spirit, he was mostly self educated, learning by doing. It's inspiring what can be accomplished with focus and determination and many REI professionals, Tony included, have been able to make big moves by being self sufficient.
Sourcing clients
A large part of the real estate investing career path is networking. Finding good people to partner with and clients who are in need and desirable candidates. The quality of contacts is what can take your business to the next level.
For Tony, when looking for clients, he partners with conventional loan officers who don't typically do commercial mortgages. "This way, it allows me to do what I'm good at and allow them to keep their owner-occupied business. I always try to add value where I can and keep in constant touch with my clients," he says.
Discovering Kiavi
We always love hearing about the "meet cute" our customers have with us. When Tony first heard about Kiavi, it was at a conference where he ran into one of our sales team members, striking up conversation.
He had heard of us before but was reminded of the impact we have on the industry through a friend.
Prior to Kiavi, Tony obtained financing mostly through private sources. But when working with Kiavi, he has grown to appreciate the simplicity of the partnership.
"Standardization of the process has been excellent. I've been able to scale my business because I have a dependable capital partner," he says of working with us.
"Kiavi is the best in the business. I can count on the team to deliver within a dependable timeframe."
Thank you for sharing your story with us Tony. We are so thrilled to work with industry experts like you who enrich our experience and the experiences of their own customers as well.