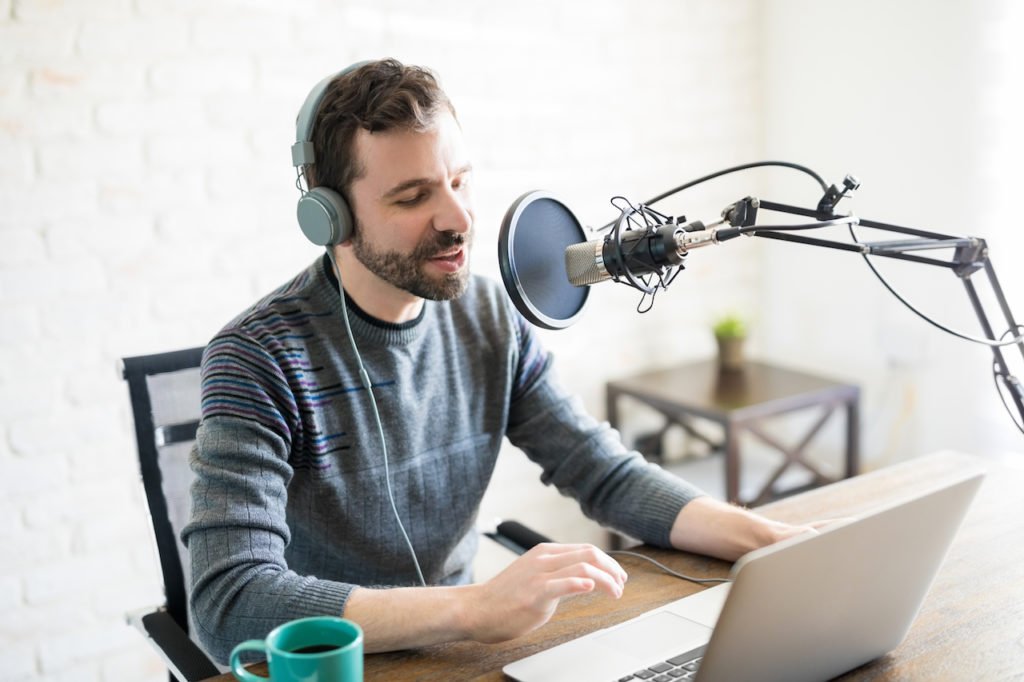 Top 10 Real Estate Podcasts for Any Investor
Note: originally posted on LendingHome.com and LendingHome is now Kiavi.

About the author: G. Brian Davis is a real estate investor who has owned dozens of investment properties over the last 15 years. He's also the co-founder of SparkRental.com, an online resource which provides free landlord education and video series for anyone looking to build passive income from rentals.
Real estate education on the go
Ever wish you could get a college degree in real estate investing?
Luckily for you, there's something even better: free, ongoing education from some of the most successful real estate investors alive today, delivered right to your phone as a free real estate podcast. (And if your ears get tired, you can always feast your eyes on the best books on real estate investing!)
There are plenty of ways to invest in real estate: from buying rental properties to REITs to commercial real estate to flipping houses for a profit, and beyond. Each niche has its pros and cons, but all have one thing in common: you'll only be as successful as you are knowledgeable.
As a professional real estate investor myself, I've listened to a number of podcasts and found some of the best real estate podcasts in the business. All of them are free, and each will leave you wiser for having given it 30-60 minutes of your time.
BiggerPockets
The goliath among real estate podcasts, BiggerPockets' podcast is a staple for any real estate investor's ongoing education.
Hosts Joshua Dorkin and Brandon Turner have been investing in real estate for over 30 years between them, and bring on guests that cover every conceivable niche in the business. They keep a fun, light tone, even while digging into complex topics.
From buy-and-hold to commercial real estate to Airbnb to flipping houses, BiggerPockets' real estate investing podcast has covered it, and will cover it again from another angle.
If there's a one-size-fits-all real estate investing podcast out there that covers it all, this is it.
How to listen: Visit the BiggerPockets podcast page for their weekly podcast or listen on iTunes, Stitcher, or your favorite podcast app.
The Best Ever Show with Joe Fairless
Start getting the shakes if you don't get a daily dose of real estate investing advice?
Joe Fairless has you covered.
On Joe's daily "Best Ever" real estate podcast, he interviews A-list real estate rockstars who bring a steady stream of fresh perspectives. Joe has a gift for bringing energy to his podcast episodes, despite the show's unrelenting frequency.
One advantage of doing so many shows? Joe keeps the show diverse with guests from a wide range of investing niches, from apartment buildings and real estate syndication to traditional flipping houses for a living.
How to listen: Check out Joe's website and you can also find the podcast on iTunes, Stitcher, or your favorite podcast app.
RETipster
Seth Williams hosts this excellent podcast with a low-key, laid-back, friendly demeanor that takes the pressure out of real estate investing.
Beyond being a genuinely good guy (I'm lucky enough to know Seth personally), Seth is incredibly knowledgeable about a wide range of real estate investing niches. From beginner level (e.g. how to get started flipping houses) to advanced tips and techniques like real estate investing website optimization, Seth has you covered.
Still, there's one area of expertise where Seth particularly shines: land investing. Seth is arguably the country's leading authority on land investing, which requires far less capital than traditional real estate investing.
How to listen: Seth broadcasts his real estate podcast every two weeks. Listen to the podcast on the RETipster website, on iTunes, Stitcher, or your favorite podcast app.
Flipping Junkie
Want a niche real estate podcast all about flipping houses?
Check out Flipping Junkie.
Husband-wife team Danny and Melissa Johnson have been flipping houses for a long time. They continually bring on other successful house flipping investors to explore flipping strategies, such as how to build a house flipping team, case studies, using hard money loans for flipping, house flipping business plan, and more. If you're focused on flipping, start with the Johnsons' niche flipping real estate podcast.
How to listen: iTunes, Stitcher, your favorite podcast app, or the Flipping Junkie website.
Real Estate Success
Host Jim Ingersoll has been in the real estate industry for decades, and his experience shines through in his podcast.
Jim keeps it diverse, covering a wide range of topics, including rehabbing, tax strategies, and online marketing tips for real estate investors.
Like success stories and case studies? In addition to Jim's own (vast) knowledge, he does an excellent job of bringing on guests from all walks of the real estate investing life, to share their stories and insights.
How to listen: In addition to the standard iTunes and Stitcher, or other podcast app, you can find Jim's real estate podcast through his website.
Afford Anything
Most people run on an endless financial treadmill. As soon as they earn more money, they immediately spend more money.
It's a hamster wheel that host Paula Pant wants to help you avoid.
Paula focuses heavily on lifestyle design: planning out your perfect life, so you can realize it. After all, what's the point of making money? Is it to replace your Subaru with a BMW? Or is it to give you the flexibility to create the life of your dreams?
Which is not to say that Paula doesn't cover the nuts and bolts of investing on her real estate podcast. There's plenty of tactical talk about topics like finding deals on investment properties and how to buy a foreclosed home on Paula's Afford Anything podcast.
How to listen: All the usual podcast places (iTunes, Stitcher, etc.), plus her website at AffordAnything.com.
Epic Real Estate Podcast
Can't get enough education? The Epic Real Estate Podcast offers an almost daily dose.
Host Matt Theriault shares Paula Pant's affinity for financial independence and wants to help you retire early. Where Matt particularly shines is keeping a balance between the bigger picture – achieving financial independence through real estate – and the down-and-dirty details of investing. From niche topics like creating a house flipping business plan to detailed tax strategies, Matt doesn't shy away from the granular in his real estate investing podcast.
One other nifty fact? The Epic Real Estate Podcast ranges in length from quick-sprint episodes only four minutes long to marathon 90-minute episodes.
How to listen: Check out the Epic Real Estate website in addition to the standard podcast aggregator services.
Apartment Building Investing with Michael Blank
Ever dreamed of owning an apartment building?
Michael Blank is your man.
Michael specializes in larger multifamily investing, and in his podcast he walks you through exactly what it takes to buy apartment buildings. One area Michael invests plenty of time on is raising money – after all, financing an apartment building isn't quite as simple as borrowing an investor bridge loan!
If you're interested in cash flow and rental property income and want to skip residential rentals and go straight to apartment buildings, check out Michael Blank's real estate podcast.
How to listen: You can tune in through iTunes or you can visit Michael's website directly.
Commercial Real Estate Show
Interested in commercial real estate investing?
There's a real estate podcast for that!
Michael Bull hosts this high-gloss podcast and radio show, which also streams as video. A particular area of strength for the show is Michael's attention to market trends by sector and industry.
If you've ever wanted to try your hand at the commercial side of business, definitely tune in to Michael's excellent commercial real estate investing podcast.
How to listen: While the Commercial Real Estate show airs everywhere from Youtube to PlayerFM and beyond, you can learn more and listen at the official Commercial Real Estate Show website.
Real Estate Guys Radio
Not many podcasters can claim that their show has been broadcasting for over 20 years.
Real estate investor Robert Helms and financial strategist Russell Gray have been on the air since 1997 (started over conventional FM radio), and have since become one of the most popular real estate investing podcasts on iTunes. Topics they cover include: flipping fundamentals, smart risk taking for real estate investors (REIs), finding great properties in strong markets, and much more.
If you're looking for polish, consistency, and a wealth of personal experience and knowledge, give Real Estate Guys Radio a listen.
How to listen: Sidle over to the Real Estate Guys Radio website for more information and to listen to their weekly radio show and podcast online. Or, listen to the podcast on iTunes.
Never stop learning
The moment you stop learning as an investor is the moment you start becoming obsolete.
Luckily for you, it's easier than ever to consume free, ongoing real estate investing education!
And you don't even have to sit down and labor through a textbook. Listen and learn while you're mowing the lawn, driving to work, working out, doing the dishes.
You might just learn that one new piece of information that will earn (or save) you tens of thousands of dollars on your next real estate investing project!