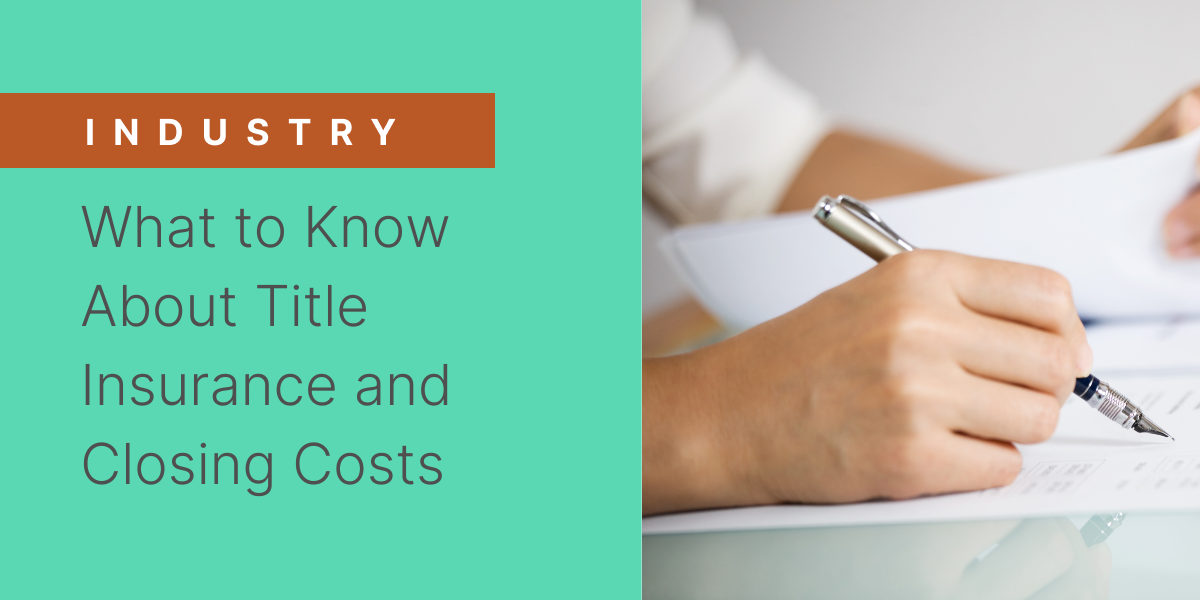 What REIs Need to Know About Title Insurance and Closing Costs
Whether you're a beginner or a seasoned real estate investor, closing is one of the most exciting parts of purchasing an investment property. But, the closing process can also be cumbersome, opaque, and difficult to scale for certain transactions.
Thankfully, modern technology has removed many manual, analog tasks, enabling a faster, more efficient, and scalable closing process. For example, companies like Spruce*, which focus on digital title and closings, can offer local expertise at a national level–while shortening the time to close on each transaction.
However, getting everything in order for closing, at any volume, involves a lot of paperwork and fees. It's common for total closing costs, including title insurance and various fees associated with the purchase of a property, to add up to thousands of dollars per investment property. Because of this, it's essential for real estate investors to prepare for closing tasks in their initial budget to avoid any surprises.
Let's discover the ins and outs of title insurance and closing costs to help you prepare for your next investment property purchase.
Are You Required to Buy Title Insurance?
The cost of title insurance is typically part of the overall closing costs. There are two types of title insurance policies: lender's title insurance and owner's title insurance. The lender's policy protects the lender issuing the mortgage or other financing loan. The owner's policy protects the real estate investor against any claims or title defects that may be discovered after purchasing the home.
The lender's title insurance is typically required. If there is a mortgage or loan involved, the buyer is usually locked into buying a lender's title insurance policy because the lender wants to ensure it'll get its money back.
While the owner's title insurance policy is optional, it's generally a wise purchase. Title insurance protects a real estate investor against potential issues that may only be discovered after closing on the home. Liens, relatives of former owners who claim to have a legal interest in the property, encumbrances, or other issues could be costly—or even threaten your claim to the home.
An owner's title insurance policy generally costs somewhere from a few hundred dollars to thousands of dollars as a one-time premium charge, and the protection lasts for as long as you own the property. Who pays for the owner's title insurance policy can depend a lot on local, state-by-state customs (or even region within a state) and the current housing market, so having the seller cover this cost isn't guaranteed but is sometimes possible.
What Do Closing Costs Include?
A home property purchase often involves many more parties than the buyer and seller. Real estate agents, lenders, attorneys, inspectors, title insurance companies, and others play a part in helping the sale go through smoothly. For example, closing costs can make up about 2‒5 percent of the home's value, so a $500,000 home could cost $10,000‒$25,000 in closing costs.
Here's what's commonly included in closing costs:
Attorney fees: Real estate attorneys ensure documents are legal and accurate and will explain closing steps for you.
Home appraisal and survey:

Assesses the property's fair market value, which can affect your property taxes.

Property inspection: Real estate investors may set a contingency to proceed with a home purchase only if an inspection comes back clear of major issues or damage.
Loan origination and escrow fees: Includes processing and underwriting of the loan.
Lenders' service fees
Credit report fees
Title search: The title search investigates property records to ensure the seller has full legal rights to sell the property.
Title insurance policies: Lenders typically require a lender's policy, and it often makes sense for buyers to have an owner's title insurance policy as we;;.
Taxes: The seller often pays certain taxes, including prorated property taxes and possibly transfer tax.
The buyer usually pays most of these closing costs. However, it's sometimes possible to ask the seller to cover part of the costs (either as a percentage or a set dollar amount), but they're typically already responsible for a number of costs on their end, such as agent commissions, prorated property taxes, HOA fees, and other expenses. Whether they'll agree to take on some closing costs may come down to factors such as whether buyers or sellers have more leverage in the current housing market.
Escrow fees are often split evenly between the buyer and seller, although this may also be possible to negotiate. Some companies offer flat fees and might save money for the buyer or seller. For example, Spruce charges an all-inclusive flat settlement fee which includes the notary fee, wire transfer, overnight courier, eClosing software, and more. The fee usually starts at $400 per side.
How to Lower Closing Costs
Most closing costs and fees aren't optional, but that doesn't mean there's no room to lower costs. Here are some ways you could try to edge down your upfront payment.
Compare costs: Kiavi can provide a quote for items like interest rates, closing costs, and service fees.
Find your providers: If you find inspectors or companies who offer a title search at a lower rate than the provider listed on your loan agreement, see if it makes sense to go with an alternate provider. For example, tech-enabled companies may be more likely to offer cost and time savings, among other benefits.
Negotiate with the seller: This may depend heavily on your housing market, but if you have some leverage, you may be able to ask the seller to skim a little off the home's sale prices or cover a portion of closing costs.



*Kiavi collaborates with Spruce by providing real estate investors the ability to leverage a custom, online technology platform that uses modern technology and data science to access financing quickly, efficiently, and reliably.