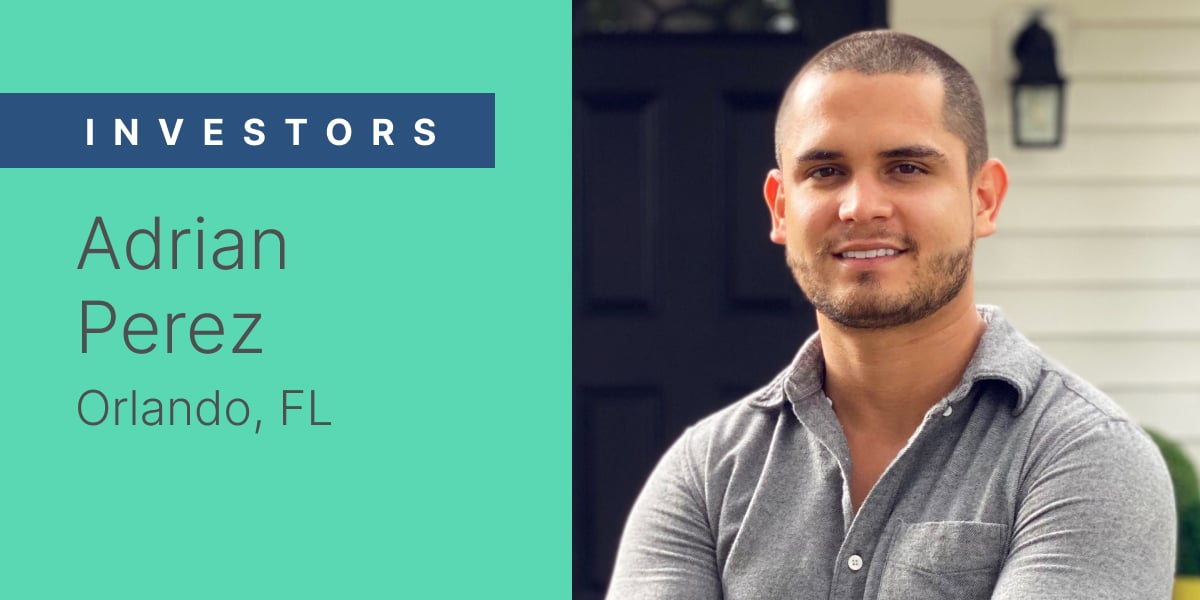 When Hard Work and Taking a Leap of Faith Create a Flourishing Business
Discover Adrian Perez's journey to success.
Getting started
Adrian Perez had large aspirations when it came to what he hoped to accomplish in his career. Like so many, he craved financial independence, so to be proactive, he did plenty of research on those who had achieved it.
What did he find? The common thread for millionaires—real estate.
With an already strong interest in the field, he decided to try his hand at real estate investing, but his journey there didn't happen overnight. He worked as a sales manager for a large hotel chain and focused on saving enough capital to flip his first property with cash.
It took four years, but when he had saved enough, he dove in, did the renovations, listed the property, and then, Covid-19 hit. The whirlwind of questions and unpredictabilities from that time swarmed him, and after years of saving and hard work, the lack of knowing what was to come was disheartening.
Fortunately, the deal did not do poorly, it did well, but it didn't seem like the best time in the world to start such projects as no one knew what the future held.
Moving forward and education
He took the downtime during this unprecedented era in the world to really educate himself. He read, went to expos, talked to other investors, and did all the homework and hard work it takes to understand the process fully.
Adrian knew that in order to really scale a business in this industry, one needs to do more projects at once. Given it took four years to raise enough capital for the first flip, he knew he needed to work with a lender for his next if he ever wanted to gain momentum. When the opportunity arose to take on his second property, Adrian was introduced to Kiavi, formerly LendingHome, by a friend in order to get access to capital with higher leverage and quick turnarounds.
Upon receiving approval, Adrian used Kiavi's streamlined portal to access the funds he needed, his company began to grow. He went from a new, beginning investor to an experienced pro investor with many flips under his belt.
Growth, goals, and gumption
These days, Adrian's portfolio is made up of fifteen rental properties. He has done eleven flips and has five flips in progress. His goal is to increase monthly flips and further expand his rental portfolio.
Though his business and portfolio have grown immensely and processes have become more streamlined, Adrian carries with him the memory of the grit, sacrifice, risk, and innovation it took to get started.
In the beginning of his investing journey, it was tough and felt like money was just flying out the window. However, Adrian will never forget the day when over $100,000 in profits came in within just a couple of hours, changing his career's full potential, trajectory, and opportunity.
"Adrian's work ethic speaks for itself, and you can see that in the results he's had so far in real estate. Really putting in the time and effort it takes to have an understanding of the business really helped him to succeed early on, and see a great early return. In working with Adrian, he is always quick to respond and to jump on the phone to work out any issues that may arise, and consistently asks engaging questions that shows he has a real interest not only in what he's doing currently, but also an interest in evolving how he's doing it." says Adrian's Kiavi account manager, Robert Clore.
The future
Now, as his business continues to expand and he continues to build an impressive portfolio of both flips and rentals, Adrian hopes to one day tap into new construction. He also is looking to eventually expand his team and further perfect his processes, creating a machine that runs well on its own with more people on his team.
Adrian genuinely loves the process of flipping, going to Home Depot, managing projects, picking out details of the design, and seeing the project from start to finish. A satisfying visual takes place when a flip has been accomplished successfully—one can actually see the difference made from all the hard work.
Beyond the passion that the field elicits for Adrian personally and the opportunity for great rewards and financial freedom, one of the things he most appreciates about being a real estate investor is that he's earned the ability to give to the people he loves. He has recently flipped a multifamily unit that he is currently working on refinancing from a bridge loan to a rental loan—and the proceeds from that monthly cash flow will be his mother's retirement to thank her for all of her support over the years.
To learn more about Adrian's business, visit www.magnoliaestates.net and be sure to check out his amazing work below: