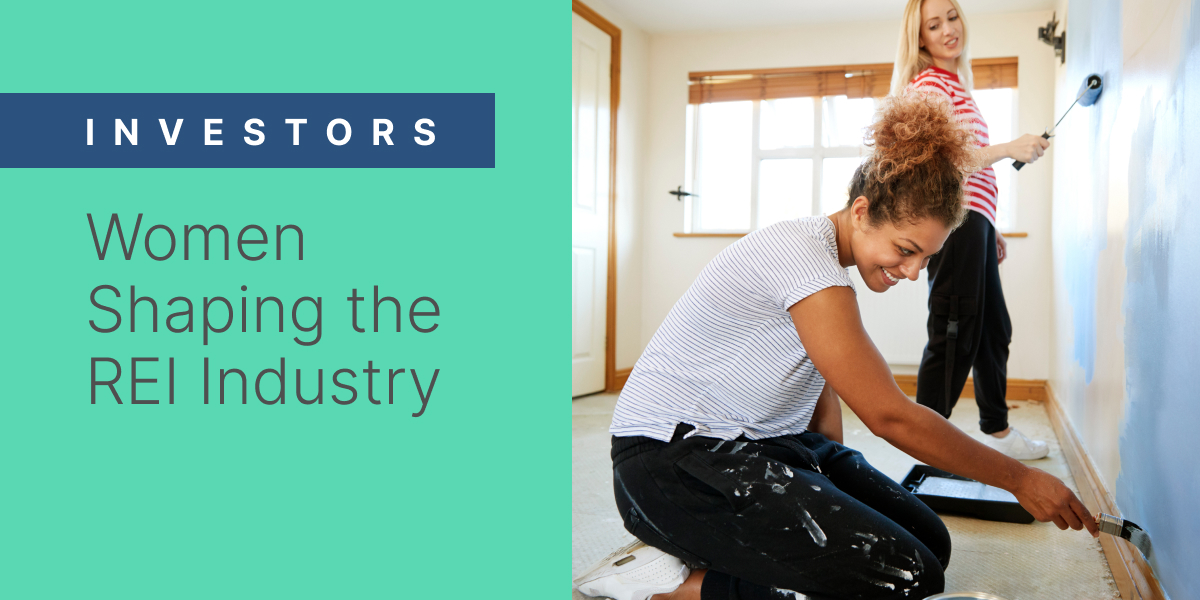 Breaking Bias: Women Shaping the Real Estate Investing Industry
It goes without saying that real estate investing is no longer only just for men. As more people look to real estate to build wealth and passive income, many women across the United States have started to renovate, sell, and rent aged homes.
While historically, women couldn't obtain a mortgage until the 1970s, women have since risen in the industry. According to the National Association of Realtors, 64% of real estate agents are female, and 60% of those own broker licenses. In comparison, while 83.8% of women work as interior designers and stagers, only 11% work in actual home construction and remodeling.
However, women real estate investors often still have to push through bias, misconceptions, and gender stereotypes. For example, while the residential real estate salary remains relatively equal due to commission structures, women still earn 30% less than their male counterparts in commercial real estate. While these barriers still exist, many women are carving their own career paths and finding great success.
The theme of this year's International Women's Day was 'breaking the bias' and focused on how to collectively work together to create a diverse, equitable, and inclusive society. Here at Kiavi, we believe it's essential to highlight and amplify our customer voices, successes, and passions for delivering move-in-ready homes to more families across the country.
In honor of Women's History Month, we're excited to highlight a few empowering women real estate investors and brokers as a way to celebrate their achievements in the industry. Hear directly from Kiavi customers to learn more about their success:
Alisha Leighow
As a previous part-time real estate agent from 2013-2015 and a project manager for the US Department of Defense for the last 14 years, Alisha developed the skills and abilities to build a lucrative real estate investing career. Joining the Warriors of Wealth Mastermind program in 2021, she began her remote real estate investing career by purchasing, rehabbing, and renting a distressed single-family home in Savannah, GA. That rental property quickly accelerated her love of real estate investing, which ultimately led to purchasing three additional homes in Savannah, GA, a single-family home in Billing, MT, four duplexes in Springfield, MA, a single-family home in Hagerstown, MD, and an apartment building in Philadelphia, PA. As her scope grows, she's currently under contract on a motel in New Smyrna Beach, FL, a mixed-use apartment building in Homewood, IL, and an apartment building in Chicopee – all due to settle in the next 60 days. Throughout the journey of these properties, she manages the acquisition, funding, rehab, and property management.
"My favorite quote I've seen on a friend's page is 'Giving up is not an option when you have someone calling you mom.' It's me to a T. I use it when talking to new entrepreneurs. It applies to moms, dads, really anyone…..there is always someone looking up to you and witnessing your journey unfold, so let your guard down and show them what you're made of," said Leighow. "Showing my girls what a strong, successful woman can do, instills beliefs in them that they can do anything they put their mind to."
As a single mom of two little girls, her goal is to create a life to spend as much time as possible with them. She currently coaches their softball and soccer teams and never misses an opportunity to see them excel in life. Leighow's father, who was her sole provider and best friend growing up, passed away when she was 26, and she has since vowed to live life to the fullest and ensure she does everything for her children. This new path in life is her ultimate passion, and she encourages anyone sitting on the sidelines to jump in and take action!
Nicole Hines
Thanks to Nicole's passion for seeing her clients succeed and her tireless work ethic, she has been fortunate to have built a loyal following of repeat and referral clients. She began her career in hard money lending in August 2017. Since then, Nicole has exceeded 26 million in sales and cultivated countless amazing relationships with real estate investors and industry partners.
Nicole has a history in real estate that dates back to 1999. She began her career as a full-time investor that focused on renovating properties and creating a portfolio of single-family rental homes throughout the Atlanta metro area. In 2004, Nicole opened a residential mortgage company that provided various products such as FHA, Conventional, VA, and USDA loans to homeowners in Atlanta. Nicole obtained her Real Estate license to sell real estate in 2005, but her passion always remained on the lending side, and that is her specialty. When an opportunity arose to enter into the hard money lending space, she opened that door and has not looked back, closing more than 155 transactions since the end of 2017, totaling over 26 million in sales.
"I was raised by my father, who has always instilled a strong work ethic in me. Growing up, he taught me to give my best effort in whatever I do; he said, "whether you are working at a fast-food restaurant or an executive at a Fortune 500 company, treat everyone with respect and do your very best," said Hines. "This has stuck with me my entire life, and I believe "we are blessed to be a blessing."
Nicole has earned her name in the industry as a "closer." If you had a conversation with her, she would be the first to say, "by no means am I perfect," but she will do her best to analyze her client's deals on the front end to provide the highest probability of having the greatest return on investment. Nicole considers her client's friends and family, and that is why she spends so much time on the front end of the deal to provide a smooth and seamless process to get her clients to the closing table.
Elsa Herrera
After not being fulfilled at her 9-5 job, Elsa got started in the real estate investment market in June 2021 with her first flip in a local neighborhood. Once she found success with the first property, Herrera and her partner decided to take a chance and began looking into becoming real estate investors full-time. Since then, she's developed a passion for helping others find quality and affordable housing.
"I feel I can attribute my success to being surrounded by a strong support system. As someone who made a career change, it can be extremely difficult to step out of your comfort zone," said Herrera. "It has been important for me to believe in myself, continue to move forward, not give up and continue educating myself."
Jordan Zamboroski
Jordan was always fascinated with the industry and knew she wanted a career in real estate investing. After watching her father succeed in the broker industry, she focused on taking a similar avenue and double majored in finance and accounting. During her time in college, she was a Capital Markets Intern at Walker & Dunlop, and after graduation, she started her career at a commercial brokerage.
"Don't be intimidated by what you don't know," said Zamboroski. "That can be your greatest strength and ensure that you do things differently from everyone else."
Almost two years ago, she started her own residential brokerage, Modern Mortgage, to provide for herself and offer her family more freedom. Since then, she's expanded her business into the DSCR, fix and flip, conventional multifamily, and more sectors and has found that it's what she enjoys most! Modern Mortgage is a small, family owned, brokerage that is in the business of helping people. They always ensure their borrowers are the first priority and they receive the best financing available for their projects. The company has seen incredible growth in the business and are thankful for the opportunities it has provided. The reason this motivates Jordan in her career is that it has always been her passion to help people and she has finally been blessed with the ability to do that!
Elena Khan
Elena started her company, Orion Properties, in 2019 and has been wholesaling and flipping properties across Northern California and Tulsa, OK since. Along with her real estate investing business, she works a corporate job and has a family of four, with her husband and two boys. Elena states that she could not be successful in her real estate investing business without the amazing work of her COO, Jennifer Braun. She's particularly proud of their growing business as they have been able to flip properties in Tulsa successfully – from hundreds of miles away. Their team has been able to do this by building out processes that drive consistency, accountability, and exceptional practices at each step.
"I've found the greatest success for me in this business has come from collaborating with others such that we learn and grow successfully together," said Khan.
In addition, their company ensures they interact with the highest integrity with all of their partners – including real estate agents, contractors, title companies, etc. – and customers (both our buyers and sellers), and care about leaving a positive impact with every house they touch.