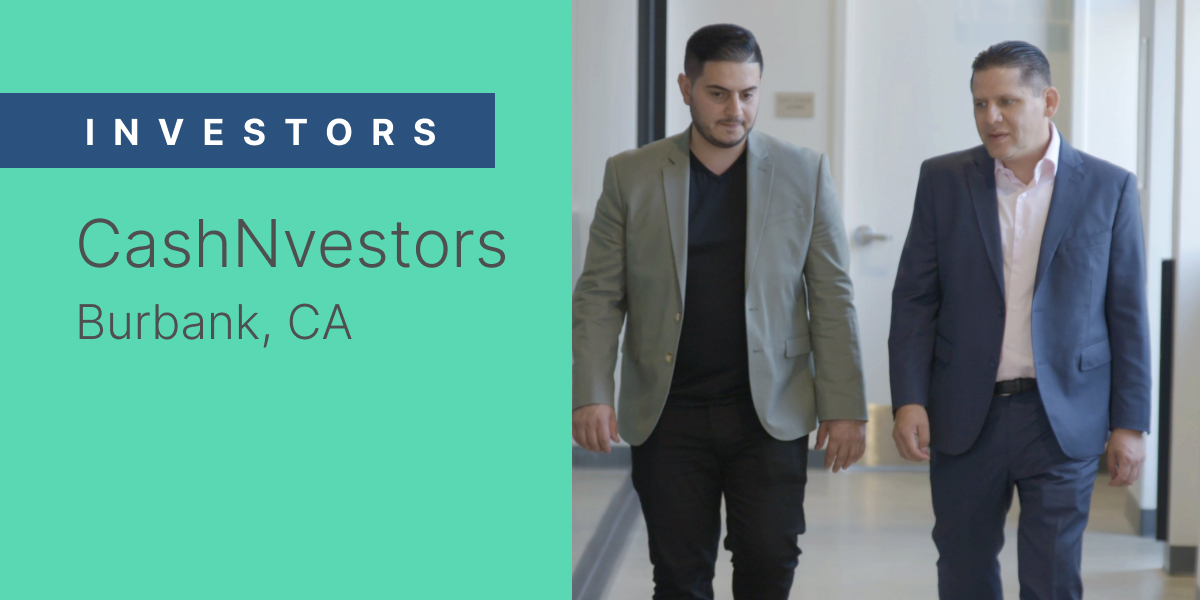 Real Estate Investing Success: CashNvestor
Note: originally posted on LendingHome.com and LendingHome is now Kiavi.

Our customer Garri Tigranyan began his career in the mortgage business in 2004. When the market crashed in 2008, it sent him on a journey of finding another career path that would allow him to use the skills and knowledge he already had. He eventually discovered house flipping, and after a rocky first couple experiences, he developed his stride in the industry when he found his partner, Sergio Iturrios—and he never looked back.
Building a brand: CashNvestor's journey of house flipping
By 2012, Garri and Sergio were flipping homes together full-time. They have impressively scaled their business, CashNvestors, to a full team of employees and a network of partners, working regularly on multiple projects at a time. Since the inception of their business, they have flipped over 200 properties. And with a flair for marketing and branding, Garri has built a social media presence to over 142,000 followers.
Together, their knack for understanding the real estate industry, design (wait until you see before and after pictures of their properties!), and mortgages has turned Sergio and Garri into mentors for their associates—and dedicated, impressive figures to emulate in the business.
A less-than-perfect beginning
When first interested in the possibility of branching into house flipping, Garri decided to take a risk. He wasn't in the best financial situation to begin a project like flipping a home from the market crash, but he wanted to see the opportunity through. He found an investor and contractor to partner with in his hometown of Burbank, California. At first it seemed like a kismet opportunity since Garri very luckily ended up getting the home to flip after the deal with original buyers fell through.
After over a year of work and when all was said and done, he only made a fraction of what was expected due to the other investors taking a larger share, even after the home received a generous profit. He chalked it up to a heartbreaking experience, yet great learning one.
During that time, he was also working on another deal, hoping it would pan out better than the first—it didn't. And that's around the time he found his partner Sergio Iturrios.
Starting CashNvestors
Due to Garri's ambitious spirit, he didn't give up after the first few attempts of house flipping didn't go as planned. His patience paid off when he met Sergio through one of those initial projects that didn't work out for either of them. Sergio was a top producing real estate broker and had a construction background which paired well with Garri's mortgage knowledge. Since the two began their partnership, founding CashNvestors, they have never lost money on any deal—a vast difference from Garri's difficult beginnings in the industry.
This partnership molded into the foundation of the growth and endurance of their business. They now employ over 20 associates and integrate their other partners, Oscar Salazar and Hao Ye, into the business as well. They flip up to four to five houses at a time, sometimes even as many as eight homes, mostly in the Los Angeles area. However, they occasionally flip in other parts of California, as well as other states, including Washington and Ohio.
There is also a definite sense of family and loyalty among Garri, Sergio, and their team. They are training some of their associates in the full landscape of the house flipping business, working as mentors and helping others to navigate the path that sent them to success. In fact, Garri says that writing associates their checks and watching them grow and expand in the business "gives him a lot of joy."
Deals and projects
A typical CashNvestors deal looks like this: find and buy properties in the $300,000-400,000 range, spend around $60,000 in rehabilitation, and sell it for around $600,000. Recently though, they started to venture into buying $600,000 range properties and converting the garage in the living unit.
This adds to the square footage of the home and gives buyers an opportunity to rent it out, potentially making additional income. Given that they primarily flip in the Los Angeles, this is the perfect opportunity for potential buyers to gain extra money. Many creative people move there for shorter periods of time for pilot season, to try their hand at the various arts that the city is home to, or for school. So, there is a constant need for short-term leases in Los Angeles, especially when housing and rent is so high.
A dream project for Garri though would be to buy a hillside mansion for $5 million and rehabilitate it with a $15-20 million price tag. But since they are doing so well with the strategy they have set in place, that will be something to look forward to in the future.
As for branding and design, CashNvestors also does their own design work, creating gorgeous properties and modern detailings and finishes that are magazine-worthy. So, it is no wonder that one of their homes has been featured on HGTV's House Hunters—or that Garri's social media accounts have such large followings!
One design detail they love to add is wine racks. As Garri puts it, "They don't take up much space, people really like wine as it brings together families for food and entertainment, and people seem to love the extra detail."
Introduction to Kiavi
When CashNvestors was first starting out, they sought their funding through hard money lenders They found a couple that matched well with their business and used them regularly.
Kiavi reached out and offered better terms, making it an opportunity too good to pass up. They did one deal as a trial and it was a perfect fit. It has been a thriving partnership ever since.
"Kiavi is as simple as it gets. It's right there in front of you. One-two-three and your loan is done. There is no going back and forth," Garri says when talking about his decision to keep working with Kiavi.
Kiavi's ability to finance multiple projects at once helped Garri and Sergio scale their business by flipping multiple deals without the extra paperwork and hassle.
It has been a mutually appreciated partnership throughout as he refers to the team as "family", which really is an homage to the previously mentioned loyalty and familial business acumen Garri and Sergio have developed in CashNvestors.
"Kiavi is as simple as it gets. It's right there in front of you. One-two-three and your loan is done. There is no going back and forth."

-Garri Tigranyan, Co-Founder of CashNvestors
Quickfire questions:
What is one thing you wish you knew going into the house flipping industry?
"The importance of collecting data. It's key in the business. Speed and getting on the leads right away and getting that data!"
How do you think the industry has changed since you started?
"There is a lot more competition. Now you have a new wave of investors called wholesalers, so you have to navigate through that."
Any vendors you absolutely need?
"We do all the design ourselves, but contractors are crucial. They can be tricky to find too. We discovered the ones we use mostly through word-of-mouth from the house flipping community."
What do you hope for the future growth of CashNVestors?
"Our end game is to franchise out and go nationwide."
What is the best tool you use?
"Propertyradar.com."
How would you describe Kiavi to a friend:
"It's like seeing an amazing movie and all you want to do is tell your friends and family about it afterwards–that's how we see Kiavi. Like, 'I just saw the best movie I've ever seen, and now you need to go watch this movie too!'"
Thanks for speaking with us CashNvestors! Kiavi is thrilled to be one of your valued real estate investment business partners.
Remember to check out Garri's Instagram account to keep up with CashNvestors and the house flipping industry! As a bonafide influencer in the space, he is always offering something to learn.
And if you want to scale your business like CashNvestors, reach out to Kiavi, we offer interest rates as low as 7.5% with closings in as few as 5 days.