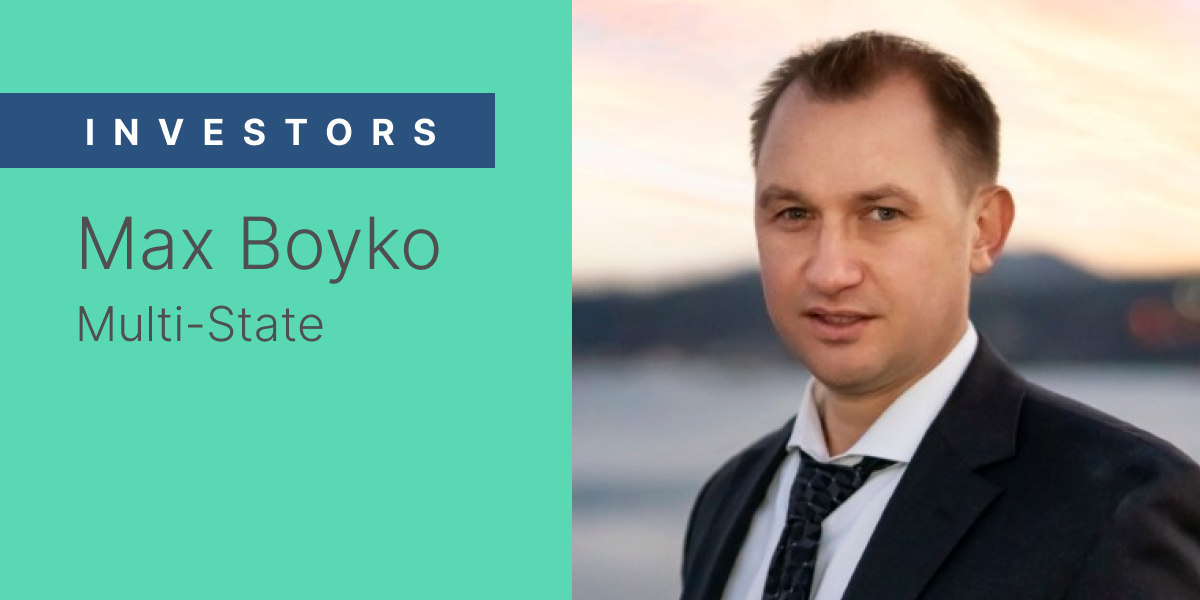 Real Estate Investing Success: Max Boyko
Our broker customer Max Boyko is a model example of a multifaceted real estate professional and has flipped over 150 homes. With over six years experience in the industry and over 1,000 deals closed, he has a tremendous amount of experience—and successes—in various avenues of real estate investing.
Currently, he is the CEO of Optimus Management Corporation and Director of Optimus Capital Inc., running a thriving business and working with as many as 30-40 real estate investor clients at a time.
When transitioning into his role as a lender, Max dove right in and surpassed any expectations thanks to hard work and industry knowledge. Read on to discover more about Max and how his career evolved through the years.
Noticing an opportunity
After years of working as a broker, Max noticed that there was a clear need in the market for a partner who could operate the mortgage process and guide deals for real estate investors and home buyers. He knew that the overall experience would improve greatly for investors with such a skilled supporter and partner at the helm.
Max had the experience and background to fill such a specific role in the industry, so he began offering his expertise as a service.
He has since gained many clients who trust his judgment and management skills, helping people everywhere hit their goals, find great investment properties, and see their projects through.
When discussing any initial thoughts about first shifting to this angle and position in the industry, he mentions that he didn't have any specific expectations going into it. He just jumped in, full speed ahead, and worked hard.
And his strategy paid off because the outcome of his work has resulted in closing over 250 loans per year for his clients. Not only did he prove his knack for recognizing an opportunity, but for following through and really becoming fantastic at it!
It doesn't come without a hustle though. Max has a supreme work ethic. It has been rewarding in many ways, including fulfilling moments, like facilitating a closed a loan for his client in 36 hours for someone with a large deposit on the line.
He shows up for his clients and is there for them, working to ensure that the deals get closed and the capital is there.
Business growth
Max's nationwide business services a full landscape of people interested in real estate. An average loan is $350k, and he works with both fix-and-flip investors seeking bridge loans or to refinance, as well as multifamily unit investors.
Since his business is based in California, the bulk of his work is done in-state. However, he also has quite a few clients out-of-state in Florida, Texas, Hawaii, and Washington.
Since his business has grown, the most common ways Max expands his clientele is now through word-of-mouth and referrals.
One way his business really sets itself apart is the customer service touch and building relationships. If a client requests assistance in vetting vendors, like contractors, he really goes above and beyond to prequalify dependable people to hire.
Advocating for clients
Prior to using Kiavi to obtain financing for his real estate investor clients, Max primarily used local, private lenders. And as a rule of thumb and a way to monitor quality control, Max mentions they always test a new program by being the borrowers first, before using them with clients. From there, they can work out the kinks that will help them provide expedited services to their customers.
Kiavi passed their test and continues to partner with Max regularly. He says, "Kiavi has a great automated process and technology has helped speed up the process and check off needed items."
"Kiavi has a great automated process and technology has helped speed up the process and check off needed items."

Max Boyko
He values collaborating with a like-minded team who always try to find a way to make the deal work.
Hindsight and changes in the business
One thing Max wished he knew before beginning chapter of his career is knowing that clients usually have unrealistic expectations. He has also noticed that the whole process is much more institutionalized and there are about 10 times the amount of people doing what he does than there was when he started.
The best advice he would give to someone looking into starting in the industry is to find a successful person in the industry and have them take you under his/her wing.
"Partner up with a mentor that has the experience and can review your projects and direction."
He believes that this will help show novice investors the ropes in management, deal review, and the general day-to-day and processes of the business.
Advice and the future
For the future, Max hopes that the market, of course stays stable. But as a way to get ahead of any downturn, he says it's better to have lower leverage.
"Overleveraging can be quite painful when a deal doesn't close," he says.
And for what would make life easier in the future, his answer is simple, "Robot contractors." (We can't help but agree!)
In addition, sourcing discounted building materials is the smart thing to do as the savings add up fast.
For anyone looking to follow his footsteps, Max also advises that "planning ahead is key."
And we know that there are plenty of aspiring lenders out there who would love to follow his path, learning from his work ethic.
Thank you for sharing your story with us, Max! We are very grateful here at Kiavi to partner with you!