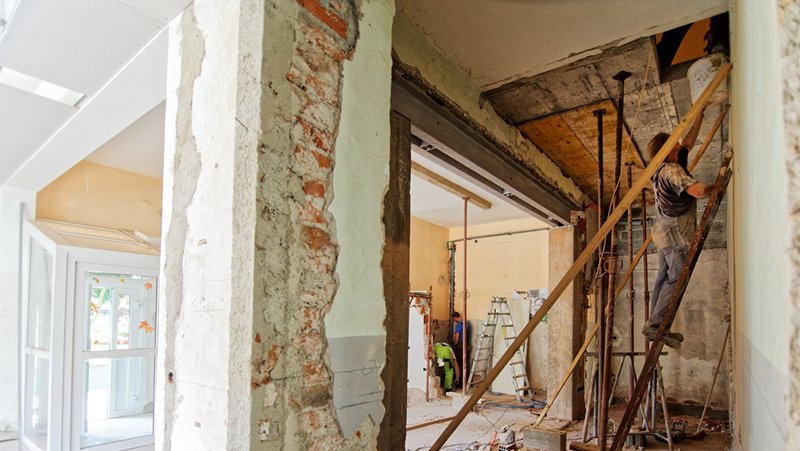 Finding Contractors: Real Estate Investing
We walk you through whether you need a GC, how to find a GC, picking the right one, and managing them effectively.
How to find and work with contractors for house flipping
Flipping a house is a team effort. A crucial part of most house flipping teams are general contractors, or trained home remodeling professionals who conduct and oversee residential rehabilitations and renovations. A general contractor (or GC for short) is responsible for providing all of the material, labor, equipment (such as engineering vehicles and tools), and services necessary for the construction of the project.
In this piece, we will cover the following topics related to general contractors:
Whether you need a general contractor
Finding a general contractor
Choosing the right general contractor
Managing your general contractor
Let's jump right in!
Do I need a general contractor?
Whether or not you actually need a general contractor for your house fix and flip is the first thing to consider. The basic rule of thumb is that if the project is beyond cosmetic, you likely will.
We would consider a cosmetic project to be one that does not involve work on the foundation or fundamental construction of the property. If your house flipping business plan is limited to kitchen renovations (appliances, countertop), bathroom renovations (counters, sinks, toilet), paint, flooring, and/or landscaping, you can probably complete the project on your own or only with subcontractors. Subcontractors are more specialized and will take on specific tasks. Examples of subcontractors include plumbers, electricians, roofers, etc.
However, if your project is more extensive and you are working on parts of the home that are fundamental to the home's architecture, you'll need a licensed general contractor. Extensive changes include adding square footage, knocking walls down, adding rooms, foundation work, and retrofitting.
It is important to note that a general contractor is not just recommended but often required for extensive rehab projects. Several states require that a licensed contractor obtain the necessary permits from the municipal building department in order for the project to begin. Also, many hard loan lenders, such as Kiavi, will stipulate that the borrower must work with a licensed contractor in order to be lent money per the project's scope of work. State and lender policies will vary, so it's best to do your research!
How do I find a general contractor team?
Once you've determined you need a general contractor for your home renovations, it's time to find the right one to partner with. There are lots of creative ways to find and vet general contractors.
The most surefire way to find a solid team to work with is through referrals. Ask friends or colleagues in the industry which contractors they've worked with and have reputations they can vouch for. Real estate investment clubs in your area will also have official or unofficial directories of recommended contractors. Look for proven track records of finishing projects on time and on/under budget. Seeing a finished product will give you the best idea of what skills a general contractor brings to the table, so check out properties they've worked on if you can.
Another method is to scope out the job sites of houses under construction in the neighborhood. If a contractor team is present and working, flag down a worker and introduce yourself. Ask for contact information or leave your own information and ask for someone to get in touch with about potential work. Otherwise, there will likely be a sign with their company's name, so you can jot it down and look them up online.
You can also go to the city's local building department and ask them which contractors have been granted permits for construction. Contractors are required to file for and obtain permits to do certain work, and the projects must pass an inspection to ensure they are up to the city's code. These permits and inspections are public records, which the building department can provide you.
Real estate is still a bit of an old-fashioned industry, and most house-flipping investors employ offline methods such as the ones listed above. But there are also online tools to source general contractors: online real estate investment communities such as BiggerPockets and Connected Investors can match flippers with general contractors and vice versa, so check those out. You can also try places like Angie's List, Yelp, or Thumbtack. Do some Googling and see what you find!
How do I pick the team that's right for me?
After you've narrowed it down to a few rehab contractors you're considering and have collected bids, it's time to decide which general contractor is right for you.
The first thing to check for is if your general contractor is licensed in your state. Licensing requirements vary, but almost all will require a certain number of years of experience and a written test. (You can find state-by-state requirements here.)
You'll want to ensure that the general contractor is specialized in the appropriate fields for your project. In order to be licensed, a general contractor will have several individual specialties, such as carpentry, concrete, plumbing, electric, etc. Being overqualified is not a bad thing, so if your contractor has more specialties than your project requires, no problem. (Obviously, if your project requires a skill he/she is not specialized in, that's not the team you want for the job.)
Next, make sure your general contractors are insured for an amount higher than the risk you're taking on with the project. Each contractor license is bonded with an insurance policy which determines how big of a project the contractor can take on. You can't take on a $1 million dollar project if your contractor is only insured up to $200,000, and so forth. Insurance policies are especially important for projects involving municipal infrastructure, such as sewer lines or power lines.
Beyond these basic qualifications, you'll want to get a sense of a general contractor's organizational skills, communication skills, and general professionalism. Are they able to provide licensing paperwork in a timely manner? Can they provide pictures and details of their past projects? When collecting bids, take note of which teams are able to price a project accurately, quote reasonable timelines, and foresee potential issues. Stay away from teams who are overpromising or setting overly aggressive timelines. Remember, flipping a house rarely goes exactly as planned, and giving yourself wiggle room both in terms of time and budget is key.
Trust is also a huge factor in building a productive working relationship with a contractor. We recommend writing shared incentives into contracts that prove that both parties are committed to a successful project.
For example, propose penalties if a project is over budget and bonuses if the project is early or on time. If a contractor quotes 60 days to completion, propose that finishing in over 70 days will incur a penalty and finishing in under 60 days will earn a bonus.
Or, propose that they split the costs of going over the timeline with you to see how serious they are sticking to it. There are many material costs to holding onto a property for longer than planned — mortgage, hazard insurance, taxes, etc. — so if a contractor is willing to commit to a date, they should be willing to commit to helping pay these costs if they miss it.
"Be clear on payment expectations. Break up the job into incremental payments, have a signed contract, and don't ever, ever give money upfront without a signed contract and payment schedule agreement. If a contractor insists on upfront payments without a work schedule and payment plan, that's a red flag — work with people who know how to handle their finances and don't live from deal to deal," advises Cathy Gould-Harrison, one of Kiavi's bridge loan customers and the owner of Maxx Investors, LLC in Stockton, California.
Once you've identified a contractor that seems reasonable, professional, trustworthy and charges a price within your budget, you're ready to go!
How do I best work with general contractors?
Once the project is started, it's time to manage your team. Like many working relationships, a good mix of autonomy and accountability is the best approach.
Set up on a macro level which projects need to get done and in what order. For example, you can plan to do foundation, then carpentry, then paint, then landscaping… Agree upon weekly or bi-weekly deadlines, but on a day-to-day level, let the contractors manage themselves. Let the team prioritize tasks, manage their days, and avoid being a micromanager. Remember, they know what they're doing!
To hold them accountable to their deadlines, schedule walkthroughs to make sure things are progressing on the agreed-upon timelines. During these walkthroughs, make sure to note which items are on track per your deadlines and which seem to be lagging behind. If you see something, say something.
If you're remote, don't be afraid to make a surprise FaceTime or Skype call to get a sense of how things are going. If a contractor isn't willing to pick up a video call and show you around the property, that's not a great sign. Communication is everything!
Good luck!
The right contractor can and will make the difference in your project. We hope you found our tips helpful and will put them to use as you flip houses for a living!