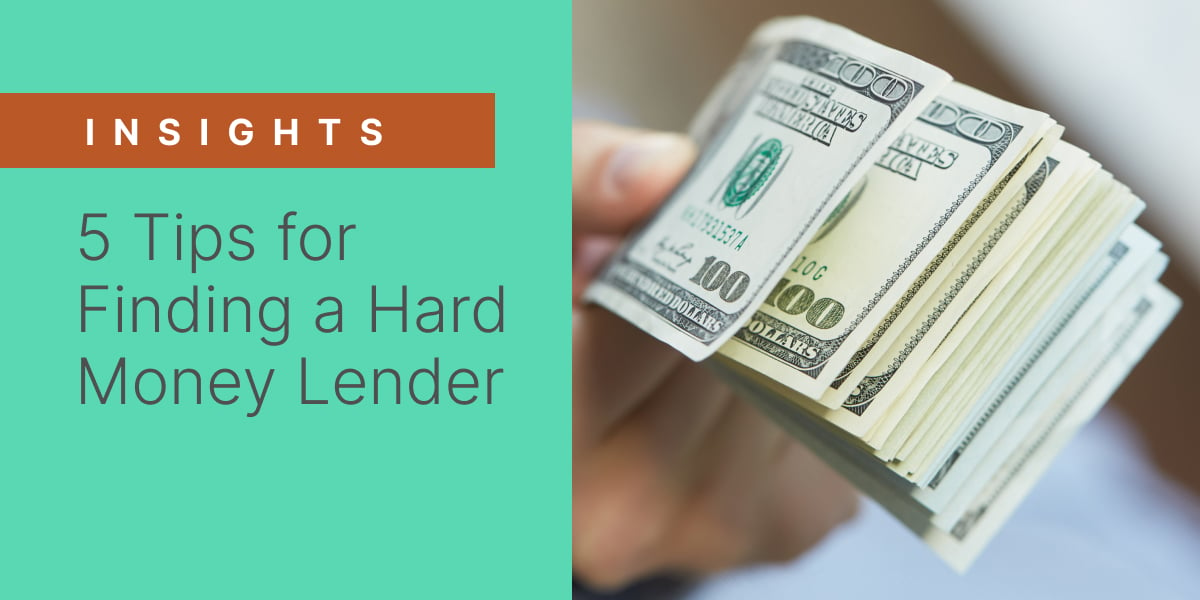 Five Tips for Choosing a Hard Money Lender
As a real estate investor, your lending partner is among the most important people to establish a strong relationship with. Hard money lenders play a significant role in real estate investing, particularly for investors looking for quick funding for time-sensitive projects.

Finding the best lending partner for your deals may be easy for seasoned real estate investors. Still, you must consider features like reliability, support, and processes to provide a smooth process for each deal. If you're a newer investor or just starting to use hard money loans, you may wonder where to begin. Don't worry! You've come to the right place.

Read on as we uncover five critical things you should consider when choosing a hard money lending partner—one you can count on for many deals to come.
Who is a hard money lender?
Before we start, let's define a hard money lender. The term "hard money lender" describes an entity other than a traditional bank or credit union that lends to an individual or business.

Real estate investors commonly use hard money loans, such as fix-and-flip investors, rental landlords or developers who renovate properties to sell or rent. Many turn to hard money loans because they're secured by the property they're tied to rather than a borrower's credit and financial profile.

Unlike traditional lenders, hard money lenders don't have strict requirements for borrowers or require multiple layers of documented proof—credit history, employment history, debt-to-income, etc.— that they will pay back the loan.

Instead, they will evaluate your current deal, plans for the property, and exit strategy. The result is faster and easier funding approval and underwriting processes that will get you to the closing table in a matter of days rather than three or more months.

Hard money lenders can often meet your needs as a real estate investor with the following benefits:
Quick and easy qualification
Understanding of the local real estate market
A thorough analysis of details
Flexible loan terms
Minimal underwriting process
Ability to move as fast as the investor and have more purchasing power to secure deals
Tips for choosing a hard money lender
When looking for a hard money lender, it's important to consider it as though you're adding a new member to your real estate investing team. Like with your general contractor, property manager, or real estate agent, you want to build a close relationship with your lender.

The right hard money lender will be more concerned about building that relationship with you—one that's established on the trust, industry expertise, transparency and efficiency needed from both sides for a successful deal.

Now for the moment you've been waiting for—check out five tips to help you find the right hard money lender.
Tip #1: Find a company that specializes in supporting real estate investors
As you compare lenders, scroll through each of their websites to ensure they specialize in hard money lending and understand your unique needs as a real estate investor.

As you research, keep a close eye on their product offerings and loan terms. You want a lending partner that will grow with you as you scale your business.

While you may only be fixing and flipping houses now, you may want to pivot your investment strategy in the future by acquiring rental properties or implementing the BRRRR (buy, rehab, rent, refinance, repeat) strategy. An experienced hard money lender will know how to structure a loan to make it optimal for you and your real estate business, regardless of your strategy.

For example, at Kiavi, you can confidently grow your business with a variety of loan options, flexible terms, and expert guidance from our industry-leading team. We offer lending programs tailored to your unique needs:
Bridge loans (fix and flip loans): Short-term financing for fix-and-flip properties can be utilized for a new purchase, delayed-purchase refinance or seasoned refinance.
Single-asset rental loans (DSCR loans): Long-term financing for rental investment properties with cash-out refinance and interest-only options, 30-year fixed rates and 5/1 and 7/1 ARMs (adjustable rate mortgage).
Rental portfolio loans: Combines your rental investment properties under one umbrella with a low monthly payment.
Once you've narrowed your search, be sure to reach out to a member of the lender's team to ask questions and inquire about the company's specific experience and areas of expertise. You'll find out a lot about a lender from this initial conversation.

Insisting on honesty and transparency from the start will also help you and your lending partner succeed. As you begin working more closely with a lender, be sure to carefully review all paperwork and ask plenty of questions about the process and the specifics.
Tip #2: Find a lender that understands your local real estate market.
The hard money lending world is built on speed, making getting a loan from a lender with experience operating in your market(s) critical. A lending partner familiar with your local market can see which deals hot are not.

Hard money lenders are typically more personally invested than traditional banks. Working with lenders with extensive knowledge of your local area makes it easy for them to inspect the property and confirm its value without delay.

In addition, the most reputable lenders will be licensed and registered with state and national organizations. Finding a hard money lender like Kiavi operates in many markets across the nation, will make it easy for you should you choose to expand to new markets. Kiavi supports real estate investors across the country—currently lending in 32 states (and counting!) plus Washington, DC.
Tip #3: Search for referrals and reviews.
Doing so will also help you narrow down your list of lenders. You can ask other real estate investors you trust to connect you with referrals or search for them independently.

Real estate agents, attorneys, mortgage brokers, and other experienced real estate professionals can also be good sources of hard money lender referrals. They usually have extensive real estate networks and can easily connect you with experienced hard money lenders.

Look at the lender's website and social media profiles. Don't forget online reviews—check those on sites like Google, Yelp or Zillow. Plus, ask for feedback from any of their past clients you may have in your network. This can help you find a reputable lender and avoid scammers.
Tip #4: Focus on the best value over the lowest rate
There's so much more to hard money lending than grabbing the lowest interest rate. When a low rate is your only focus, you could be trading in stellar service, easy processes, and other favorable loan terms just for a low-rate promise.

It works much more in your favor to focus your attention on what the lender has to offer regarding value—competitive pricing plus expertise, professionalism, honesty, transparency and reputation. A great hard money lender will provide you with a valuable relationship for years of real estate investment deals.
Tip #5: Compare the speed of approval and funding.
As mentioned, real estate investors tend to turn to hard money or the speed they need to close deals in the market. Unlike conventional loans that take 30-60 days (or more!) to get approved, hard money lenders take a matter of days.
Speed of approval is a priority when you're after time-sensitive deals. You want to go with a lender with a reputation for providing fast and easy loan approval in such a situation. But remember not to compromise quality or ease for speed. At Kiavi, our modern tech platform is backed by a dedicated, experienced team, removes many traditional barriers, and automates time-consuming manual steps, providing fast decisions with true transparency throughout the process.
Before you search for the right lender, make sure you know your plans and goals for the present and the future. This will enable you to communicate what time frames you require. While hard money loans take much less time to get than traditional loans, each lender will provide a different time frame depending on their process.
The bottom line
Hard money lenders are essential players in the real estate industry. They fill the gap left by conventional lenders by offering financing to real estate investors who may not have an impressive credit record, are looking for quick cash to fund projects, or don't want to jump through the hoops of traditional lending.

Getting the right hard money lender equates to adding a new business partner to your team. If you're searching for the right lender for your projects, you want to be sure you do the proper research to get it right—the benefits from doing so will be evident for years to come.