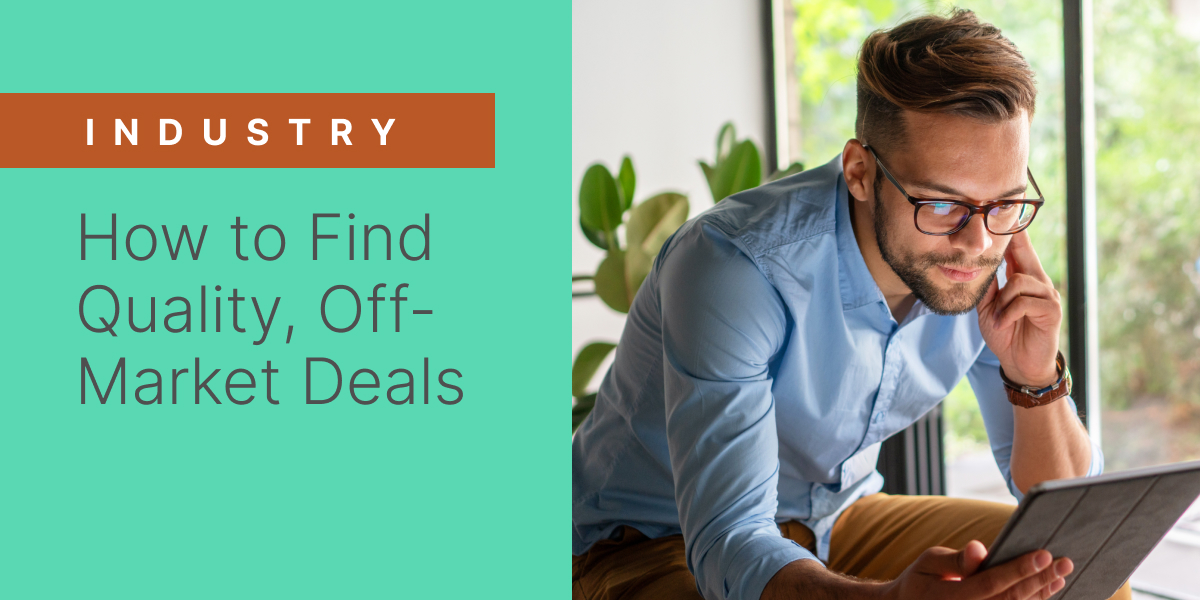 How to Find Quality, Off-Market Deals
Posted by Jillian Putnam and Hayato Hori
With historically low real estate inventory in many markets across the country and increased demand from potential homebuyers, you need to stay ahead of the competition by finding profitable deals that help maximize your returns.
Many real estate investors make the common mistake of only utilizing online marketplaces and the multi-listing service (MLS) to look for new properties. However, there's another way. Real estate investors can also search for off-market listings, known as pocket listings, to source new property leads. Off-market properties can be found in various ways such as your local network, wholesalers like RocketOffr*, auctions, and more.
Ready to source profitable rental or fix-and-flip properties outside of the MLS? Let's dive into what off-market deals are and where to find them.
What are Off-Market Deals?
Off-market deals are properties for sale that are not listed or marketed to the general public. Notably, "off-market" means that the listing agent didn't submit the property on the MLS or other real estate marketplaces.
Here are a few reasons why selling and buying off marketing properties can benefit your real estate investing business:
Save money on commissions and buy at a potentially lower price
Access to more inventory options that traditional homebuyers aren't privy to, especially in a hot market
Avoid dealing with things like open houses and staging that could waste your valuable time
Enjoy more privacy through private transactions that often offer smoother negotiations
Less competition for a property, as most homebuyers only search for properties on the MLS
7 Unique Ways to Find the Best Off-Market Property Deals
If you're tired of searching online databases to find your next deal, off-market listings offer real estate investors the ability to scale their portfolios with quality properties and less competition. While there are several ways you can find pocket listings, it's essential to test out a few strategies at a time to determine what's the most successful for the location and your property needs.
Here are a few ways to help you get started:
Local Real Estate Agents and Brokers
Working with a local real estate agent or broker could be advantageous if you're breaking into new areas. These professionals often have sellers lists that you could tap into and understand what markets are up-in-coming or suitable for rentals. However, you'll most likely need to build a local repertoire and credibility before agents provide access to their off-market listings.
Wholesalers
Wholesalers find quality off-market deals, get them under contract with the seller, and flip the right to purchase the property to real estate investors. Buying properties across the country, you can build relationships in profitable markets with wholesalers to inform you when they have properties under contract.
For example, RocketOffr is a wholesaler with quality off-market properties in Tennesse, Ohio, Missouri, and Michigan and specializes in helping investors find out-of-state properties. Using RocketOffr's online listing database, you can filter fix-and-flip, rental, and BRRRR properties depending on your investment goals. RocketOffr goes the extra mile by learning each investor's investment strategy, providing detailed inspection reports, and connecting them to a network of professionals with boots on the ground.
Direct Mail Marketing
Real estate investors use direct mail marketing to send targeted mail directly to potential sellers in hopes of entering a contract and purchasing their property. While this strategy may require you to send multiple mailings over a more extended period, it's a great way to uncover new deals since the homeowner may have never considered selling their property. You can capture the homeowner's attention to start negotiations with the right attractive offer.
Local Contractors and Builders
Working with local contractors and builders is a great way to build community relationships and access sellers who may be prepping their property to sell. Additionally, contractors and builders are often aware of upcoming neighborhoods and homes that are good candidates for an off-market offer. However, make sure that you're transparent throughout the entire process to continue building credibility with other professionals in the real estate industry.
Other Real Estate Investors
Whether you're an experienced real estate investor or a pro, networking with colleagues in the local area you're pursuing could give you access to hundreds of unique off-market deals. You may be able to purchase deals from other real estate investors or gain knowledge about their inventory and strategy to help you scale your business. Check out real estate investing networking groups and boards in your local area.
Real Estate Auctions
Real estate auctions give investors access to properties for significantly less than traditional listing sources. These auction websites or live auctions typically sell properties where back taxes are still owed, like foreclosures or REOs, and may require an extensive renovation.
You can use sites like Xome or Auction.com for potential leads or sources like the local county courthouse. Before bidding on a property, ensure you've researched the neighborhood, property specifications, and your potential renovation budget.
Driving for Dollars
If you have boots on the ground, you can drive around the desired location and look for quality real estate investment deals. The most common types of deals you'll want to look out for are distressed or vacant properties, which is a potential sign that the owners are behind on the home's maintenance.
Once you come across a promising property, jot down the address so you can look it up in the country records later. When you have the owner's contact information, you can reach out to make an offer or start the negotiation process.
The Bottom Line
Whether you're looking for your next property for the BRRRR method or a fix-and-flip, off-market properties offer real estate investors several advantages such as flexible negotiations, less competition, and unique inventory that's not available on the MLS. While there are many ways to source pocket listings, it's essential to find the right strategy that fits your unique goals and offers you a wide profit margin.
Once you find your off-market property, it's time to secure your bridge or rental financing to start your renovations! Get started with Kiavi today.
*Kiavi collaborates with RocketOffr by providing real estate investors the ability to leverage a custom, online technology platform that uses modern technology and data science to access financing quickly, efficiently, and reliably.
Disclaimer: The above is provided as a convenience and for informational purposes only; it does not constitute an endorsement or an approval of content provided by external sources by Kiavi of any of the products, services or opinions of the corporation or organization or individual(s). The information provided does not, and is not intended to, constitute legal, tax, or investment advice. Kiavi bears no responsibility for the accuracy, legality, or content of any external content sources.