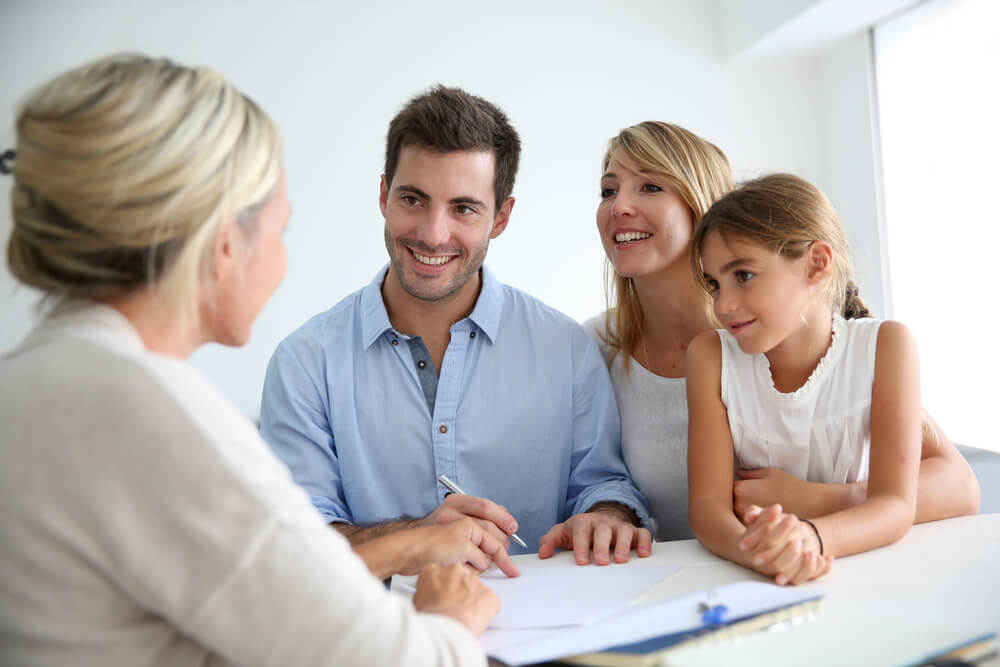 Find Tenants for Rental Property Investments
Note: originally posted on LendingHome.com and LendingHome is now Kiavi.

About the author: Sarah Li-Cain is a finance writer and Accredited Financial Counselor candidate whose work has appeared in places like Bankrate, Business Insider, Redbook, Financial Planning Association and Kiplinger. She's also the host of Beyond The Dollar, a podcast where she and her guests have deep and honest conversations on how money affects your well-being.
How to find renters for your real estate investment
Understanding how to find renters effectively is an important step to thriving in your business as a landlord. In order to find tenants that'll want to stay long-term and that will take good care of your property, you'll need to find a way to promote your property well.
The three main ways to find them include hiring a real estate agent, using a property management firm, or finding them yourself. There are advantages and disadvantages with each option and there's no one size fits answer for everyone.
Make sure you understand fair housing laws
Before anything else, you'll need to make sure that you know the Fair Housing Act inside out. That's because one small mistake could mean you're in legal hot water. The Fair Housing Act outlines what counts as illegal discrimination against qualified tenants. For example, you aren't allowed to base your tenant approvals on religion, race, gender, age, family status or national origin. Plus, the act helps to prevent discrimination against those with disabilities.
What you can do is make your decision based on someone's criminal or credit history. Also, your state may have their own rules and regulations, so head to the U.S. Department of Housing and Urban Development's website or landlord organizations like the National Association of Independent Landlords to refer to as a resource. You can also consult an attorney that specializes in this.
In general, try to avoid any language or behavior that could be interpreted as discriminatory towards factors such as race or gender. The point is not to assume anything, such as an older prospective renter wanting to live in a quieter area or families wanting to be near a park.
You can consider creating a list for yourself and to ensure all your rental properties are screening potential tenants while observing the Fair Housing Act laws. For example, some of the criteria usually includes a prospective tenant's Social Security number, address, information on current and past landlords, and income sources. These are pretty standard criteria, but again, check the resources mentioned above to get an idea of what you'll want to include.
No matter who rents your property, you're looking for a tenant that is able and willing to make their rental payments on time and make sure to abide by the terms of your agreement (including refusing to engage in illegal activities on your property).
Now that's out of the way, you can decide between the following three options to find tenants for your rental property.
How to find renters on your own
If you're a new landlord who prefers the do-it-yourself route, then you'll be personally responsible for locating suitable tenants and managing your property. You'll have to market your property, take inquiries by phone and email, show the property, and screen prospective renters to make your selection.
The more you promote your available units, the greater the pool of applicants you'll have from which you can make your tenant selection.
Here are 9 places to effectively advertise your rental property:
Rental websites: Sites such as Hotpads, Apartments.com, Zillow, Rentals.com, and Trulia offer you a lot of exposure opportunities. Plus many of these websites are free to use.
Craigslist: Many people still use Craigslist to find places for rent. It's still free to list and you can use the same listing you'll post on other rental websites.
Social media: Consider joining Facebook groups which have ones for specific geographic areas where you can advertise your listing. No matter which social media platform you're using, make sure you're following community rules.
Local bulletin boards: Check our local grocery store, community center, laundromat, bus stops, and places of worship to post clear and attention-grabbing posters for people around the neighborhood.
A 'For Rent' sign on your property: Don't discount this option just because it seems simple and obvious.
Word of mouth: Asking friends, family, and others in your network may be a great way to find someone fast. Plus, finding someone who your network knows can be a great way to get the best candidates.
Print media: Places you can advertise include community newsletters and community newspapers.
Vacation rental websites: Make sure to utilize popular short-term vacation rental websites to list your property, like Airbnb or VRBO, if this investment strategy fits your goals.
Creating your listing
Before putting up your listing, ensure that it will attract prospective tenants. People are busy and are probably looking at a number of listings, so if your listing is highly relevant and can help them to make a decision quickly, you'll have a higher chance of getting inquiries.
Be sure to include photos in your listing—tenants are interested in seeing themselves living there, so help them do so! It's not necessary to hire a professional photographer, but your photos should be clear and include all important parts of the rental property like the kitchen, bathroom, and bedrooms. Remember to also add any amenities like a pool or on-site laundry.
Now, think of the first thing prospective tenants will see when looking for listings: the headline. If it doesn't show someone what they're looking for, people will move on. Don't worry about it being creative—just make sure it has important details such as the number of bedrooms, bathrooms, price range, and location. Try to include something that is unique about your property if you feel it won't make your headline too long.
Within the listing itself, reiterate the important details so that tenants are intrigued enough to respond to your ad. Make sure that photos and your descriptions are accurate and concise. Plus, make sure you include contact information where tenants can contact you easily.
Screening tenants
When it comes to screening tenants, you should have a clear system in place so people know what to expect. The fact that you have a clear listing will begin the screening process as the ones that tend to be more suitable will respond to your ad.
Remember, you need to follow the Fair Housing Laws, so be careful not to discriminate based on gender, race, national origin, religion, or even family status. You are allowed to check their credit score to see whether a prospective tenant will be more likely to pay their rent on time. Landlords who ask for a Social Security number can use tenant screening or through the three major credit reporting bureaus.
Other things you can do include reaching out to their current and past landlords or utility companies to see if the applicant pays their bills on time.
Pros
Save money by not having to hire a real estate agent or property management company
You can control all steps of the process
Being able to do first hand due diligence when screening tenants
Cons
The time it takes to write listings, create ads, answer queries, and screening applicants
Doing these tasks yourself isn't necessarily free, since advertisement costs can add up
You'll need to be able to set up clear and effective guidelines for the application process, including rock-solid lease agreement documents and best practices for tasks like marketing your property

How to find new renters by hiring a property management firm
If you don't have time or aren't interested in finding tenants yourself, considering hiring a property management firm. These companies can work independently, or work within a real estate brokerage. Regardless, make sure to find a reputable one that'll help you list your rental property and offer other services to make the process as seamless as possible.
It's important to distinguish how property management firms are different from real estate agents. For one, property managers focus on the long-term aspects of your property whereas real estate agents focus more on the upfront work—finding tenants by listing your property and getting it rented out.
In other words, property management companies also handle tasks after your property's been rented. Fees will vary, since some will work based on commission or a flat fee, whereas others will charge you based on a percentage of the rental price.
A few methods that property management companies find renters for your properties include:
Using the Multiple Listing Service (MLS): Many (if not most) property management firms happen to be licensed real estate agents so they should have access to your local MLS. That means real estate agents will also be able to access your listing for their own clients. Keep in mind that you could pay fees such as an MLS fee or the need to pay a commission to a real estate agent who found your next tenant based on your listing.
Rental websites: Property managers tend to use property management software which can help them syndicate your listing to major rental websites and even places like Craigslist. That means it could get your listing some major online coverage.
Their own website: Many property management companies have their own websites where they have listings of places they manage. It's a great place to host your listing especially if the company is well-known or very reputable in your area. Most of these websites are designed so that people searching online can find them.
Pros
Saves you time from having to do it all yourself
Leverage connections from your property management company in order to help you find tenants faster
Have someone to help you with long-term tasks such as taking care of maintenance or repairs
Cons
You need to spend time finding a property management company that's a good fit and will look out for your best interest
You may not have total control over your rental property
It can cost a lot of money considering this company will take over the entire management of your property
How to find tenants by hiring a real estate agent
For those who aren't interested in finding tenants yourself but still want to take care of the day to day management of your rental, consider hiring a real estate agent. A licensed agent will typically charge a commission—usually a month's rent—to find you a qualified tenant.
Tasks that real estate agents will help you with include advertising or marketing your property, fielding all inquiries, showing the property, screening tenants and securing the lease. Plus, agents also have their own network and may already have a list of qualified tenants available. Since these professionals are up to date on rules and regulations, they'll make sure the entire process complies with the Fair Housing Act and help you avoid being taken advantage of by my bad tenants.
The tools real estate agents are pretty similar to what you'll use if you were to do it yourself:
MLS: This database will include all rentals handled by other real estate firms. That means other agents can also see your listing and show them to their clients. It usually won't cost you extra to have your listing on there since real estate agents will share one commission.
Syndicate rental websites: Again, it's much the same as what was mentioned before. These listings include Trulia, Zillow, and Hotpads. Most real estate agents also use property management software that offers syndication capabilities.
Their own website: Most real estate agents will have their own website or as part of their brokerage. This can be useful since prospective tenants also like to search on brokerage websites since they feel they're more reputable.
Pros
Saves you time from advertising your property, going through the screening process and signing on a tenant
Benefit from the real estate agent's expertise and connections
Potentially getting a tenant in your property faster
Cons
A month's commission (at a minimum) can seem expensive just to get a qualified tenant
Some real estate agents may charge more fees such as ones related to advertising your rental
You may need to pay for them to handle lease renewals
Final thoughts
Learning how to find good tenants can be a lot of work but worth it once you secure a long-term tenant that will take care of our property like it's theirs. But once you have that consistent cash flow, you can feel confident continuing to build your real estate empire.