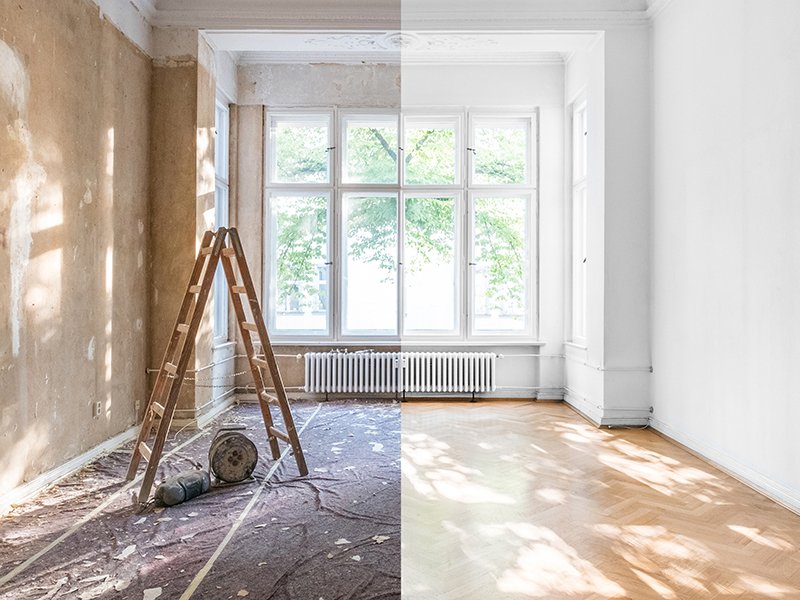 Flipped Houses vs. Other Homes: What to Know
Note: originally posted on LendingHome.com and LendingHome is now Kiavi.

One of the biggest hurdles when thinking about your first home is the preparation. It can take months to carefully look at your finances, ensure you have enough for a down payment, research neighborhoods, and secure a loan — but that's just the beginning.

Once you actually begin the process of house hunting, you'll find that you have four main options: a new house, a fixer upper, a dated house, or a flipped house. There is a lot to consider here, including: your budget, your personal sense of style, your sense of urgency, and willingness to spend some time and creative energy on a new home.

Let's go over some pros and cons of each home option and take a closer look at buying a flipped home.
New homes
New homes have historically been the gold standard. But much like with buying a new car rather than used, there are some downsides.
Pros:
New houses are obviously move-in ready, meaning everything is (should be!) in good, working order.
A new home is a totally clean slate, so you are in full control of the experience and a enjoy the "new home feel."
Cons:
It costs roughly 20% more to buy a new home than an older one, according to analysis by real estate website Trulia.
New homes are often built with a specific vision that may not match yours. In order to remodel or alter anything significant, it will cost time and money that you may not want to spend.
Fixer uppers
Buying a fixer upper as a first home can be tempting — if you're the creative type. But there are pitfalls as well.
Pros:
If you have a decorating and/or construction background, it can be exciting to take a room, wall, or other major structure and completely rethink it to make it work for you.
You can make a few simple upgrades that will dramatically increase the value of the home.
Cons:
The obvious downside is the cost (think materials, time, labor, etc.). Fixer uppers are notorious for giving homeowners headaches, including longer than expected timelines to complete satisfactory renovations that result in additional costs.
The stress of working on a fixer upper can be more trouble than it's worth, particularly if not everyone in the family is enthusiastic about the home improvement projects.
Dated houses
Somewhere between a brand new house and a fixer upper that requires a lot of work right off the bat, there is another option — a dated house. Here are a few pros and cons of buying an older house.
Pros:
A dated house in good shape is move-in ready. You don't have to spend months on renovations (as you would with a fixer upper) or wait for a developer to finish customizing a new house for you. Most upgrades will be low-cost and totally optional.
Today's housing market is highly competitive, with tough bidding wars making the entire homebuying experience ever more so stressful. An older house could be less desirable to other buyers who are looking for a more "done" home, so you might have fewer bidders to compete with. You may also find that an older house costs less, compared to a new house of the same size and in the same neighborhood.
Cons:
A dated house is not going to be up to market trends: it may not have that open floor plan, or crisp cool look of modern design, or energy-efficient house plan. You might be stuck with the style and unable to make any major structural changes.
As the house ages, it will require more upkeep, including heating or plumbing system upgrades.
Flipped houses
The demand for new housing is going up, while the supply of new homes is not. Here's where house flippers come in: they fill the gap between the demand for move-in ready homes and the lack of new housing by buying older or abandoned properties, renovating them, and reselling. (Flipped houses reached a six-year high as a share of sales in the first quarter of 2018, according to a report in ATTOM Data Solutions.)
While flipped houses are often a great option, there are a few things to consider before buying a flipped house.
Pros:
Often, property investors want to sell the property sooner rather than later, so they can move on to their next flip. Sometimes this means they will fix the most glaring issues first, and consequently work with the homebuyer to choose finishing touches, such as tile or stucco, hardwood vs. carpeting, etc.
Not interested in spending months redoing a kitchen or powder room? With a flipped house, the grunt work has been done for you and the home value has gone up along with it.
Cons:
There is a risk that the previous owner cut corners and made simple cosmetic changes to hide the bigger, structural flaws in a home. Be aggressive when asking for a thorough home inspection to avoid this danger.
Flipped houses are designed to appeal to the masses so that they can sell quickly. Owners will often eliminate any quirks, leaving a house looking a bit generic.
Questions buyers should ask
States like California are known as "full disclosure states," meaning the owner must complete a report about anything the house has been through of which they are aware, from water damage to environmental hazards. Even if you don't live in one of these states, you can still ask all of the same questions, including:
How many times has the house been bought and sold? How many other properties have the owners flipped, if any? What changes have been made to the house? Make sure you ask about the bigger and more obvious structural changes all the way down to the more detailed changes that may not be noticeable to the naked eye.
Request a detailed third-party home inspection: A licensed, accredited, and insured inspector will note anything that is unsafe or out of compliance with regulatory code in the home. If it's something that the homeowner can easily fix, you can negotiate that before making your formal offer.
Was the work completed properly? Make sure that you (and the home inspector) inspect every part of the plumbing and electrical in the home.
Ask for references: The homeowner/property investor should be able to refer you to past buyers.
Ask for copies of all documentation of work on plumbing, electrical, and water heaters. Don't forget to ask about documentation for any inspections of termites or mold — depending on the state and season, you might be in for an ugly surprise months down the road if you don't.
Tips for buying a flipped house
Flipped houses run the gamut in quality. That beautiful, charming fireplace could be disguising an old and crumbling brick wall. Hire a real estate agent to help you check all the boxes before making an offer.
Get up close and personal with the home: Open and close cabinets, look underneath sinks, and watch out for anything that looks uneven or sloppily done.
Reconfigure your budget to allow for some unforeseen costs. Even with the best home inspection, a flipped house means an increased level of uncertainty.
Ready to make a bid?
First and foremost, vet and hire a seasoned real estate agent to help you uncover the history of the neighborhood and the home.
In the case of a flip, it's often impossible to know what the homeowner's margin will be, so a good rule of thumb is to gather information about the sale price of comparable homes in the neighborhood.
Consider getting a home warranty to cover all the appliances for the first year. It's under $1,000 and it's a simple condition to include before making an offer.
As with anything in life, cash is key. Show the homeowner you have what it takes to work with their tight timeline.
Lastly, be quick! If you've followed our guide and completed the research, once you fall in love with a home and feel confident about the purchase, don't hesitate.