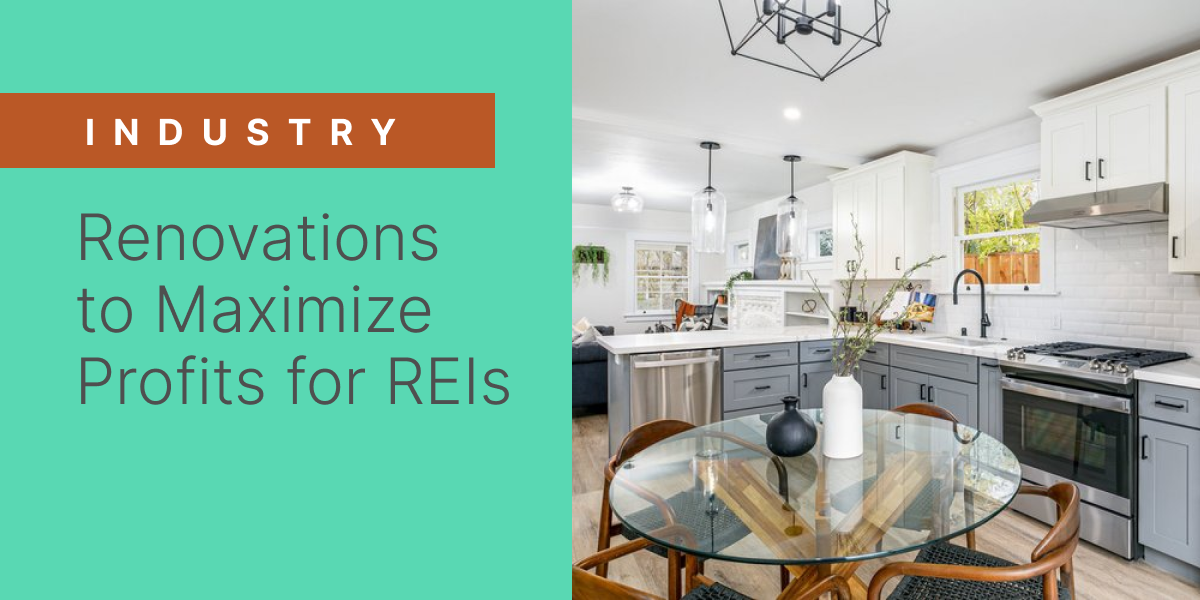 Top Renovations to Maximize Profits for Real Estate Investors
As you plan the renovation for your investment property, it's more important to know what upgrades increase the home's value and attract potential buyers. With rising labor and raw material costs, real estate investors need to review trends and value-adds to stay on budget and maximize overall profits. After all, the home's renovation design is the main selling point that hooks buyers or renters looking for something move-in-ready.
We talked with Freemodel* Project Directors, Lara Richmond and Melissa Jones, to break down the types of renovations real estate investors should focus on to make the most significant impact. Let's get started!
Home Renovation Trends for 2022
The 2022 housing market is the center of many changes. With an annual inflation rate of 7%, renovations are more expensive than ever, and remodeling project costs have increased 21.5% in response to raw material shortages. However, that doesn't mean that there still isn't significant value in renovating aged homes – in Q3 of 2021, homes earned an average of $56,700 in equity.
For real estate investors, it's essential to budget for the rising costs and still deliver a renovated property that catches the eyes of eager homebuyers or renters. Here are a few trends that you're going to keep seeing a lot of this year when it comes to home design:
Converting bedrooms into home offices: Look for new ways to help people work on their side hustle or 9-5
Enhancing outdoor spaces and landscaping: More people are looking to move out of the cities and enjoy the outdoors
Utilizing technology to make the homeowner's life easier: Include digital thermostats, lights, and appliances
Going bold with colors, textures, and wallpapers: Say goodbye to flat drywall and welcome more dynamic themes


Top Renovation Tips to Maximize Your Returns
Freemodel Project Directors Lara Richmond and Melissa Jones are no strangers to rolling up their sleeves and working with both real estate investors and agents to deliver a turnkey home renovation that sells. As part of their role at Freemodel and experience as Interior Designers, they work directly with investors to develop the rehab scope of work, manage the entire construction project, and work with stagers to get the home ready to list or rent.
With years of experience in the industry, they've seen their share of surprises (sometimes it's best not to know what's behind the cabinet!) in aged home renovations and understand what investors should consider putting their budget towards.
Whether you're fix-and-flipping the property or embracing a buy-and-hold strategy to earn passive income, here are a few best practices to add more value to your real estate investment:
Focus on high-value rooms
Instead of finishing a basement or adding closet space in an attic, focus on renovating beautiful kitchens and bathrooms since this is where people spend the majority of their time.
A typical full kitchen remodel, which includes replacing the cabinets, can sometimes lead to delays and increased costs if it requires rewiring. You can get around this by refacing the cabinets with new doors and updating the appliances, hardware, countertops, and backsplash – saving you nearly 50% of the original cost of installing completely new cabinets.
For the bathroom renovation, consider these additional tips:
Keep existing tiles and tub by using a finishing paint
Replace the faucets, shower head/drain, and door
Use a pre-fabricated vanity that includes the cabinet, sink, and counter
Replace toilets with low-flow fixtures
A mid-range kitchen remodel often results in 72% ROI and a bathroom at 60%.
Rethink hardwood floors
While many people prefer hardwood flooring to carpet, the increased raw materials and labor cost could increase your flooring budget to $20,000, making it no longer a low-cost option for many investors. Depending on the size of the property, new hardwood flooring can cost you between $3-$8 per square foot.
If the property's existing floor isn't salvageable, you can install modern vinyl anywhere in the house, like the kitchen, bathrooms, living room, and more. Potential homeowners and renters alike may actually prefer vinyl to hardwood due to its strength and ability to be cleaned up easily.
Details matter
Instead of replacing everything on the property, consider how you can use its existing features to maximize the value. While you'll most likely repaint the entire property for a more fresh and modern look, consider these high-impact upgrades:
Replace all light switches and electrical sockets with the same finish and color
Change out all the lighting fixtures in every room to a consistent style
Update all your hardware - consider using the all-black trend to reduce your material costs and avoid mismatched finishes!
Including features like a home security system or digital doorknob
Adding floating shelves or other modern touches


Open concept is here to stay
With nearly 51% of homeowners preferring an open-concept home design, the popular trend is most likely here to stay for several more years. The open concept design includes removing walls that separate rooms to develop multipurpose living areas that make it easy for people to move and gather. Often, this consists of a kitchen that overlooks the dining and living room.
Freemodel suggests that there is still a lot of value in knocking down walls to create an open concept layout. You can also consider using support beams as accents to add extra character to the property if you do run into load-bearing walls. However, it's essential to keep in mind that you will have to budget for permit costs.
Upgrade the curb appeal
Whether you're fixing to sell or rent, updating the property's curb appeal goes a long way to attract people to the home. In fact, buyers will pay 7% more for a house with updated curb appeal than a neglected exterior. Here are a few high-impact exterior updates for your investment property:
Update your house numbers and mailbox
Touch up the exterior paint or consider adding stone veneer to the front
Paint the existing front door a new color and change out the hardware
Freshen up the patio or include an outdoor fire pit
Tidy the landscaping and front porch
Making the Most Out of Your Next Investment Property Remodel
As you start planning the rehab for your investment property, choosing the right renovations is essential to stay on budget and attract buyers or renters. To maximize your budget, complete renovations that you know will yield a higher return on investment, such as updating the kitchen and bathroom, refinishing the flooring, and updating your curb appeal.
Ready to get started? Learn more about Kiavi and Freemodel's collaboration today.
*Kiavi works with Freemodel to provide customers with on-demand construction services in California that help maximize your property's profits.