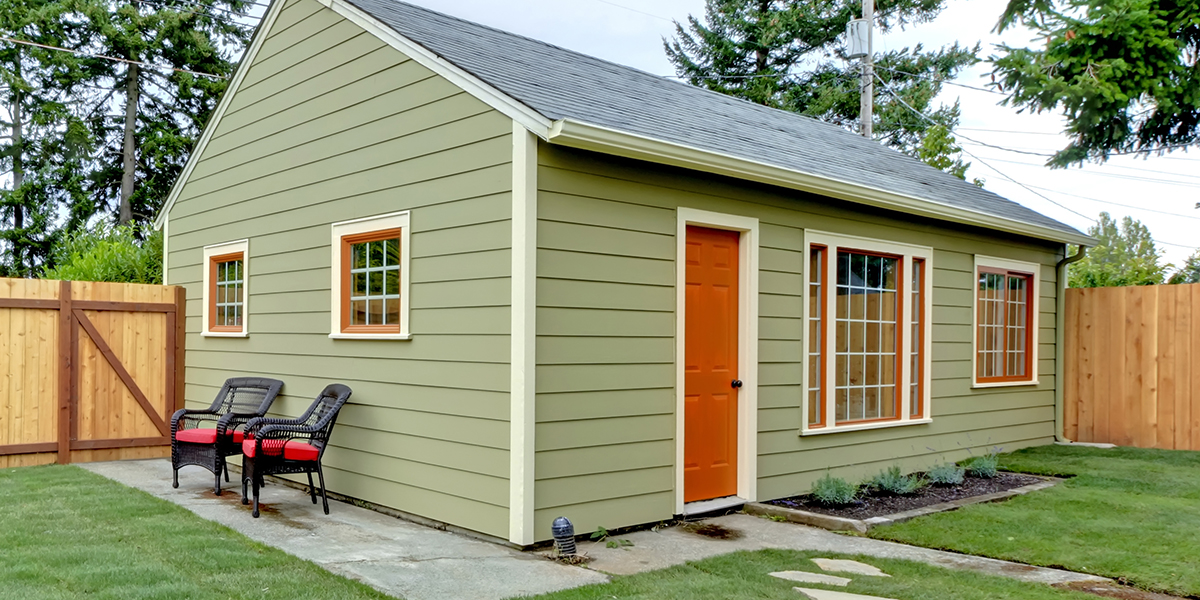 What Everyone Ought To Know About ADUs
For those who want to get involved in rental property but aren't sure where to start or are priced out of home purchases in hot markets, accessory dwelling units, or ADUs, can be a compelling option. Relatively affordable, highly flexible, and easy to finance, ADUs can offer a ton of potential for the right investors. But, as with all investment avenues, ADUs aren't suitable for everyone. This is what you need to know about ADUs as investments and the pros and cons associated with this alternative investment opportunity.
What Is an Accessory Dwelling Unit?
An accessory dwelling unit is an additional housing unit built on a property that already has a central unit. As the name implies, it's an accessory to a larger residence, usually around 400 to 1,000 square feet. Sometimes referred to as granny flats or in-law suites, ADUs are effectively smaller homes built on the same tract of land as an existing main home.

To truly be an ADU, a unit has to offer all of the amenities needed for a tenant to live wholly and comfortably, including a separate entrance from the central unit, a kitchen, a bathroom, and private living and sleeping spaces. Most ADUs are standalone structures but can also exist as attic or basement conversions, provided the requirements are met. For example, a basement apartment requiring access to the main house is not technically an ADU as there's no separate entrance. This is also true of a converted garage with a bedroom and bathroom but no kitchen.
Types of ADUs
ADUs come in a few different forms. These include:
Detached structures:
The most popular form of ADU for privacy and convenience purposes, detached ADUs are complete housing units that are not attached in any way to a primary home. These may be separate garages that have been converted but are more commonly constructed from the ground up to create additional housing. Homeowners may build detached ADUs to house parents or extended family in need of a place to stay or as a source of rental income, or opportunity to drive up housing prices.
Attached external structures:
Attached external structures are ADUs attached to a central unit, like an apartment built onto the back of an existing home. This can be a convenient choice when a home doesn't have enough room to build a detached structure but is laid out in a way that could accommodate an apartment addition.
Attached internal structures:
Attached internal structures: This form of ADU exists entirely within another home. The most common forms of attached internal structures are basement or attic conversions or the conversion of an attached garage.
Growing Popularity
The flexibility of an ADU can be a big draw for Millennial homebuyers in particular, which is a plus for investors since Gen Y makes up 37% of the market1. Most Millennials are in their late 20s to early 40s, which means they're likely to have aging parents who may require housing assistance. Gen X is next in line, though, and they're most likely to have adult children moving home for cost-saving purposes. In 2021, 12% of buyers of all ages 2 bought multi-generational homes, including properties with ADUs, expecting that housing family members may become essential.
According to a 2020 Freddie Mac report, the national share of homes with ADUs rose to nearly 7% versus just 1.6% in 20003. The message here is clear: ADUs can mean big money when housing is in demand. The report also highlighted where ADUs are most common, and the answers aren't surprising: states that are seeing high population growth, like Florida, Texas, California, and Georgia, top the list.
The Benefits of ADUs
Accessory dwelling units can benefit those willing to enter this space. While not suitable for every real estate investor or for every property, ADUs have the potential to be very advantageous to fix-and-flip and rental strategies.
Additional Passive Income
The most significant benefit for buy & hold investors is the additional income potential of ADUs. Provided the investor is within their legal rights and is knowledgeable of local and state laws covering secondary housing units, they can offer the ADU of a property as a living space for an additional tenant – that's two rentals for the price of one.

Renting out an ADU is an excellent way to generate additional passive income. Provided there's a tenant in place, the investor can create a constant revenue stream. An added bonus to choosing an ADU as an investment rental is that ADUs are part of an existing property, eliminating the added stress of a separate home loan like with a traditional off-site rental property. This allows investors to minimize the initial investment while still reaping the benefits of a rental property.
Increase in Property Value
These units can drive up property values when it comes time to sell. According to a 2021 study by Porch.com, in the biggest U.S. cities, a home with an ADU is priced 35% higher on average than a home without one4. Some fix-and-flippers will turn existing structures, like unused garages, on a property into ADUs before putting a property up for sale to maximize gains.
Appeal to Renters & Buyers Alike
Renters looking for small, private units outside of a large apartment complex often find ADUs appealing. Or if you plan to flip, an extra unit on a property could entice a buyer in need of options for parents or adult children or a residential home buyer interested in the potential for future rental opportunities.
The Need for Housing
There's a significant need for housing right now, making it an opportune time to look toward ADUs as a potential investment. The single-family rental (SFR) space is white-hot right now as more and more potential homeowners are turning to rentals in our current market. In fact, according to the CoreLogic Single-Family Rent Index, U.S. single-family rent growth increased by 10.9% in October 2021 – that's the fastest year-over-year increase in over 16 years!5 With the high demand, adding ADUs to an investor's buy-and-hold strategy is a solid option to capitalize on that housing need.
Potential Disadvantages of ADUs
ADUs, as with all property features, have both pros and cons. Before tying up cash to build another kind of housing on your property, keep the downsides in mind.
Potential Zoning Issues: Not all areas permit for ADUs due to local zoning laws, and some that do are very restrictive. Research how to look up zoning laws in your area and ensure you understand precisely what is and is not allowed before moving forward. Going against area ordinances could mean hefty fines or the loss of your investment entirely.
Steep Expenses: Building an ADU is not unlike building a small house, which means the process isn't cheap. Some companies sell prefab homes that can be erected quickly but will still involve things like running electricity and plumbing to make them hospitable. Depending on preferences and property features, the process can run anywhere from $30,000 to $300,0006.
Increase in Property Taxes: Depending on where you live, adding an ADU to a property could increase property taxes7. Be sure to factor this into any cost estimates when building.
Decrease in Outdoor Space: Building on a property will inevitably reduce the amount of outdoor space available for use. In some properties, this won't make a difference, but on smaller lots, another home could mean taking away from any recreational areas, potentially reducing property values or your pool of prospective buyers.
Investing in Accessory Dwelling Units
Before diving into any new endeavor, it's essential to do plenty of research, both into the pros and cons and the financing process. ADUs can be a great way to increase property values, add additional occupancy, and drive income, but getting started requires a deep understanding of local laws and real estate investment in general. Keep these steps in mind when moving forward with your ADU rental property investment.
Understand the Ordinances
Before beginning construction of any kind, you need to know all there is to know about state and local ordinances, overlays, and timelines for ADU construction. For the most accurate information, reach out to area planning departments to learn about what's possible and review fees and costs associated with permits and permissions. You may also choose to discuss the approval process; the local government can move slowly, which may affect your planned timing.
Have Design Plans Before Buying
Getting a jump start on construction may sound appealing, but first, you need to make sure you're on the right track. Have firm plans in mind before you start placing any orders, including confirming designs meet city codes. Some areas have strict policies related to size and set-back, so moving too quickly could mean wasting money or hefty fees. Building ADUs can be expensive, so the last thing you want is to find yourself halfway done with a product that doesn't fit with rules and regulations.

Rather than starting construction and assuming everything else will work itself out, have a strategy before going in. Make sure you understand any regulations related to renting to multiple tenants on one property and rules around short-term rentals, like vacation or summer homes. Know price points, too, so that you can have an idea and plan around paying off construction costs and other expenses.
Talk to Your Lender
Investing in ADUs is a newer opportunity, so it's crucial to know the ins and outs of financing before construction is underway. Before moving forward, speak with your lender about loan options, loan amounts, payback terms, and anything related to funding the construction of another dwelling on an existing property. Not all lenders and loan products will be the right fit, so make sure you know your options and work with someone who understands the ADU landscape and can help you find your perfect property loan.

For those with existing rental property who want to add on, who want to add value to a property for fix and flip purposes, or who are feeling priced out of buying entirely new properties, ADUs can be a great alternative. However, before heading to the hardware store, take time to learn the ins and outs of how ADUs work in your area and find your ideal lending partner to make the financial factors a breeze.
Sources:
1Zach Wichter, "Millennial Homebuyers Reshape the Real Estate Market," Bankrate, accessed April 12, 2022, https://www.bankrate.com/mortgages/millennials-and-homebuying/.
2National Association of REALTORS® . "2021 Home Buyers and Sellers Generational Trends Report." National Association of REALTORS® , March 16, 2021. chrome-extension://efaidnbmnnnibpcajpcglclefindmkaj/viewer.html?pdfurl=https%3A%2F%2Fwww.nar.realtor%2Fsites%2Fdefault%2Ffiles%2Fdocuments%2F2021-home-buyers-and-sellers-generational-trends-03-16-2021.pdf&clen=9536087&chunk=true.
3"Granny Flats, Garage Apartments, In-Law Suites: Identifying Accessory Dwelling Units from Real Estate Listing Descriptions Using Text Mining," Freddie Mac, accessed April 12, 2022, https://www.freddiemac.com/research/insight/20200716-identifying-accessory-dwelling-units-from-real-estate.
4Porch Research, "2021 Study: How Much Value Do Granny Flats and Other Accessory Dwelling Units Add to a Home?," accessed April 12, 2022, https://porch.com/advice/state-of-adu-market-2021.
5Molly Boesel, "Single-Family Annual Rent Growth Hits Sixth Consecutive Record," CoreLogic®, December 21, 2021, https://www.corelogic.com/intelligence/single-family-annual-rent-growth-hits-sixth-consecutive-record/.
6Ken LaMance, "How to Find Zoning Laws and Ordinances," LegalMatch Law Library (LegalMatch, July 12, 2018), https://www.legalmatch.com/law-library/article/how-to-find-zoning-and-ordinances.html.
72021 Mia Taylor By Mia Taylor April 02, "4 Hidden Costs of Building an Accessory Dwelling Unit You Might Not Have Considered," Better Homes & Gardens, accessed April 12, 2022, https://www.bhg.com/home-improvement/advice/expert-advice/adu-costs/.
8"Adus and Property Taxes: What You Need to Know," Mighty Buildings - Modern 3D Printed Prefab Homes and ADUs, January 20, 2022, https://mightybuildings.com/resources/blog/tpost/c7j5gi4b11-adus-and-property-taxes-what-you-need-to.