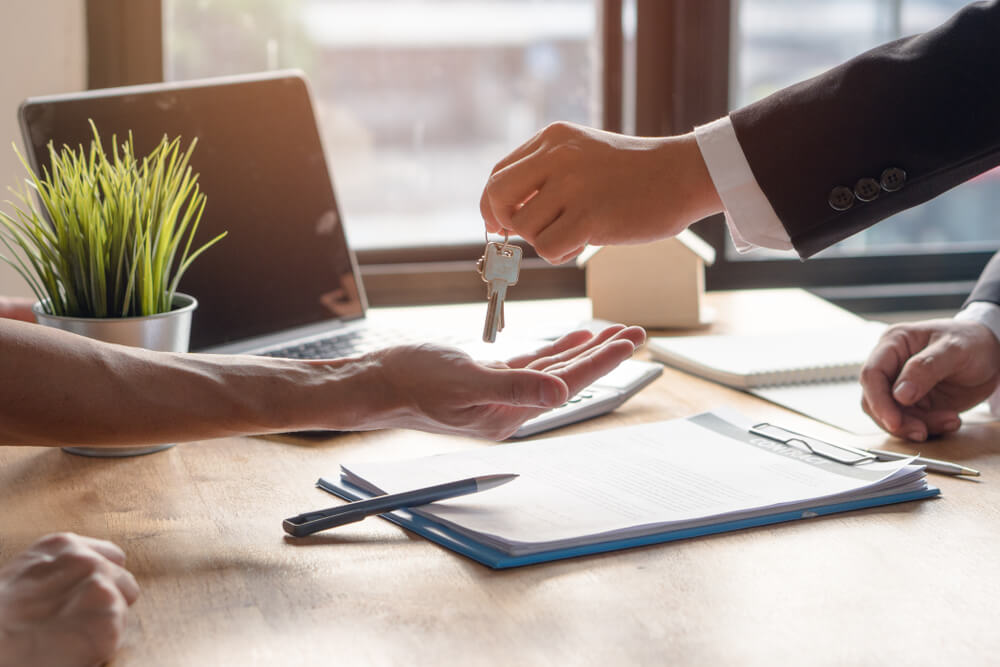 How to Buy Rental Properties in 9 Steps
Note: originally posted on LendingHome.com and LendingHome is now Kiavi.

About the author: Andrew Syrios is a real estate investor and writer living in Kansas City, MO. He is a partner in Stewardship Properties along with his brother and father. Their company owns over 500 properties in four states.

Buying a rental property sounds straightforward, but to purchase one correctly—and actually get a good deal on something you will want to own for the foreseeable future—that is a bit more of a challenge. This is especially true if you want to learn how to buy your first rental property without making any of the mistakes new investors often do.

Here we'll focus predominantly on single family houses, but the lessons on buying a single family home are similar to those on buying a rental property of any type, with a few noteworthy differences.
Step 1: Pick an area and type
First and foremost, before you figure out how to start buying a rental property, you will need to decide what type of property you want to invest in and in what neighborhoods. Some of the points to consider are:
Price range of homes
Rent price ranges
Rent/cost ratio
Quality of area
Quality of school district
Crime level
Distance from your own residence
Much of this involves deciding what level of risk you are willing to accept. I would highly advise against a new investor buying rentals in really rundown areas with bad schools and a higher crime rate. Sure, there are good tenants in such areas and you can make money, but it's very difficult to do so and I recommend only seasoned investors who specialize in such areas should try investing in rentals there.
As far as the rent/cost ratio goes, most rentals will only cash flow if the rent/cost ratio (monthly rent divided by the total cost of the property) is over one percent. That being said, this rule is, at best, a "rule of thumb" and should be used carefully. Properties in more expensive areas can dip a bit below one percent. And if you are investing in multifamily or commercial properties, you should use a cap rate instead.
Below are some free websites that can help you figure out a lot of this information about various neighborhoods.
Step 2: Decide how to source deals
There are a large number of ways to find potential properties, which we will only be able to briefly touch on here.
To summarize your options, some ideas to consider include:
Using a buyer's agent
Getting your license and searching the MLS yourself
Searching Craigslist, Trulia, and other FSBO (For Sale By Owner) sites
Networking with wholesalers who can send you potential deals
Direct-to-seller marketing (letters, postcards, etc.)
SEO (using a website and improving its search engine rankings to drive traffic to your website from potential sellers)
Online advertising (i.e. Facebook Marketplace, etc.)
Lawn signs
Paid advertisements
Buying probate leads
Buying foreclosure auctions
Buying tax foreclosure auctions
In today's market, it is very difficult to find good deals on the MLS (those that are listed with a real estate agent). Even still, a few slip through the cracks. If you would like to take a more passive approach, it may be worthwhile to just find a property here or there with a real estate agent. This would allow you to skip setting up a marketing system or anything like that.
On the other hand, if you want to learn how to purchase a rental property at a sizable discount and make investing in real estate a career, you will probably need to focus on more direct methods; particularly direct-to-seller marketing and perhaps SEO or online advertising.
Some good lists of potential sellers who are likely to be motivated (and who would make sense to market to) include:
Out-of-state absentee owners
Owners being foreclosed on
Properties in disrepair
Properties on a "dangerous buildings list"
Landlords currently evicting a tenant
You can find many of the aforementioned lists on various list sites such as www.ListSource.com or www.CoreLogic.com and they are relatively cheap as well. There are also plenty of sites out there that can help you market for those deals such as www.YellowLetters.com or www.BallPointMarketing.com. Or you can just take the lists and use mail merge and print the letters out yourself.
Buying a rental property at auctions can be tough as oftentimes you will have to provide the full payment amount of the purchase up front (it depends on the county). In addition, tax liens are not wiped out by an auction so you need to be very careful if you go this route. Indeed, I would only recommend more experienced investors take on the auctions.
Step 3: Value the deal
Again, the best tool for valuation is the MLS, but only real estate agents have access to that. You may want to consider getting your license, but if you don't, there are other sites you can use to value a rental property without the MLS. In addition, you can request a CMA (Comparative Market Analysis) from a real estate agent on a property you are looking at, which are basically a breakdown of comparable sales nearby.
In order to value a property, the goal should be to find the most similar houses that have sold and then adjust their prices based on any differences with the property you are looking at (the subject property). Thereby, you want to find houses that have:
The same number of bedrooms (plus/minus one at the most)
The same number of bathrooms (plus/minus a half bathroom at most)
Same subdivision (one mile away at the most)
Sold in the last six months (one year at the most)
Built within 10 years of each other (20 at the most)
No more that 10 percent bigger or smaller (20 percent at the most)
You should also want the comparables to have (or not have) a garage or basement and be on a similar sized lot and, of course, be in a similar condition.
Sometimes you won't have such comparables so you have to use worse quality comparables (i.e. further away, substantially bigger, etc.). That's OK, just remember that in such cases, you can't be as confident in your valuation and thereby need to be more careful.
If a comparable is better than yours (say it has an extra half bathroom), then you would reduce the price it sold for to make up for the fact it is slightly better than your subject house. Remember, you are trying to make them "identical." Of course, it's a bit subjective how much to reduce the price, but by comparing your subject to several comparable sales, you can get a decent idea of what it should be worth.
Step 4: Negotiate the deal
Negotiating is a broad topic in and of itself, and it's important to remember two key things that will put you ahead of 90 percent of the rest:
Ask for what you want
Always be willing to walk away
There's a lot more to negotiating than that, but it's a really good start to keep to keep you grounded. Indeed, one common saying in real estate is that "if you're not embarrassed by your first offer, you're offering too much." That may be a bit of an exaggeration, but it's a good thought to keep in mind.
The last point is to always be respectful to the seller. Don't think that someone is rejecting you just because they rejected your offer. Many times in real estate investment, a deal will appear dead, but then after a month, the seller will come back to you and be much more willing to negotiate. So always be kind and respectful as well as open and honest when negotiating.
Step 5: Due diligence
Due diligence is another important topic with all sorts of little things to go over. If you get a property under contract, you should definitely read much more about due diligence to make sure you check every box and don't miss anything that could cost you a lot of money down the road. It's absolutely critical to never skimp on due diligence.
In brief, you should always close with a title company and walk every unit (whether it's 1 or 100). You should also ask for every lease, rent ledger, operating statement, and proof of deposit for the last month or two (deposit receipts, bank statements, etc.) for any rented property. You should also get a professional inspection (especially if you are new) and any special inspections if the property warrants it (pest and dry rot, phase one for environmental on commercial properties, etc.).
If you find something, don't be afraid to renegotiate the price or back out (remember the second rule of negotiating). If not, you're ready to close, as long as you have financing lined up.
Step 6: Finance
Up front, there are several ways to finance a property. Of course, if you have the money you could just buy it for cash. You could also get a hard money loan or rental loan with an institution such as Kiavi.
Another idea for investors who don't have a lot of capital is to use an FHA loan. These are only good for homeowners in their primary property, but you can buy any residential real estate, up to a fourplex, so you can live in one unit and rent out the others.
You can also partner with someone who has money or use private lenders if you find someone to lend to you for a return of somewhere between eight to ten percent.
Finally, if you intend to use a loan, it's important to get a preapproval letter before making any offers as many buyers will want to see those before accepting an offer.
Step 7: Renovation
Renovation is where most real estate investments go sideways. Before you make an offer, you should always put together a brief estimate of what you think the renovation expenses will be. And I would recommend padding that with a 10 to 20 percent contingency for anything you missed. (Also, don't forget to include soft costs in your rehab estimate.) If you're not sure, don't hesitate to ask another real estate investor or contractor to at least give you a ballpark. (Just make sure to offer them lunch.)
Once you have a property under contract, put together a detailed Scope of Work with each line item separated out. Then you want to get contractor bids and start lining up the work. Make sure to get several bids and look for contractors with quality references. If a contractor you've hired is taking too long and not being responsive, don't be afraid to let them go and move on to another.
Just remember, renovations almost always takes longer and costs more than you think. I've never heard of a single real estate investor complaining about how they were always budgeting too much for their rehabs!
Step 8: Property management
For property management, you can either manage the property yourself or hire a property manager. If you hire a property manager, make sure to ask for referrals and interview them carefully. And just like with contractors, if they aren't getting the job done (and unfortunately, many don't), move onto the next one.
If you manage yourself, you will need to learn the law and find a real estate attorney. Most of it is common sense, but you'll want to find the landlord-tenant law for your state and familiarize yourself with it closely.
You'll also need to get a list of contractors you can call for maintenance (and there are now many companies that specialize in maintenance for landlords with only a few properties; although they are a bit expensive) and emergencies. Most emergencies are water-related and so you can usually find someone like Snake and Rooter to take a late night call, but it won't be cheap.
You'll also need to have thick skin. Tenants can get angry and you need to realize this is just part of the job. You'll also need to be able to say "no." Be fair, but firm. Never be rude, but don't be a pushover either.
Step 9: Refinance
If your intention is to scale your real estate business, one of the best methods is the BRRRR method (Buy, Rehab, Rent, Refinance, Repeat). In order to do this, you want to refinance the property after it is fully fixed and rented. That is because if you bought right, you will have equity in it and you should be able to pull out all or most of the money (or private loan) you put in originally to buy the property.
To do so, however, you will need a good relationship with a lender. Therefore, it's critical to have your accounting in good order and build systems throughout your company. Banks are the traditional route to take for this, but there are also other avenues to explore. For instance, Kiavi is an excellent partner for refinancing your rental properties. You can take out equity in just six months after your last finance transaction. In addition, you get low rates, speed, and access to a transparent dashboard to track your loans.
Conclusion
While there are many steps to investing in rental properties, none of them are particularly complicated. And once you learn them, it's like riding a bicycle; you never forget. The key is simply to be diligent with each step and soon enough you should be a successful rental property investor.