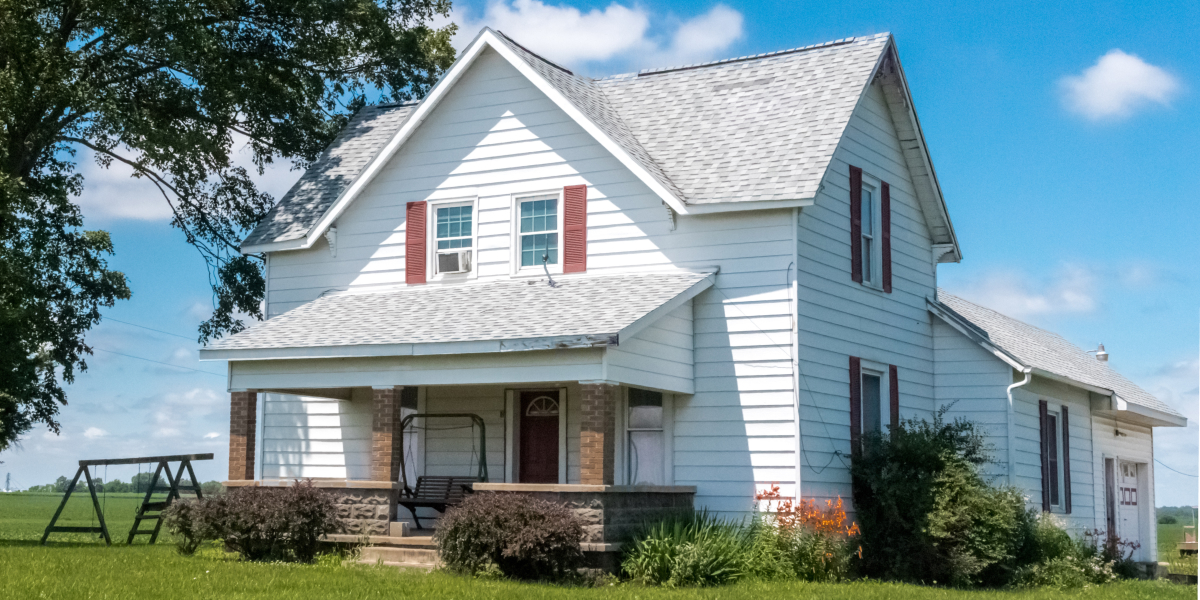 Investing in the Kansas Rental Market
Kansas isn't a place known for real estate investing in the same way as bigger, more prominent states. However, this doesn't mean the area isn't overflowing with potential. As a state with numerous large metro areas that are currently low-priced with a decent quality of life, Kansas is a prime place for investors seeking new opportunities in untapped markets. For those seeking ways to begin or expand rental property holdings, breaking into the Kansas market may be the perfect opportunity to profit. While no locale is perfect, Kansas and its metro areas look to be on the brink of the next big thing.

So why is Kansas an untapped market with lots of potential? First, Kansas isn't a state historically popular for investors due to the perception of lower demand for homeowners. However, as metro areas like Atlanta and Houston see prices spiking and homeowners fleeing for places with a low cost of living, states that are still rife with affordable housing are targets for homeowners and ambitious investors. The population of Kansas City, for example, has grown by 20% over the last ten years1, and investors are feeling this growth on both sides of the border, thus demonstrating the desirable nature of the Kansas housing market.

Like several surrounding states, Kansas offers benefits that are often no longer available in traditionally popular areas. These include: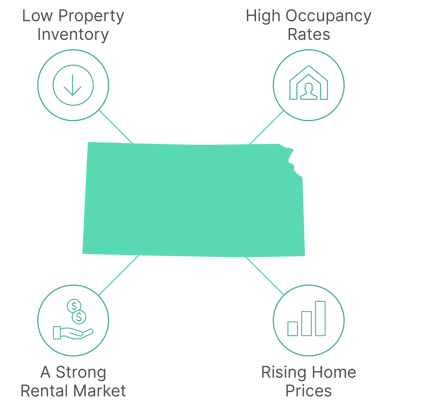 Low property inventory: In Kansas, there's a shortage of homes and residential rentals in numerous areas throughout the state. This means that residents are starting to outnumber homes. When inventory is low, prices can grow quickly, resulting in big profits for investors getting in early. Per a Redfin report, housing supply in key areas is down 49% year over year2.

High occupancy rates: In addition to low property inventory, occupancy rates across the state are high, particularly in the more desirable metro areas. As of Q3 2021, housing occupancy rose to over 96% for the first time since 20193, indicating that there are few properties for residents to consider and those on the market are in high demand. As a rental property owner, housing is at a premium at this point in time.

A strong rental market: The rental market in Kansas is vibrant – and it's growing every day. Rents in Wichita have risen 14% since the start of the pandemic4, and other large to mid-sized cities are also following this trajectory. With many families looking for comfortable rentals due to rising home prices, now is a great time to get into the rental market.

Rising home prices: In Kansas, as a state with a recent rise in demand, it's only natural that home prices are on the upswing for both renters and property owners. In fact, home prices in Topeka averaged $179,000 in 20215 – up $14,000 from 2020. Now is the time to act for those who want to buy and hold real estate for rental purposes.
The Importance of Single-Family Rentals
In family-friendly areas like many Kansas cities, single-family rental homes, or SFRs, are the name of the game. This is because families want a home environment with a standalone house, a yard, or even a porch or deck. When homeownership isn't affordable or necessary, an SFR is the next best thing. While there is still merit in buying into condos, townhouses, and multi-family homes, they're not as desirable as SFRs.

It's also important to note that single-family homes are rising in price faster than other property types. This means that investors looking to get into the Kansas real estate market will need to move quickly in the key areas. However, this also means that profitability will be at an all-time high in several years' time.

For those willing to explore new areas and branch into a burgeoning market, Kansas holds a lot of potential. It may not be right for everyone, but this market may be the next big thing with so much opportunity.
Investing in Rentals in Kansas
While currently still a relatively low state population-wise, Kansas does have numerous metro areas with vibrant, family-friendly areas. From Overland Park to Wichita, there are plenty of places to consider when evaluating rental opportunities. In spite of this, it's important to acknowledge the differences between the key cities throughout Kansas, including Overland Park, Wichita, Olathe, Topeka and Kansas City, KS.

Home prices are on the rise across Kansas, which means now is a top time to consider buying. Up 76% in the last five years, the real estate market is already on an upward trajectory with plenty of potential to offer in future years. However, not all areas offer the same opportunities.

Wichita is the largest city in Kansas, with a population of around 400,000. However, this doesn't mean it's the strongest market for rental properties. Instead, it's the worst of the major metros in the state; while home prices continued to rise, going up more than 13% year over year, the same isn't true for rentals. Instead, pricing slightly declined over the last year, a very unique occurrence. As such, Wichita is a better area for fix and flippers rather than buy and holders. However, this may not always be the case. Prices in the last year have gone up 11% with an additional 6.8% invested next year7, so there's a chance this may be a strong market for rentals in the future.

For those who want to buy, hold, and profit from investment rental properties, spaces like Kansas City, Overland Park, and Olathe offer much more potential. Further, these cities are closer together, which means those who want to invest locally or in the same area are in luck. These cities are also less popular than Wichita for those starting out, which means the rental yields are expected to increase significantly from this point forward. After all, getting in on the ground floor is always advantageous in investing of all kinds.

It's also not uncommon for investors to straddle the border, so to speak. Kansas City, KS and Kansas City, MO are right across the river from one another, and where locals live can be very subjective. To capitalize on this very similar demographic, some investors simultaneously buy rental properties in Missouri and Kansas. If you already have holdings in the Missouri side of Kansas City, branching into Kansas is as easy as finding a qualified lender to be your real estate partner.
The Importance of a Strong Financing Partner
While some investors may be able to buy properties in cash, particularly those who favor the BRRRR strategy and are regularly turning a profit, many purchasers will require an additional source of financing via a trusted borrower. Borrowing money for investment purposes isn't necessarily as common knowledge as a traditional mortgage, but plenty of options are available to fund rental properties. However, not all financing partners are made equal, and it's important to find the right fit for your investment endeavors.

Part of finding the right financing partner includes significant due diligence – an evaluation of what a particular lender can offer. While doing research, keep these points in mind.
Experience: A strong financing partner is one with experience in the real estate investment space who understands what it takes to buy investment properties. This allows for an easy lending experience and assurance the right products are available for the right opportunities.

Flexibility: Flexibility is key in an investment financing partner. When a property is available, a lender needs to provide flexibility in the products offered as well as the ability to propose individualized solutions. Investing isn't a one size fits all opportunity, and it's essential to choose a financing partner who understands this.

Reliability: When you need money to purchase a property, you need a financing partner you can count on to deliver on loans. Reliability is a key quality in this space because the last thing you want as an investor is a loan that falls through or falls short.

Timeliness: The real estate market often moves quickly, so a timely financing partner is a must. There's nothing worse than waiting for a loan to process and missing out on prime property, so making sure a loan can be delivered as quickly as possible can be a make-or-break situation in investing.
If you're looking for a lender you can trust to get started in Kansas rental properties, Kiavi is uniquely positioned to help. With extensive experience in developing markets, a wide range of products from which to choose, and reliable and timely lending options, we know how to meet your every investing need, no matter how unique. We also understand the importance of competitive rates and modern, tech-savvy lending tools, which puts the power in real estate investors' hands. We're also in a growth phase, which means our amazing opportunities are only going to improve. Learn more about Kiavi's long-term financing options.

Despite Kansas's prior lack of popularity in real estate endeavors to this point, this state is full of potential for those seeking new avenues. With numerous cities prime with low inventory, high desirability for rental units, rising prices, and a surge in SFR opportunities, there's lots to love about this Midwestern state. With a rental partner like Kiavi, you'll be ready to make a wise investment decision, regardless of your overall goals. Contact us today to learn more about working with Kiavi to build your real estate portfolio.
Rates are based on loan terms, borrower qualifications, LTV, and property factors and are subject to change. Non-owner-occupied rental properties only. Interest rates or charges herein are not recommended, approved, set or established by the State of Kansas. Loans are available in AZ, CA, CO, CT, FL, GA, IL, IN, KS, KY, MA, MD, MI, MN, MO, NC, NJ, NV, NY, OH, OK, OR, PA, SC, TN, TX, VA, WA, and WV, as well as Washington D.C.
Sources:
1Carlos Moreno, "Kansas City Hits Highest Population Ever in Latest Census Data, but Suburbs Are Growing Faster," KCUR 89.3 - NPR in Kansas City. Local news, entertainment and podcasts., August 14, 2021, https://www.kcur.org/politics-elections-and-government/2021-08-14/kansas-city-population-2020-census.
2Kaberline, Brian. "Survey Shows KC Housing Market Is Getting Tight." Bizjournals.com. Accessed March 21, 2022, https://www.bizjournals.com/kansascity/news/2020/11/20/survey-shows-kc-house-market-is-getting-tight.html
3Martin Maguire, "3rd Quarter 2021 Multifamily Trends: Kansas City," Colliers, accessed March 21, 2022, https://www.colliers.com/en/research/kansas-city/2021-q3-multifamily-trends.
4Sam Montero, "Rent Prices in Wichita Have Risen over 14%, Study Finds," KSN (KSN-TV, March 2, 2022), https://www.ksn.com/news/local/rent-prices-in-wichita-have-risen-over-14-study-finds/.
5Alexander Edwards, "Housing Values Are on the Rise, 'Shawnee County Has Seen Historical Appreciation This Year'," The Topeka Capital-Journal (Topeka Capital-Journal, February 28, 2022), https://www.cjonline.com/story/news/2022/02/28/housing-prices-rise-new-home-permits-rise/6973943001/.
6Jeff Rohde, "The Kansas City Real Estate Market: Stats & Trends for 2022," Learn Real Estate Investing (Roofstock Realty, Inc. [CA License #01995170], December 28, 2021), https://learn.roofstock.com/blog/kansas-city-real-estate-market
7Abbey Higginbotham, "Wichita State University Releases Housing Market Forecast, Rising Prices to Continue," https://www.kwch.com, accessed March 21, 2022, https://www.kwch.com/2021/10/08/wichita-state-university-releases-housing-market-forecast-rising-prices-continue/.