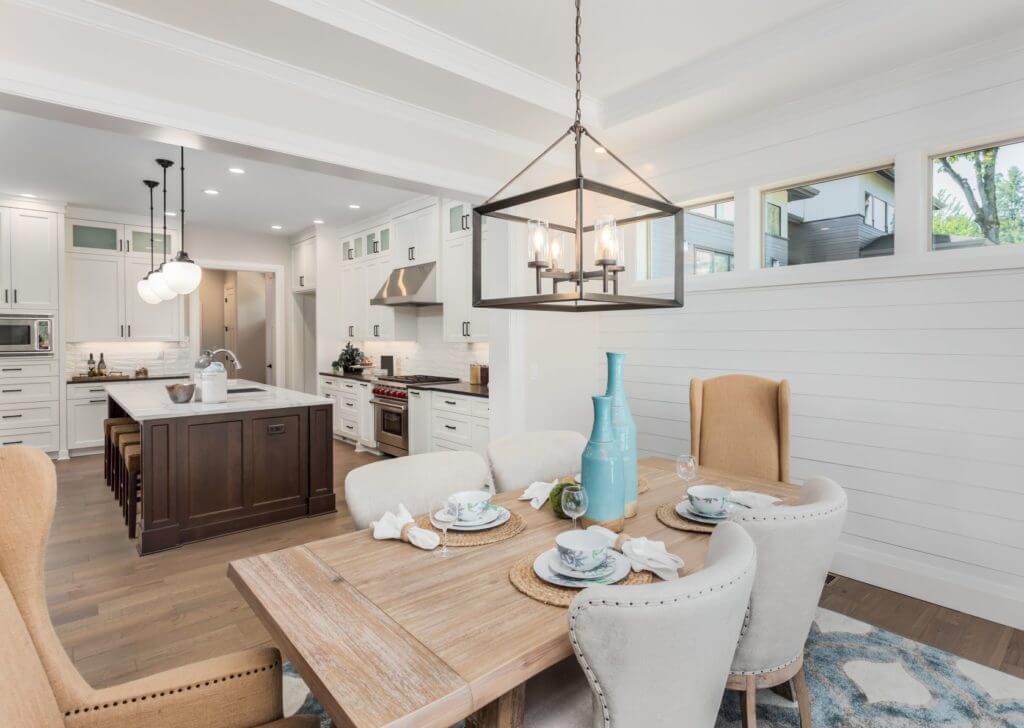 Is Staging Worth it for Real Estate Investors
Note: originally posted on LendingHome.com and LendingHome is now Kiavi.

About the author: Brian Davis is a real estate investor who has owned dozens of investment properties over the last 15 years. He's also the co-founder of SparkRental.com, an online resource which provides free landlord education and video series for anyone looking to build passive income from rentals.

You've renovated a house to flip it. Congratulations! Now it's time to pass it over to a Realtor and put your feet up, right?

Not necessarily.

Your job as a house flipper doesn't end when the last nail slams home. Ultimately, you're the one on the line for soft costs like the monthly hard money loan payment, paying the utility bill, insurance, and so on. Every month that goes by, your profit margin slims.

Which means you can't just outsource your marketing entirely to a Realtor. You need to think like a marketer, and always look for creative ways to sell your properties faster, and for a higher price.

One option to do just that? Staging houses on a budget.
The benefits of home staging: sales price
Does staging a home for sale actually work?
According to most buyers' agents, it does. A study by the National Association of Realtors (NAR) found that 97% of buyers' agents reported that staging had some effect on how buyers view prospective homes.
But how does "having an effect on buyers" translate to dollars and cents?
The NAR study found that in 29% of listings, home staging accounted for a 1-5% increase in sales price. In another 21% of listings, staging added 6-10% to the sales price. Another 8% of listings saw final sales prices between 11-20% higher.
In 14% of cases, there was no impact on sales price, and in another 27% of cases, it was unclear whether home staging had impacted the final sale price.
In no cases did home staging have a negative impact on price.
While staging can certainly help boost a property's price, it can't perform miracles. Make sure you have a firm grasp on pricing strategies as a house flipper before setting a sales price.
Does home staging reduce time on market?
Realtors were slightly more divided about how home staging impacted properties' length of time on the market. But the majority agreed that staging does reduce marketing time.
Nearly 40% of Realtors stated that home staging "greatly reduced" the time spent on the market. Another 23% said staging "slightly reduced" marketing time.
Another study conducted by the Real Estate Staging Association (RESA) found that staged homes sold nearly six times faster than unstaged homes, cutting average marketing time from 125 days to 22 days.
What's the big deal about time on the market? It actually has a huge impact on house flippers' profits.
Consider that house flippers' returns are largely determined by their soft costs, many of which grow with time. Soft costs include carrying costs, like the bridge loan payment, utilities, and taxes, all of which are based on time of ownership.
Further, house flippers need to recover their capital as quickly as possible, to fund their next deals.
These are the sorts of costs and concerns that many new house flippers fail to appreciate when forecasting how much it costs to flip a home.
Is staging a house for sale worth it?
Not every house should be staged. Part of learning how to flip a home is understanding what's effective in different markets and neighborhoods, which goes doubly for marketing your home to sell fast.
Nor is staging a one-size-fits-all proposition, even for properties that can benefit from it. Consider the following options at varying price points:
Hiring a full professional home staging service
Staging a couple key rooms with furniture on your own
Staging without furniture by simply adding a few touches throughout the house
So how do you decide which properties are worth staging, and what degree of staging to do for each?
First, consider the value of the property and the prospective buyers. If you're flipping a house to a landlord as a turnkey rental, staging won't persuade your pool of buyers.
Likewise, in lower-end neighborhoods where first-time homebuyers have very little wiggle room on price, they will be more price-sensitive and more likely to be enticed by financial incentives (e.g. a seller concession to help with closing costs).
When you get into middle-class neighborhoods and luxury homes, the choice becomes less obvious. Even if staging may increase the sales price and reduce marketing time, will those benefits outweigh the costs? If staging costs you $5,000, but only increases the sales price by $2,500, you've lost money.
Choose a Realtor intimately familiar with your specific market and neighborhood, and lean on their advice about what degree of staging makes sense for your property.
How much does home staging cost?
Staging typically starts with an initial consultation, which itself costs money. Expect to pay $250-750, with more casual walk-throughs on the lower end, and detailed written reports and recommendations on the higher end.
Home staging costs vary widely from state to state. According to RESA, furnishing a vacant property through a professional stager could cost as little as $975/month in Indiana, or $5,500/month in California, for a two-month staging project.
Which is not to say that you should hire a professional stager to handle every last detail for you. If you're willing to take on some of the work yourself, you can save significant money on house staging costs.
How to stage a house without breaking the bank
First and foremost, talk to your Realtor about home staging ideas. They may be able to give you all the advice you need, without bringing in a separate home staging expert.
Before bringing a stick of furniture into the house, start by planning the property's finishes. If painting is part of your flip (which it almost always is), consult with your Realtor before choosing colors. Perhaps an accent wall is the perfect way to make a standout feature (such as a fireplace) "pop."
It should go without saying, clean the property until it sparkles. Clean up the grounds and exterior for strong curb appeal.
One of the first items that home stagers look at is the lighting. Is too dim? Too bright? Are there multiple light color temperatures in the same room? Are the color temperatures appropriate for the room? For example, warm color temperatures may be perfect for a cozy living room, while cooler lights may help bathrooms look cleaner and crisper.
How about the light fixtures? Are they dated? Ugly?
Improving a home's lighting is one of the simplest and cheapest home staging tips on a budget.
Another idea for staging a home for sale without adding furniture is to simply add a few homey touches. A vase with flowers on the kitchen counter, for example, can add warmth and character. New, tasteful towels – whether tea towels in the kitchen or hand towels in the bathroom – can add a welcoming feel if chosen and hung properly.
Other home staging tips
If you choose to furnish the property without the help of a professional stager, make sure each room has a unified color scheme. Pick a couple colors that complement each other, for example black and white, or blue and wood tones. Keep the visual themes simple.
When in doubt, ask your Realtor's opinion, and potentially bring in a friend with good taste.
Another way to save on home staging costs? Only furnish certain rooms. The living room is important, but most buyers don't need as much imagination to visualize a child's bedroom.
Photography matters too. Typically, your Realtor will photograph the property for the listing, but make sure the photos are stunning, professional, and magnetic. If you have any doubts about the photos your Realtor took, consider hiring a professional real estate photographer.
Staging flipped homes
Margins can be tight when you flip houses, especially for your first few deals. Staging your property could help expand those margins, but it can just as easily bite into them.
When you talk to your Realtor about whether to stage a property, be sure to ask not only about its impact on pricing, but also on speed of sale. In all likelihood, you're financing your flip through a bridge lender, such as Kiavi, which means the faster you can sell your flip, the lower your soft costs, and the more profit you'll see.
Even if you use nothing but your own cash to flip a property, you'll still have other soft costs, such as taxes and utilities.
Staging your flip may help you sell your property faster and for a higher price, but do your homework first. Talk to your Realtor about the varying degrees of staging you could implement, price them out, and always remember that staging is an investment, so the results are always measured as a return!