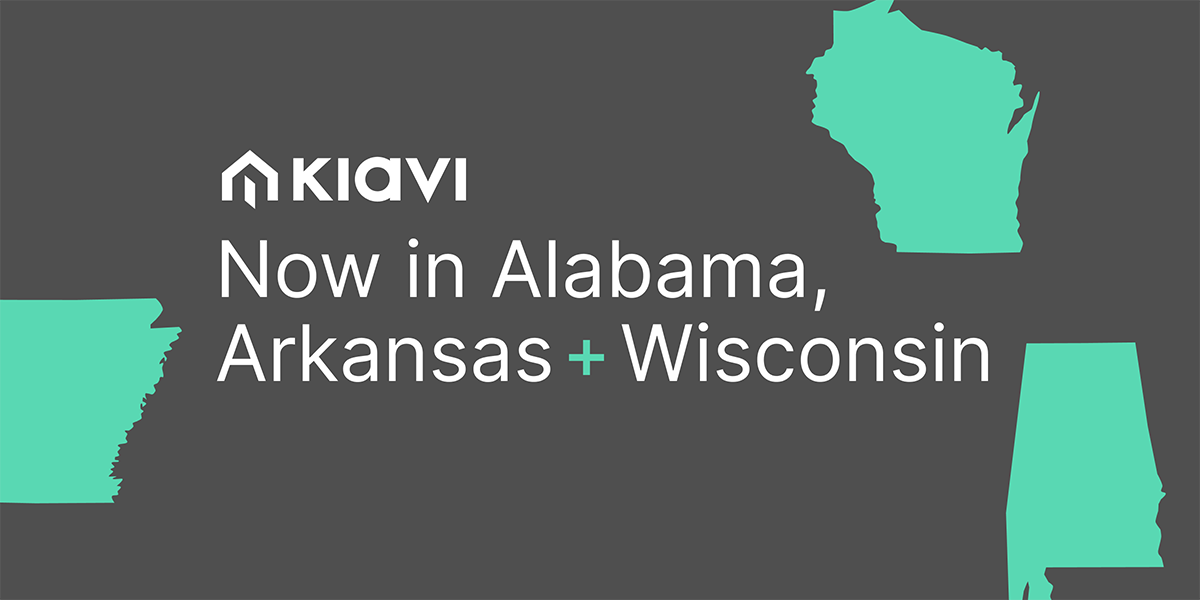 Investing in Alabama, Arkansas, and Wisconsin
As the real estate market shifts and changes, investors are forced to be more flexible and creative. With rising prices and saturated spaces, sometimes making the best possible decisions means breaking into new areas – and getting a leg up on the competition. To best support investors in need of more options and opportunities, Kiavi is excited to be moving into three new states: Alabama, Arkansas, and Wisconsin. This expansion closely follows our entry into Indiana and Kansas this year.
Alabama, Arkansas, and Wisconsin pose exciting avenues for investors ready for a new path forward. All three of these states are home to flourishing metro areas still relatively untouched by inflation and the presence of REIs. With lower-cost cities like Birmingham, Little Rock, Mobile, Milwaukee, and Madison poised to be hot spots for investors, Kiavi gives savvy investors a chance to take advantage of America's aging homes and capitalize on markets primed for growth and development.

Historically, Alabama hasn't been a priority focus for investors, but that's starting to change and many REIs are singing Sweet Home Alabama due to the market's relatively low prices and renovation costs paired with very strong demand. As other Southern cities, like Atlanta, see sky-high prices in a competitive market that makes investing a challenge, investors are starting to branch out into other, similar areas. Alabama isn't home to mega-cities like New York, Los Angeles, or Chicago, but it does boast numerous smaller cities and comfortable towns with plenty of untapped potential. Reasonable pricing and affordable renovation costs can help even new investors get started.

But just how affordable are home prices in Alabama? A lot lower than the national average, as it turns out. The median home value is just $172,932, and the median sales price of $208,2881– is far below the national median price of $428,700 as of early 2022.2 Homes stay on the market longer, too, at an average of 53 days. This is much longer than in hotter markets, where houses can sell in a week or less. Prices are still on the rise, up 47% since 2012, but not yet at the rate of similar states. Further, the business climate in Alabama was rated one of the best in the nation as companies hone in on this relatively cheap state to set up operations.3

Alabama is a prime place for those focused on buying and holding rental properties. According to Apartment List, the demand for single-family homes is on the rise, and state-wide rents have increased 12% in the last year, averaging just over $1,000.4
Top Alabama Cities
The state of Alabama is peppered with small, hospitable cities, including:
Birmingham: Nicknamed the Magic City and largest city in Alabama, Realtor.com put this burgeoning hotspot on its list of Top 25 Real Estate Markets for 2022, with annual growth of almost 14% year over year – it's also been voted one of the nation's most liveable cities and has seen annual home value increases of 23%.5 Further, nearly half the city's residents live in rental properties – meaning that the rent percentage is higher than the purchase percentage – which is quite a unique market phenomenon.
Mobile: For those interested in fix-and-flip, Mobile is full of opportunity – it's rated as the current sixth-best city nationwide.6 The market is growing fast – growth rates have reached nearly 20% yearly, with further increases on the horizon. However, the average home price is still around $180,000, which is dwarfed by national levels.7 And if the appeal of fixing and flipping wasn't already made clear, Mobile has another perk – the lowest kitchen renovation rates in the country.8
Huntsville: Huntsville is Alabama's third-largest city and known as "Rocket City" because of NASA's large presence there. It also has a robust military presence and is in close proximity to 12 colleges. This brings an educated homebuyer base to the area, which has resulted in higher home prices; the average is almost $100,000 higher than the other Alabama cities and average rental prices are over $1,000,9 making it an excellent area for rental investors. Huntsville is also it's the number 18 city for fix and flips in the nation.10

Arkansas is known as the Land of Opportunity, and for good reason! The nickname rings true for those in the REI space. Like Alabama, it's a fast-growing state with plenty of opportunity for renters and house flippers alike. As the second most affordable state in the nation, Arkansas has a lot of untapped potential. Average housing prices are just $153,900, so investors looking for a space with low prices poised to skyrocket can find plenty of potential in this state11.
Little Rock is the predominant metro area in Arkansas, and, as such, it has a lot to offer investors. Previously somewhat overlooked for its small-town nature, Little Rock has been on an upswing; it's currently rated as having the fourth-strongest economy in the U.S.12 It also has extremely low property taxes, making it quite unusual for a city of nearly 200,000 people. It's also considered an ideal place for a fix and flip – rated 22 in the country – with extremely low remodel costs.13

Little Rock also holds opportunities for those who favor holding rental property. Rent rates are up 11% versus last year, with 42% of the city's residents renting homes rather than buying them. This means rental properties are currently at a premium and will only get more valuable as housing prices rise.

Best of all, Little Rock residents love where they live. Several years ago, Kiplinger was called one of ten great places to live and one of Gallup's happiest cities in America.14 This may not sound important, but it is; residents who enjoy the place they call home are less likely to move, resulting in a stable or growing population. Even as housing prices rise, locals with pride in their city stay put.

Wisconsin has long been ignored by REIs in favor of more populous U.S. states, like Illinois and Michigan, but the tide is starting to turn. The Badger State is brewing up the perfect environment for opportunistic investors, boasting low housing prices, aging inventory, and lower renovation costs - a gold mine for those eager for new areas in which to expand. Housing prices aren't near the national average, but they are on the rise; from 2020 to 2021, prices rose 34%, going up from just $126,500 to $170,000.15 For investors who want to fix and flip, buying now could mean substantial profit margins in the coming months.
Top Wisconsin Cities
Wisconsin is home to several key cities investors can appreciate. The two most notable? Milwaukee and Madison.
Milwaukee: The largest city in Wisconsin, Milwaukee is home to 600,000 people – a large metro by midwest standards. Despite that, it's still a vibrant market for investors that has yet to be oversaturated. In particular, it's an excellent place for SFRs, where waiting lists are the norm. This is likely because most people rent; in Milwaukee, 56% of occupied homes in the city are rentals.16 The current rental market In Milwaukee is unlike anything in recent history and is likely to get even more competitive. Milwaukee also ranks in the top ten cities nationwide for repurposing old buildings, such as former factories and warehouses into rental units.17 This is a great sign for those interested in flipping properties.
Madison: Home to one of the country's most prominent universities, housing is always in high demand in Madison. It's also home to a large percentage of foreclosures – a boon for those who want to fix up properties for high profits.18 Around 400 homes are currently foreclosed in the area as of June 2022, and while that number is down around 30% from the previous year, there are still many bargains to be had.
Working with Kiavi
When you're ready to move your real estate investments forward, Kiavi will be by your side every step of the way. Despite macroeconomic uncertainty, Kiavi continues to grow and expand in new markets like this. In fact, we just announced that we've funded more than $10B in loans, unlocked $4+ billion of value for real estate investors to help them scale their business, and completed over 46,000 projects. With the addition of Alabama, Arkansas, and Wisconsin, we now operate in 32 states and Washington, DC.
Houses in the U.S. are old and getting older; in Wisconsin alone, the average home age is 47. This means there's a solid need to not only expand housing availability but to renovate and modernize the homes we have available. That's where real estate investors come in. Contact us today to learn more about how Kiavi can help you create an impact and unlock the full potential of your real estate investments.
Sources:
1 "Alabama." FortuneBuilders. Accessed June 15, 2022. https://www.fortunebuilders.com/alabama-real-estate-market/.
2 Median home price by state 2022. Accessed June 15, 2022. https://worldpopulationreview.com/state-rankings/median-home-price-by-state.
3 Bizjournals.com. Accessed June 15, 2022. https://www.bizjournals.com/birmingham/news/2019/07/29/alabama-business-climate-ranked-among-best-in.html.
4 Team, Apartment List Research. "Apartment List National Rent Report." Apartment List - More than 5 Million Apartments for Rent. Apartment List, May 31, 2022. https://www.apartmentlist.com/research/national-rent-data.
5 Hale, Danielle. "Top Housing Markets for 2022 - Realtor.com Research." Realtor.com Economic Research, December 10, 2021. https://www.realtor.com/research/top-housing-markets-2022/.
6, 8, 10, 13 McCann, Adam. "Best Places to Flip Houses." WalletHub, July 27, 2021. https://wallethub.com/edu/best-cities-to-flip-houses/23158.
7 Zillow, Inc. "Mobile Al Home Prices & Home Values." Zillow. Accessed June 15, 2022. https://www.zillow.com/mobile-al/home-values/.
9, 12 Clever Real Estate. "Top 5 Best Real Estate Investment Markets in Alabama." Clever Real Estate. Clever Real Estate, June 9, 2022. https://listwithclever.com/real-estate-blog/top-5-best-real-estate-investment-markets-in-alabama/.
>11 "Arkansas Home Values: Search Homes.com." Homes.com. Accessed June 15, 2022. https://www.homes.com/arkansas/what-is-my-home-worth/.
14 "Little Rock Named One of the Happiest Cities in America: City of Little Rock." Little Rock Named One of the Happiest Cities in America | City of Little Rock. Accessed June 15, 2022. https://www.littlerock.gov/news/little-rock-named-one-of-the-happiest-cities-in-america/.
15 "In Hot Housing Market, Real Estate Transfer Revenues near All-Time High." Wisconsin Policy Forum. Accessed June 15, 2022. https://wispolicyforum.org/research/in-hot-housing-market-real-estate-transfer-revenues-near-all-time-high/#:~:text=The%20median%20value%20of%20single,%25%20and%207%25%2C%20respectively.
16 Rohde, Jeff. "The Milwaukee Real Estate Market: Stats & Trends for 2022." Learn Real Estate Investing. Roofstock Realty, Inc. [CA License #01995170], April 12, 2022. https://learn.roofstock.com/blog/milwaukee-real-estate-market#:~:text=Key%20Market%20Stats%3A,-Median%20rent%20in&text=33%25%20of%20the%20rental%20units,units%20in%20the%20metropolitan%20area.
17 "Recent Study Shows Milwaukee Apartment Conversions at an All-Time High," WisBusiness.com, November 30, 2020, https://www.wisbusiness.com/2020/milwaukee-apartment-conversions-an-all-time-high-according-to-a-recent-study/.
18 LLC, RealtyTrac. "Foreclosure Listings, Foreclosed Homes for Sale." RealtyTrac. Accessed June 15, 2022. http://www.realtytrac.com/statsandtrends/wi/dane-county/madison.