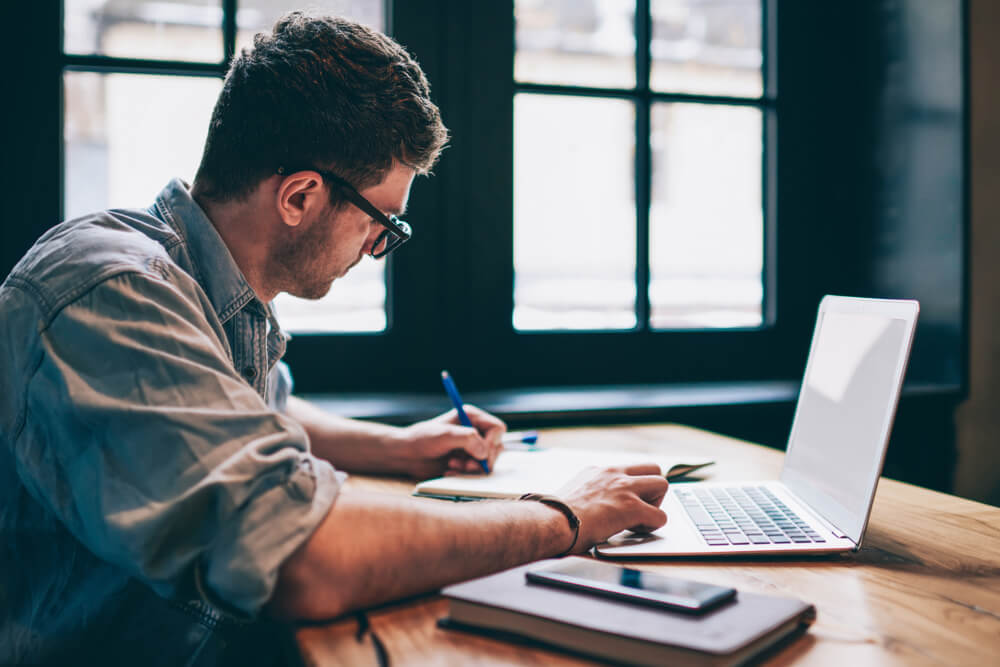 How to Write a Business Plan as a Landlord
Note: originally posted on LendingHome.com and LendingHome is now Kiavi.

About the author: James Mwaura is a technology writer specializing in fintech, software, and B2B SaaS. He spent five years in the residential mortgage space and is the author of Kiavi's "Flipping Houses 101".

Buying investment properties and renting them out to tenants is a great way to diversify your real estate portfolio and earn passive income. If you are thinking about becoming a landlord, it's important to write a rental property business plan so you can make your investment thoughtfully and deliberately. Your business plan will also be a key asset in securing financing, should you need a loan to purchase the property you plan on renting out. This piece will walk you through:
What a rental property business plan is
Why you should develop one
What to consider before developing one, and
How to write a rental property business plan
Let's begin!
What is a rental property business plan?
Most simply, a rental property business plan is a document that describes 1) you and your rental business, 2) what your intentions and goals are with a property, and 3) how you plan to execute on these goals.
In a previous post, we discussed how and why you should create a house flipping business plan if you plan on fixing and flipping an investment property. A rental property business plan serves the same purpose, but expands to include the logistics of finding tenants, deciding rent price, managing the property, servicing your tenants, securing additional financing should you need it, and a few other things.
Why should you develop a rental business plan?
A rental property business plan's main purpose is to give you and your business partners an opportunity to clearly elucidate your investment goals and exactly what you plan on doing with your property. Your business plan allows you to state your objectives and guiding principles, serving as the "north star" around which you plan and scale your operations. In that sense, your business plan is, first and foremost, for you. Think of it as your business' mini-constitution.
Owning, renting, and maintaining a property is hard work. You'll have a lot of quiet days, but you'll also have a lot of busy or tumultuous ones. (Imagine your tenant calls at 5 a.m. with "There's raw sewage in my bathtub!") There will be setbacks and frustrations, and unforeseen circumstances lurking around the corner. Your business plan will help guide your decision-making throughout this journey so you can react not by gut, but rather by the clear investment principles and business objectives you determined at the outset.
Oftentimes, you and your business partners will be the only ones to read your plan. Again, it is mainly for you. But in the event that you need to bring in other parties, your plan will be able to clearly introduce your team and its experience, as well as the vision, goals, financials, and logistics of your investment.
If you need financing to either purchase the property, or refinance an existing loan with a longer-term rental loan (like those provided by Kiavi), your business plan will serve as the document that will state your case for potential lenders. The same goes for if you want to expand your team—new employees will be able to understand exactly what you stand for and are trying to do, and how they fit into that picture.
What to consider before writing your rental property business plan
Ok, so you've decided to prepare this document before moving forward with your investment. Let's discuss what you should consider before you start writing.
Vision
On the highest level, what is your vision for success, both personally and as a business? Do you need additional income to help pay for your kids' college tuitions? Do you wish to use passive income as a means of early retirement? What type of a relationship do you wish to establish with your tenants? Where do you see the business in 5 years? Having clear answers to these questions will help you make sure you are always steering the boat in the right direction and have a lot to do with your values, both an investor and as a person.
You should not only have answers to these important questions, but you should write them down. On a basic level, this exercise allows you and your business partners to think about why you are in this to begin with. You'd be surprised by how many real estate investors don't have a clear thesis of why they are investing and what they aim to achieve. Don't be like them!
Furthermore, writing down your business' vision ensures that the noise of day-to-day operations and hiccups along the way doesn't cause you to lose what you set out to do in the first place. Imagine the economy experiences a downturn and multiple tenants cannot pay their rent and move out. If your vision was to pay for college, you may want to cut your losses and exit. But if your vision was to create a long-lasting rental presence in your community, you would seek other options.
Guiding principles and core values
Having established the broader vision for your investment, you should take time and consider what are the guiding principles and core values around which you will make decisions and run your business. Are you committed to exemplary customer service? If your tenant calls you at 5 in the morning to tell you their bathtub is flooded with poop, are you going there yourself to check it out? Or are you more committed to expanding your business, which would make house visits not the best use of your time?
Your guiding principles and core values will determine not only how you make decisions in your business, but will shape the legacy that your business will leave for your tenants and communities.
Objectives
Drilling down further, it's time to consider what your specific objectives are for your rental business. These should be measurable and very clear. Here are some examples:
Own 4 properties by the end of the year
Earn $5k in rental revenue per month
Earn $150k in rental profit by the end of year 5
Hire a team of 4 business partners and open an office in Nashville, TN
Find 15 tenants by the end of next year
You may only have one key objective or multiple, but each objective should have strategies and tactics to help achieve it. With that said:
Strategies and tactics
Let's take the relatively straightforward objective:
Own four properties by the end of the year
Easier said than done, right? Your strategy will be the rough game plan you use to achieve this goal. Here are some examples of strategies you may employ:
Study Tennessee housing markets to find undervalued neighborhoods
Use hard money lending groups and meetups to secure cheap financing
Specialize in and become a master of a specific housing type (single family homes, duplexes, apartments, townhouses, etc.)
Each strategy can then be drilled down into specific tactics. Here's what that looks like:
Study Tennessee housing markets to find undervalued neighborhoods
Use hard money lending groups and meetups to secure affordable and scalable financing

Join online hard money communities and see which lenders are offering low rates, good terms, etc
Go to real estate conferences and network with lenders, wholesalers, etc.

Specialize in and become a master of a specific housing type

Focus on 3br/2b single-family homes between 1500-2500 sq feet
Daily and hourly activities
If you work alone, it may be important to consider exactly when in the day and for how much time you plan on dedicating to your business. Many real estate investors have spouses, children, or another job they are also balancing, so finding rhythm and routine is critical to success.
Are you a wife or husband and have kids in school? Maybe you can plan on your "work time" being an hour before the kids wake up, then the time they are in school, then a bit more time after they're in bed. If you have another job, you may only have nights and weekends to work. It's important to plan this out in advance so you can set expectations for yourself and everyone you're in contact with, in terms of communication, timelines, output, etc.
How to write a rental property business plan
Now that you've taken time to think about exactly why and how you're going to structure your business and execute your investment, it's time to write it!
A rental property business plan should have the following components:
Executive summary
Company description
Business model
Market analysis
Marketing and operations
Financial plan
Let's go through each of them separately.
Executive summary
The first page of your rental property business plan is the executive summary. This is a brief summary of all the elements of your plan; it introduces you, your team, and relevant experience, describes your business' financial situation, describes the property you will be renting out and the market it is in, outlines your strategy as it pertains to filling the property and maintaining it, and discusses the need for financing, should that be necessary. If there are any other elements to your investment (i.e. the property needs to be renovated first), include it here.
Basically, your executive summary is the Cliff Notes version of the full business plan. Someone should be able to understand the full scope of the project just by reading this section. When writing your executive summary, assume it is the only part of your plan that someone reads. Aim for a half-page to full-page in length.
Company description
In this section you will more thoroughly introduce yourself, your business partners, and the structure of your company.
You should include the full names of everyone on your direct team, their roles, their experience in real estate, and any other relevant information about them that pertains to the project. Mention any relevant licenses such as MLS or contracting as well. If you like, you can give the background of how you and your business partners met, and how you came to start your real estate business.
Next, describe the legal structure of your company (is it an LLC, corporation, joint venture, etc.), as well as an overview of your company's financials, such as how much cash you have on hand.
Business model
In this section, you should describe qualitatively how your company plans to make money with this investment. Given that you will be renting the property out, rental income will be the primary source of revenue. Other sources of income may include:
Fees (application fees, late fees, bounced check fees, lease termination fees, etc.)
Deposits
Cleaning charges
Service charges (plumber, electrician, etc.)
Your financials and market analysis will be discussed much more in-depth in later sections, but you can provide a brief overview of why your business will be profitable. For example, if monthly rent prices for similar properties are around $1,200 and your mortgage payment will be $800, the investment will most likely be worthwhile. Make that case in this section.
Market analysis
This section will take the most work, though you should have already done most of it. In your market analysis, you describe the state of the surrounding housing market, your competitive landscape, and data for similar homes in the area to yours which support your estimates for home value, rent price, how long it will take to find tenants, etc.
Start with a summary of the local housing market, and include any statistics which you find relevant to your deal. Mention whether the market is growing or shrinking and by how much, what type of housing is available (houses, apartments, etc.), population, demographics, which local business and corporations are the major employers and/or attractions in the area, unemployment rates, distance to other metropolitan areas, vacancy rates, delinquency rates, foreclosure rates, crime statistics, and anything else you researched which would be of material impact to your property. You don't need to include all of these statistics, but the more thorough your knowledge is of the housing market in your community, the better informed your decision-making will be.
Trends are very important here, as neighborhoods can change very quickly. For example, if the crime rate is still above average, but has been dropping substantially for the past five years, this is a sign that the neighborhood is improving and that rent prices are likely to rise. The same applies to demographic information, income, rates of homeownership, etc. Give context with the statistics mentioned above. A statistic without context isn't worth a whole lot.
Next, dive into the competitive landscape you'll be entering. You should discuss data such as:
How many other homes are on the market for rent
Avg. monthly rent being charged for the homes on the market
Avg. monthly rent being charged for homes on the market similar to yours
Which rental companies operate these properties and their market share (whether exact or approximate)
Beyond putting this information into your business plan, you should have a very firm grasp of the market you are entering and where you fit into it.
Finally, identify a handful of comparables, or "comps". These should be houses in the neighborhood similar to yours in terms of price, bed/bath, square footage, neighborhood quality, location, and, to an extent, design. If your property is a 4 bed, 2 bath house with a 2 car garage, find a handful of houses similar to it that are also for rent and analyze their home value, rent price, transaction history, etc. Data from comps will be the most useful in proving the financial potential of your property. For example, if similar homes to yours in the same neighborhood are all earning between $1,200 and $1,600 a month, it's quite likely that you won't have trouble filling the property by asking for a similar number.
Marketing strategy
In this section, you will describe several important aspects of your business: your company's brand, how your business will be positioned against competitors, competitive advantages, communication strategies, which marketing tools you will use, and any other strategic decisions or frameworks you plan to employ in order to find the right tenants
Let's start with branding. Beyond your logo and name, you should have a clear vision for what your brand identity will be as a landlord. Will you personally meet with each applicant? Are you committed to completing repairs within 48 hours? Every interaction your tenants have with you and your business is part of your overall brand, and you should take time to decide on what that brand should be.
Next, how does your brand position you against your competitors? Describe how you are different (or maybe not different) from the other landlords in your market. Maybe other companies operate large numbers of units and cannot build relationships with tenants, whereas you will operate fewer and have a more personal connection.
Your brand and positioning together will translate (hopefully) into your competitive advantages in your market. Are you going to win on service, on price, on home quality, on margin, or some other way? You should reasonably believe that your business has inherent or economic advantages to your competitors, and you should be able to clearly state them here.
The rest of your marketing strategy will focus on the promotion and communication strategy of the specific property in question. Start with a compelling rental listing title. A typical format is:
$$$$ – ## Bed / ## Bath apartment/house/condo plus a quick snappy snippet highlighting the property's features.
Here's an example:
$2,700 – 2 Bed / 2 Bath apartment near Downtown Austin on the top floor with city views, roof access, shared pool, and gym in building
You'll be cross-posting this over the various rental websites such as Zillow, Apartmentfinder, Craigslist, etc.
Typically, online advertising on these sites will be enough to find a tenant, but you may also want to use other methods. There are still traditional classifieds in the newspaper, flyers, radio ads, and even paid online ads. If you plan on utilizing any of these, mention that strategy here (and any associated marketing spend). You should also mention if you will be featuring the property on your company's website if you have one.
Financial plan
Lastly, it's time to get to the nitty-gritty of your investment: the financials. In this section, you will give a detailed description of your financial plan with the rental property, and you should cover:
Current financials and initial costs
Pro forma financials

Pro forma balance sheet
Pro forma cash flow

Exit strategy
Let's take these one at a time.
Current financials and initial costs
This section should cover the current financial standing of the property, as well as any costs which must be incurred before the property can be rented out. If your property is already paid in full, then, current financials are pretty simple and would probably just include the value of the home and fixed costs such as insurance, HOA, etc. And if you have rented the property out before, you should include occupancy and vacancy rates and current gross rental income.
Initial costs are any costs that will be incurred before you can fill the property with tenants. This would often include renovations, as well as any permits or licenses you need to acquire.
Pro forma financials
In this section, you'll thoroughly detail your property's projected income and expenses once it is filled with tenants This includes gross rental income, net operating income, and debt coverage service (if you take this route), all of which should be included in your pro forma balance sheet and cash flow analysis. You should be able to explain your plan to reach these projections, including plans to increase rents, decrease vacancy, and improve marketing or management.
Balance sheet
A corporate balance sheet is the sum of all the company's assets, minus the sum of all the company's liabilities. Your rental property balance sheet will work the same way. Balance sheets are typically over the timeframe a calendar year.
Assets: The two main assets of your property are the land that your property is on, and the building itself. You may not be able to separate the value of the land and building if you bought them together, in which case just use the value of the property.
Non-property assets would include any other improvements or upgrades you made to the building, such as a new roof, square footage addition, HVAC, landscaping, etc. Non-property assets also include physical assets inside or outside of the house that were not there originally which you plan on giving tenants access to. Furniture, drapes, decks, storage sheds, etc. would all be included in this.
Liabilities: Anything you owe against the value of your assets are liabilities. This would include any outstanding mortgage balances, lines of credit, or other debts associated with the property.
A bit of a tricky one is short-term liabilities, namely any payments that are due each year associated with your property. This includes real estate taxes, insurance, HOA, and licensing fees. Even if you haven't gotten the bill, you still owe them, so they are considered liabilities and should be included in your balance sheet.
Itemize all of your assets and your liabilities, and you've got your balance sheet. Subtracting your assets from your liabilities gives you the equity you have in the property.
Assets – Liabilities = Equity
Cash flow analysis
Balance sheets reflect the financial standing of your property in terms of value and equity, while cash flow reflects its financial standing in terms of liquidity. In other words, cash flow is the difference between your rental revenues minus your expenses, over a certain period of time (in this case, per month).
For your cash flow analysis, itemize all of your sources of income (usually your tenants' rent payments) and deduct all of your expenses. Expenses include mortgage payments, management costs, taxes, insurance, permits, and any other payments you have to make to maintain the property. Subtracting your expenses from your income gives you Net Income.
Gross Rental Income – Expenses = Net Income
Exit strategy
You most likely plan on renting out your property for a long or indefinite amount of time. If you have a shorter or more definite timeline for some reason, such as renting it out for 10 years and then selling it, mention it here.
Otherwise, your exit strategy should be your backup plan if things don't go as planned. Should your property go vacant for a long time, or economic circumstances cause rent prices to fall dramatically, maintaining your property may no longer be sustainable. You should have a plan, or at least a framework, to decide what to do if this happens. Most likely, you will simply sell the property and recoup your losses as best you can. Other options include moving into the property yourself, or something even more creative.
After your exit strategy, your business plan is finished! We hope this post was helpful to your rental business. Below are some more resources you can use when writing your plan.