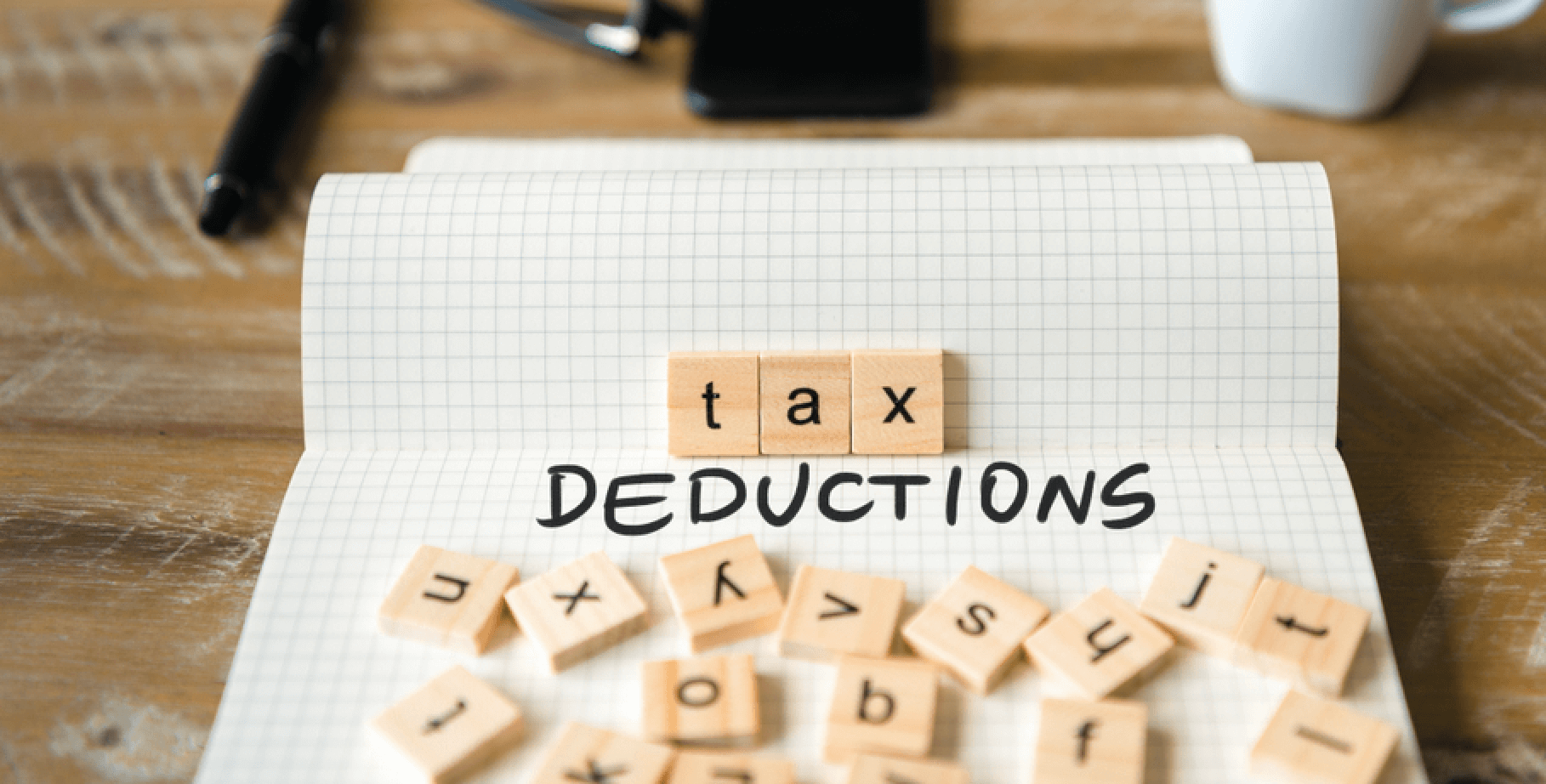 Rental Tax Deductions: Real Estate Investing
Note: originally posted on LendingHome.com and LendingHome is now Kiavi.

Adam Luehrs is a writer during the day and a voracious reader at night. He focuses mostly on finance writing and has a passion for real estate, credit card deals, and investing.
Some of the top rental property deductions
Becoming a landlord often means becoming a deductions master when tax time rolls around each year. It turns out that many of the day-to-day things landlords do to maintain their rental properties actually qualify for tax deductions. That means that you can be very active about tax benefits while earning passive income through a rental property.
As a landlord, be sure to always look for opportunities for tax deductions that reduce your tax liability. Let's break down all there is to know about rental property tax deductions for current and future landlords.
The options are actually pretty robust for what you can deduct for taxes on your rental property. Let's focus on the 10 best landlord tax deductions to know about before the next tax season rolls around.
Maintenance and repairs
Paying for repairs and replacements at a rental property is often looked at as being one of the downsides to being a property investor. However, Uncle Sam does generally take good care of you at tax time if you've put money into your property throughout the year. Any rental property expense that goes toward repair and maintenance needs could be eligible for deductions.
The important thing to remember about determining which expenses are deductible is that you're only focusing on efforts that keep your property in livable and rentable condition. Upgrades that add significant value to your rental may not actually qualify. Some common allowable tax deductions for rental property include painting, plumbing, HVAC maintenance, plaster jobs, window replacements, landscaping, and pest spraying. You can also deduct for labor and equipment costs.
Homeowner association and condo fees
This next option for maximizing tax benefits of rental property piggybacks a bit on the first. The money you pay a homeowner's or condo association can be deductible because fees are technically applied toward maintenance and repairs. Many landlords don't even know this is an option due to the fact that the same fees are not deductible if a home is your primary residence.
Depreciation for rental property
One of the most beneficial allowable tax deductions for rental property is the depreciation deduction. You may have learned that the full purchase price of a property is not deductible in the first year. However, landlords are permitted to deduct a portion of the cost of a rental property over the course of several years.
Utilities
Do you plan to include utilities in the full monthly rental cost for your tenant? Any rental property expense applied toward utilities could qualify for a deduction. This can include things like heating, electricity, water, air conditioning, Internet, cable, and satellite. Some landlords will actually have their tenants agree to reimburse them for utility costs. This arrangement allows you to continue to file the utility deduction. However, you will need to claim the reimbursement as part of your income.
Your office space
Owning a rental property requires a certain amount of work per week. This is why landlords can actually deduct costs associated with keeping some sort of office space. This deduction applies whether you rent out a commercial property for an office or do paperwork in an extra bedroom inside your home. Business expenses related to a computer, phone line, accounting software, printers, ink, and more can all qualify. In addition, the actual square footage or lease cost involved can be deducted.
Interest
We're now getting to what may actually be your largest deductible expense as a landlord. One of the tax advantages of rental property is that you are allowed to make a rental property mortgage interest tax deduction. You may assume that an interest deduction only applies to interest on loan costs used to purchase or fix a rental property. However, interest on credit cards that are used for purchasing goods or services used for rental-related activity also qualifies.
The IRS did make some changes in 2018 that make it a little trickier to get this deduction to work in your favor. You should consider sitting down with a tax professional to see if this deduction is on the table for your situation.
Legal and professional fees
Have you had a CPA look over your numbers this year? Did you hire a lawyer to answer some questions you had regarding a tenant issue? All of the money you put into those services can be deducted at tax time. You can even deduct any expenses that have been put toward filing court paperwork in regards to your property. The IRS labels these types of costs as operating expenses.
Advertising
You may have paid for ad space to seek out tenants this year. The good news is that any ad that you paid for can qualify as a deductible expense. This includes radio ads, newspaper ads, and digital ads. You can also deduct any fees you've paid to a real estate agent to help you locate qualified tenants.
Travel costs
Not everyone lives right next door to the property they're renting out to tenants. You've probably had to drive out to your property quite a few times throughout the past year. The miles can add up even faster if you have several properties in your rental portfolio.
Most transportation expenses related to being a landlord are tax deductible. This can include making the trip to show the property, collect rent, or perform maintenance. Landlords have the option to deduct either the standard mileage rate or actual expenses.
Insurance premiums
Another example of a rental property tax deduction that many landlords are unaware of is the deduction for insurance premiums. You can deduct the premium costs for nearly any form of insurance in place for your rental property. This includes things like theft insurance, fire insurance, flood insurance, and liability insurance.
These expenses can represent significant dollar amounts when you put it all together. The fact that you stand to reduce your tax liability every time you invest money into your business is a piece of very encouraging news for landlords. You should be keeping these deductions in mind as you maintain and market your rental property throughout the year.
Common questions about rental property tax deductions
There may be additional opportunities related to things like income from rental properties or refinancing fees. Let's take a look at some of the common questions you should consider long before tax time rolls around.
How and when to claim rental property tax deductions
You'll need to claim deductions for the previous year using the rental property tax deductions worksheet when you file your tax return by April of the next year. Additionally, you may need to make sure you have Form 4562 ready to go if you plan to deduct for depreciation.
Working with a tax professional for landlords is highly recommended if you want to maximize your tax benefits. Additionally, it's important to keep good records throughout the year to ensure that deductible expenses don't get overlooked. The good news is that any accounting or management software you purchase to keep track of landlord expenses will be a tax-deductible purchase!
What Is considered rental income?
The IRS considers rental income as any payment you receive from someone for the usage or occupation of your property. The basic answer is that your rental income is the amount your tenant pays you each month. However, it also extends to cover advanced payments, any portion of a security deposit that you retain, any expense that your tenant pays that goes above obligation and any services provided by a tenant in place of monetary payment.
The expenses that you are able to deduct as a landlord will ensure that you don't have to pay taxes on the full rental income you collect in a year. Therefore, your taxable rental income will likely be lower than your actual rental income.
What forms do I have to use when filing a tax return for rental property?
You will need to use Schedule E ( Form 1040) to list your property's revenue, expense, and depreciation totals. Keep in mind that you'll need to use more than one copy of Schedule E if you own more than three rental properties. You'll also need to attach things like copies of checks, copies of receipts, and other documentation that backs up what you're claiming in your tax form.
Are rental property refinance fees tax deductible?
Owners of rental properties actually have one big advantage over regular property owners. You may already know that you can only deduct interest and qualified points associated with your mortgage on your taxes when it comes to your primary residence.
You actually are eligible to deduct all costs associated with refinancing your mortgage on a rental property. This extends to things like application fees, credit reports, origination fees, appraisal fees and points.
What should I know about capital gain and my rental property?
You will be required to pay tax on any profit you make if you decide to sell your rental property. However, you may be able to defer your capital gain taxes via the 1031 tax exchange rule if your property meets the IRS's criteria. On the other hand, if you technically lose money when you sell your property, you will actually be able to deduct the loss from your taxes. Another thing to keep in mind about capital gain is that it might not apply if you only keep your property for a short time. You typically don't have to claim capital gain if you sell within two years of purchasing your property.
How much can a landlord deduct in losses?
Something called the rental real estate loss allowance gives rental owners the ability to deduct up to $25,000 of real estate loss per year if their adjusted gross income stays under $100,000.
Are real estate taxes deductible for rental properties?
Yes, you can deduct state and local real estate taxes for a rental property. Changes in tax code actually changed the way this works for personal residences. However, the law remains unchanged when it comes to rental properties. Just keep in mind that your ability to deduct property taxes could be negated if you use your investment property for personal purposes.
Final thoughts on how to report rental income and rental expenses as a landlord
Taking advantage of tax deductions for investment rental properties is a really important piece of an overall plan for making your real estate investment profitable. The fact that there are so many allowable tax deductions for rental property really takes some of the stress out of the fact that you'll need to put money into maintaining a property.
In fact, knowing exactly what is deductible from the start can help you to choose wisely when it comes to the decisions you make when putting money into your rental home and business.
The importance of keeping good records cannot be understated. You can't know what you're entitled to if you can't provide proof of expenses from throughout the year. It's very smart to get in the habit of scanning every receipt and document associated with your rental property as you go. Don't forget that you'll need to keep track of both incoming revenue and outgoing expenses to create a full picture for your Schedule E (Form 1040).
When you're ready to start making passive income by becoming a landlord, Kiavi will be here to make sure you can get your dream financed. Obtaining the financing that puts you in the position to make an offer on a property is your first step to becoming tax savvy.
The bottom line is that tax time can be a time that's spilling over in tax benefits once you know the ins and outs of tax deductions for investment rental property.