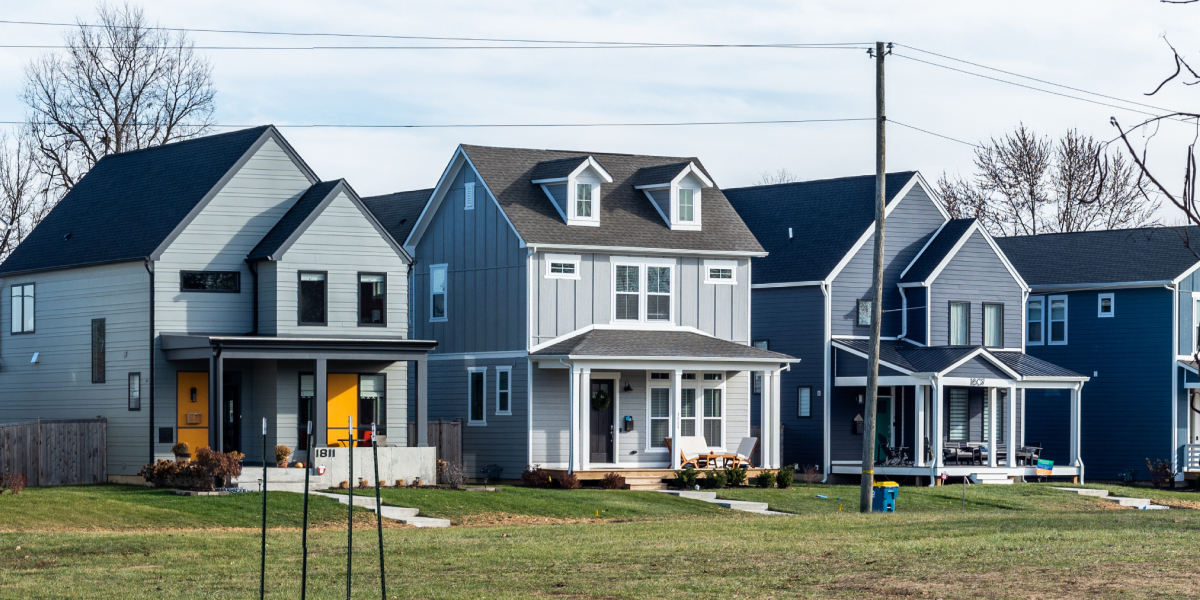 Investing in the Indiana Rental Market
A vibrant midwestern state with a low cost of living and numerous cities positioned for growth, Indiana is an up-and-coming area for real estate investors. As transplants from overpriced metro areas seek a more affordable place to call home, the Hoosier state has attracted attention. In fact, more people are now moving to Indiana than are moving away1 – a relatively new trend and one indicative of big changes.

As a state that has been largely overlooked when compared to other growth areas, Indiana's a prime opportunity for investors seeking new ground in the single-family residential property space. The Indiana market carries many of the benefits seasoned investors seek, including: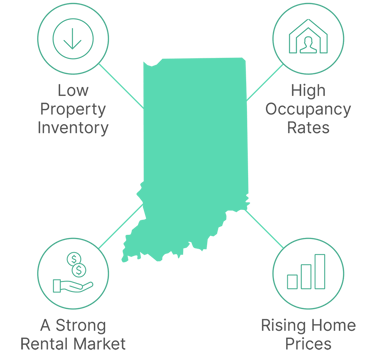 Low property inventory: In major metro areas within Indiana, residents are starting to outnumber homes. Within the 16-county area making up greater Indianapolis, inventory was down 19% in Fall and Winter 2021 versus 20202. Traditionally, in the winter months, home sales slow, but that doesn't appear to be the case in the current season.

High occupancy rates: Due to the shrinking inventory, houses don't stay on the market long. In 2021, competitive properties in the Indianapolis area sold within 8 days in 2021 versus 13 in 20203.
A strong rental market: As of 2019, between 25% and 59% of homes in the counties4 making up the greater Indianapolis market were renter-occupied, with key Marion County at 44%.

Rising home prices: Home prices are on the way up in Indiana. Prices in Indianapolis alone are up 5.5% year over year, with a sales change of 14.8%5. And, with this market just on the cusp of a boom, this trend is expected to accelerate.
While Indiana may not be the right choice for all real estate investors, it poses a compelling opportunity for those who want to escalate participation in the buy-and-hold game.

Here's what you need to know about the rental market in Indiana, including geographic areas to target, resources to leverage, strategies to employ, and financing sources to consider.
Investing in Rentals in the Indiana Area
Knowing where to begin for REIs who are new to investing in Indiana may seem like the first substantial roadblock. However, there are a number of developing areas within the state that provide compelling opportunities regardless of regional preferences. With reduced competition from other investors versus more saturated regions of surrounding states, getting started now, regardless of your preferred focus, is the best way to get ahead in the long run. When planning a strategy, it's essential to know the state of the market, wherein the state offers the best potential, and what kind of future possibilities lie ahead.
Strong Single-Family Rentals Market
Above all else, Indiana boasts a strong market for investors. While opportunities exist across the state, the most compelling option for those looking to jump in with both feet is Indianapolis, the state capital.

Until recently, the fifteenth-largest city in the U.S. has been largely ignored from an investment perspective, making it a prime destination for those looking for developing areas. The job market is stable, and home prices are still highly affordable versus tapped markets. Cost of living, on the whole, is far lower than other urban areas; COL in Indy is 21% lower than Dallas, TX and 13% lower than hot-spot Atlanta, and 2% lower than the national average. These elements make Indianapolis a strong draw for homeowners priced out of similar cities, and thus investors can look toward capitalizing on a burgeoning market.

John Burns considers Indianapolis a top 20 rental yield market in the U.S.6, with the potential for a 9% year-over-year increase in single-family rent index and a home value index of 21%. This is very telling, as it indicates there's potential for growth on multiple levels. And this speaks to single-family rental prices in particular – a key focus for many investors. Unlike areas dominated by brand new apartment complexes, the Indiana markets still value homes for rent.

Due to the relatively new presence of Indiana as a key state for investment, the competition is still comparatively low. In addition, due to a relatively high presence of institutional investors, 82% of SFRs are held by smaller "mom and pop" investors7, or those with fewer than 10 units in a local portfolio. This is lower than the national average of 92%, indicating a lack of competition for new real estate investors looking to stake a claim. While Indianapolis is the key area investors are currently targeting, it's not the only location in the state that holds potential. Fort Wayne, South Bend, and Gary-Hammond are also low-cost areas with stable job markets and a family-friendly focus. For those who want footing outside of Indianapolis, whether to get in early or to hone in on even lower-priced areas, these areas should also be considered.

As with any real estate investment avenue, it's important to prioritize due diligence, create a strategy in advance, and have key goals and objectives outlined. Going in blind is never a good idea, even when a market is just beginning its upward trajectory.
Investment Resources
The right resources for REIs can be quite an investing advantage. Mastermind groups are valuable for investors at every stage of the process by offering a way to do research, leverage local opportunities, make educated decisions, and connect with other investors. Worried Indiana isn't quite there yet? Don't be.

Many key mastermind groups have a presence in Indiana, including HomeVestors, 7 Figure Flippers, Collective Genius, and Investor Fuel. If you're new to working with this kind of collective, it can be a good way to connect with other real estate investors, who want to share learnings, act as resources and make connections. Participation in these groups can help you stay up-to-date on the latest strategies, get answers to your real estate investing questions, and achieve growth through networking with others in the industry.
The Importance of a Strong Financing Partner
While some REIs may have pockets deep enough to make significant purchases in cash from the start, this isn't the case for many – and that's okay. A financing partner can be a true asset throughout the investment process, providing the capital needed to move forward with a purchase.

However, not all lenders are made equal. Some have more reach, practice, and range of offerings than others. When evaluating lenders, keep these points in mind:
Experience: An experienced lender understands the market, including how to break into new areas and which lending products are best under specific circumstances. Without experience, it's easy for a lender to promote the wrong products or lead borrowers astray.

Timeliness: To make the most of a real estate opportunity, financing needs to happen quickly and without significant hurdles. Strong financing partners are able to deliver what's necessary for a timeframe that facilitates prompt purchases, making it possible for investors to get ahead.

Flexibility: Flexibility is a benefit in a real estate financing partner, particularly when expanding into new spaces. Flexible lenders can provide a variety of loans, like short-term and long-term products, for every strategy, including customized options when necessary.

Reliability: A good lender is one that can be trusted. Reliable lenders can be counted on to deliver on agreements, provide streamlined processes, and guarantee access to professionals who know their business inside and out. Good lenders should be able to provide information clearly and transparently under all circumstances.
When you're looking for the right partner to get started with real estate investment projects in Indiana, Kiavi's offerings provide a strong financing opportunity. We're prepared to be your partner in helping you scale and grow your businesses. Our industry-leading technology platform puts lending in your hands, taking the burden out of borrowing and making financing fast and simple.

In addition to modern-day lending solutions, we're all about competitive rates, too. Our robust capital and extensive loan options allow REIs to make offers for the sake of maximizing returns without worrying about access to funds. We're not done growing, either; we're expanding our presence across the country, moving into states with big potential – and big funding needs – to help more people gain financial freedom through real estate.

If you're looking for an easy way to break into the Indiana rental market – or in numerous other states – Kiavi is here to support your investment goals. Whether you want to get started, grow your rental holdings, or join up with other investors to improve available avenues, the right solution is waiting. Learn more about Kiavi's long-term financing options.
Sources:
1Joseph S. Pete, "More People Moving to Indiana than Moving Away, Largely Because of Family or Jobs," nwitimes.com, January 13, 2022, https://www.nwitimes.com/business/local/more-people-moving-to-indiana-than-moving-away-largely-because-of-family-or-jobs/article_45defc8b-5267-50c2-8e3a-8b8a2ccfc38a.html#:~:text=The%20study%20found%2044.86%25%20of,and%206.54%25%20because%20of%20health.
2Wes Mills, "F.C. Tucker: Fewer Homes on the Market," Inside Indiana Business, November 15, 2021, https://www.insideindianabusiness.com/articles/fc-tucker-fewer-homes-on-the-market.
3"Indianapolis Housing Market: House Prices & Trends | Redfin," accessed March 17, 2022, https://www.redfin.com/city/9170/IN/Indianapolis/housing-market.
4"Housing Instability 2019 - Public Policy Institute," accessed March 17, 2022, https://policyinstitute.iu.edu/doc/housing-instability-2019.pdf.
5Danielle Hale, "Top Housing Markets for 2022 - Realtor.com Research," Realtor.com Economic Research, December 10, 2021, https://www.realtor.com/research/top-housing-markets-2022/.
6Danielle Nguyen, "The Light: Burns Single-Family Rent Index™: New Lease Effective Rents up 6% Yoy in September 2021," John Burns Real Estate Consulting, November 23, 2021, https://www.realestateconsulting.com/the-light-bsfri-new-lease-effective-rents-up/.
7Jeff Rohde, "The Indianapolis Real Estate Market: Stats & Trends for 2022," Learn Real Estate Investing (Roofstock Realty, Inc. [CA License #01995170], March 3, 2022), https://learn.roofstock.com/blog/indianapolis-housing-market.