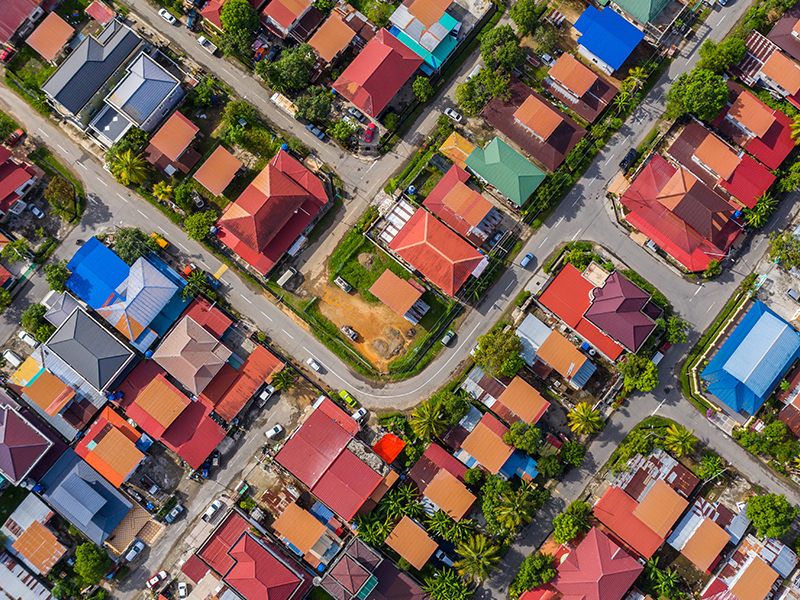 Top 10 Austin Neighborhoods for Homebuyers
Note: originally posted on LendingHome.com and LendingHome is now Kiavi.

Austin has become something of a boomtown in recent years as word spreads about its offbeat local culture, world-class food scene and bevy of opportunities in buzzy industries like creative arts and technology. As home prices rise along with the city's popularity, it's still an affordable alternative to quite a few cities of similar or greater size, and some neighborhoods offer more than others in the way of accessible price points and amenities.

Whether you're moving from elsewhere or getting ready to ditch your local lease and put down more permanent roots, the art and science of finding the right home begins with the question of location. Austin's broad mosaic of communities offers something for nearly everyone, and we've compiled a guide to the best neighborhoods for first-time homebuyers to find their next mailing address.
Upper Boggy Creek
Nestled into Austin's eastside, Upper Boggy Creek offers a smattering of funky local businesses and a creekside greenbelt. This close-in suburb is filled with a mix of established midcentury homes, fixer-uppers and some new construction. Although it's relatively quiet, it's still walkable and bikeable from downtown and the eastside's food and nightlife corridors.
Allandale
This quintessential American suburb has a cool secret weapon: its proximity to Burnet Road (the neighborhood's eastern boundary) and Anderson Lane. Both stretches of road are dotted with classic casual Austin eateries and furniture shops, along with an Alamo Drafthouse movie theater and a large local co-working space. At Allandale's tree-lined core are local parks and baseball fields, plus Shoal Creek running through the neighborhood's center.
Crestview
Like Allandale, the central suburb of Crestview bumps up against the bustling retail and restaurant-filled stretch of Anderson Lane and Burnet Road. Tree-covered yards and limestone accents line the quiet streets, where funky new construction mingles with 1970s architecture. This close-knit community is great for families with young children.
Wooten
Once a lower-rent area adjacent to the strip malls and car lots of Research Boulevard, Wooten has experienced a residential revitalization of late, with retro homes undergoing renovations and an influx of young families moving in and looking out for one another. A more affordable area than Crestview and Allandale, it offers a quick drive to the myriad shops and restaurants of The Domain, as well as lots of family-friendly entertainment options nearby.
Dawson
This hot area of South Austin is a favorite among local first-time homebuyers who know the glory of living near the hip retail and restaurant buzz of South Congress and South First Street but need more affordable pricing than what's available in the much-sought-after 78704 ZIP code. Dawson is seen by many as the next-best thing, with a host of local restaurants and businesses popping up in the area lately to prove it.
North Loop
An old-school area of Austin filled with quaint working class homes between the interstate and a busy stretch of North Lamar Boulevard, North Loop is a wise choice for first-time homebuyers looking to live somewhere central without the frustration of city pricing (and city traffic). It's close to Hyde Park, an established residential area with a beloved thatch of local cafes, eateries and cheese shops, as well as The Triangle, a bustling mixed-use development with retail and restaurant spaces underneath upscale apartment housing.
Windsor Park and University Hills
The Windsor Park/University Hills communities are a dream for those who crave both the idyll of suburbia and the convenience of living a stone's throw from downtown. Great for those who work in the tech industry up north, the area offers easy access to Interstate 35, the main artery between Austin's city center and the tech-topia of Round Rock. It's also adjacent to the up-and-coming Mueller development, where ever-growing casual dining options abound, along with Dell Children's Hospital and The Thinkery, a cutting-edge children's museum.
Highland
Bisected into a residential area in its northern half and an industrial one in the south, Highland is a dynamic neighborhood currently undergoing an era of change. The recent addition of Austin Community College's satellite campus is breathing new life into the old Highland Mall as additional residences begin to emerge around it. The budget-friendly neighborhood is equidistant from downtown and major employers like Dell and Hewlett-Packard up north -- about a 20-minute drive to each.
Westgate/South Manchaca
This established southern central suburb of Austin is a quiet oasis of spacious homes on tree-covered streets, just a quick drive from downtown and an easy drive (under 10 minutes) or bike ride (under 20) to the expansive Barton Creek Greenbelt – an outdoor lover's paradise winding its way through town with a host of natural delights. It's also close to Central Market (the bountiful and beloved organic Texan grocer), local landmark The Broken Spoke (an iconic old-fashioned dance hall), and a stretch of big-box retailers and restaurants on Brodie Lane. Pro tip for non-locals: Manchaca is (inexplicably) pronounced "Man-chack."
South Lamar
This hotter-than-hot neighborhood runs alongside South Lamar Boulevard just beyond its most bustling part, where it emerges from Lady Bird Lake and through the Zilker area. Offering a wide array of homes, this youthful swath of south Austin sees edgy new architecture alongside funky casitas and classic midcentury homes. Single-family residences, duplexes and small condo communities are flanked on the west by the boulevard's stretch of popular eateries, from ramen to Tex-Mex and more.
- By Amy Wilde