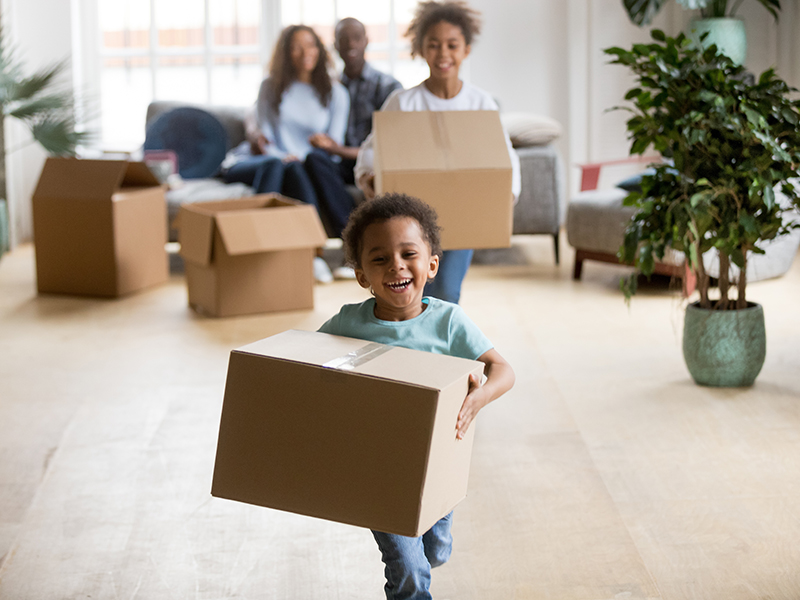 How to Survive a Week in Your New Home
Note: originally posted on LendingHome.com and LendingHome is now Kiavi.

You've just purchased your first home; the house hunting and loan closing process went (semi) smoothly, and now you're about to do the real work — physically moving yourself, your family, your fur babies, and your belongings into the property. For all of the knowledge that exists on buying your first home, there's surprisingly little about what happens in the moments after. We're talking about the moments after signing the closing paperwork and grabbing the keys, when it's time to stop planning and start preparing for life as a bonafide homeowner.

Below is Kiavi's new house checklist on everything you'll need to prepare in order to survive your first week in your new home.
Things to do before moving into a new house
Have readily available: Your new address, packing boxes and tape, scissors, and a nice marker to label boxes.
Transfer utilities
In the weeks before your move-in date, let your utility companies know you'd like to transfer service to the new address. If moving to a new area, establish new service with utility companies in that area and cancel service with existing providers. You can set cancellation date out for the future, so don't worry about interruptions in service or cancelling "too early."
Deep clean
It is always a good idea to deep clean a new home, even if you're moving into a new house. You can hire a crew or a new home cleaning service and outsource this chore, or you can clean room-by-room over a few days (or weeks). You'll want to deep clean cabinets, closets, and shelves, as many of the walls and floors will get dirty from all of the incoming dust during the move.
Take measurements
Using old pieces of furniture in the new home? Want to order a killer piece online and have it arrive on moving day? Take measurements of where you'd like to put furniture prior to move in to make sure it all fits. It's easier to take measurements in an empty home and easier to change your plan if something doesn't fit than doing it during move-in day.
Double check moving company's non-allowables list
Moving companies won't move just anything. Many have lists of items they will not move, such as aquariums, pressurized air (like scuba tanks), and other hazardous materials, so double check and make other arrangements if something you own is on the list.
It's also a good idea at this time to pack up any sentimental items (like your grandmother's china, for example) and hand pack these items, or better still, move them on your own into the new place.
Things to do during the move
Have readily available: Small batch of cleaning supplies, like furniture polish, window cleaner, and counter spray with rags, an overnight bag with clothes and toiletries (so you don't have to hunt these down after an exhausting day of moving), and any screws and furniture pieces that will help you assemble beds and other key furniture items.
Check appliances
When you arrive at the new house, double check to make sure all of the appliances are plugged in and are in working order. The refrigerator, if unplugged, will need time to get cold again if you want to store perishable items right away.
Change the locks
While changing locks is expensive and annoying, you can't be sure who has a key to your locks. Be proactive and change all the locks once you're physically living on the property.
Assemble beds
Set up the beds in the home first thing, so everyone has a sleeping area on the first night in the new home.
Things to do after you've moved in
Have readily available: Your new address.
Connect to the internet
Can you really claim you're "living" there if you don't have access to WiFi? With many homeowners opting for internet streaming services over traditional cable, or in need of internet to work remotely, setting up WiFi should be the first priority post move.
Update your mailing address
Don't forget to forward your mail and update any prescriptions with nearby pharmacies. Take an hour over the weekend and update the mailing address on all of your most important mail items, like bank statements, medical records, and notices from your insurance company.
Confirm breaker and water valve location
Be an educated homeowner and know where the electric panel ("breaker box") and water valve to the home are located. It should've been shown to you during an inspection, but in case you'd forgotten, re-familiarize yourself after move-in.
Continue to pad your budget
While buying a home is a planned expense, it is still very costly. Moving is also known to be pricey. In order to keep your finances stable and save up money for an emergency fund (which becomes even more important when you have an entire home for which you're financially responsible), continue to live frugally for the first few weeks after the move-in.
While getting your first home is one of the most exciting moments in life, moving in is one of the most stressful — which is why, when the two scenarios collide, it pays to be prepared. Reference our new house checklist to limit move-in stress, and sit back and savor the success that comes with hitting a major life milestone.